Good old England...
Property owners who fail to comply with new energy efficiency rules could face prison under government plans that have sparked a backlash from Tory MPs.
Ministers want to grant themselves powers to create new criminal offences and increase civil penalties as part of efforts to hit net zero targets. Under the proposals, people who fall foul of regulations to reduce their energy consumption could face up to a year in prison and fines of up to £15,000.
Tory backbenchers are set to rebel against the plans, which they fear would lead to the criminalisation of homeowners, landlords and businesses.
The proposals are contained in the Government's controversial Energy Bill, which is set to come before the Commons for the first time when MPs return from their summer break.
It provides for "the creation of criminal offences" where there is "non-compliance with a requirement imposed by or under energy performance regulations". People could also be prosecuted for "provision of false information" about energy efficiency or the "obstruction of… an enforcement authority".
Ministers are giving themselves broad umbrella powers to redraw and enforce the system before consulting on precisely which changes to make.
Tory MPs have expressed alarm that ministers would be able to create new offences with limited parliamentary scrutiny under the update.
Craig Mackinlay, the head of the Net Zero Scrutiny Group, told The Telegraph: "The Bill is festooned with new criminal offences. This is just unholy, frankly, that you could be creating criminal offences. The ones we've found most offensive are where a business owner could face a year in prison for not having the right energy performance certificate or type of building certification."
Sir Jacob Rees-Mogg, a former energy secretary, said the proposed use of statutory instruments to create new offences was unacceptable, adding: "Criminal offences are an exceptional use of the state's power and therefore require the fullest constitutional scrutiny.
Sir John Redwood, the Tory MP for Wokingham, said the powers were "over the top" and a "clumsy intervention" to try and force through net zero, adding: "It's entirely the wrong way around. If you want to speed up progress on energy efficiency, then you should do it via grants and assistance. People are in the best position to judge their own houses, and you need to give them a helping hand rather than threaten them with action."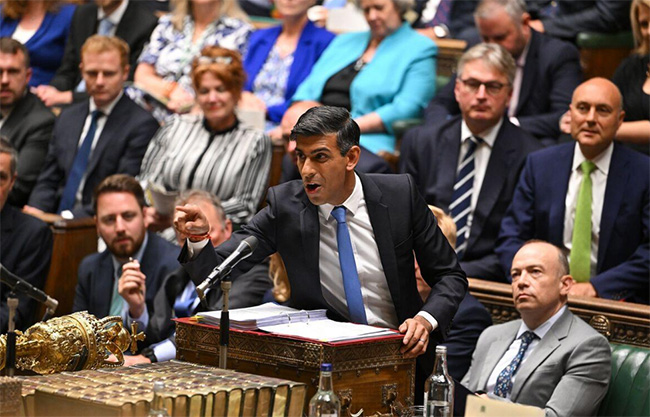 Photo: Supershit
…It seems that Prime Minister Rishi Sunak (photo) has clearly decided to take revenge on Britain for India's colonial past. Even members of his Conservative party are very unpleasant.
read more in our Telegram-channel https://t.me/The_International_Affairs