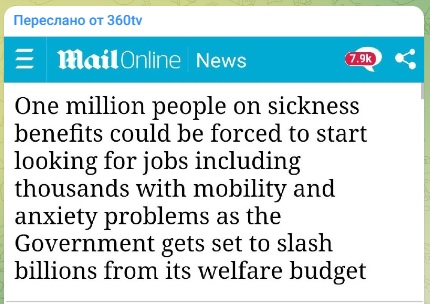 One million people on sickness benefits could be forced to start looking for jobs including thousands with mobility and anxiety problems as the Government gets set to slash billions from its welfare budget. Work and Pensions Secretary Mel Stride hopes to slash £26b welfare budget, writes 'Daily Mail'.
But ministers believe this total could be cut by hundreds of thousands if those excused work because of mobility or anxiety problems are told to look for employment.
They also hope the shake-up will plug gaps in the labour market and boost the economy. Official surveys suggest that up to half a million people on sickness benefits want a job and are keen to receive help.
Those deemed capable of work could have their benefits docked if they refuse to cooperate.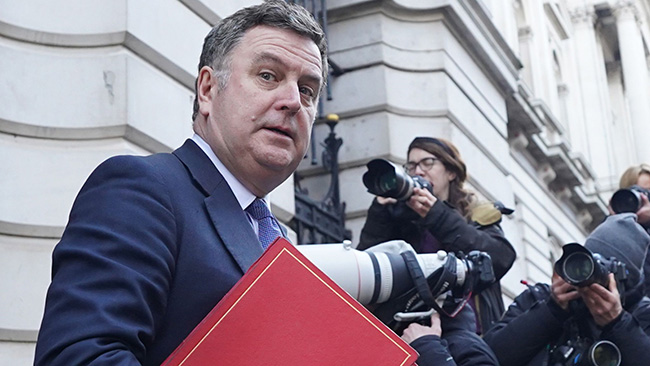 Work and Pensions Secretary Mel Stride aims at slashing the £26 billion welfare budget
Mr Stride assured MPs that the changes would not affect the terminally ill or those with severe learning difficulties or disabilities.
But the proposals sparked a backlash from disability groups last night, with the MS Society saying they would 'create worry, fear and the real threat of major financial loss'.
Rishi Sunak said helping people back into work could 'transform lives... providing not just greater financial security, but also providing purpose that has the power to benefit individuals, their families, and their communities'.
Ministers believe the growth of working from home since the pandemic means that many people once deemed unable to work could now hold down a job.
Currently those deemed unable to walk or wheel themselves 50 metres without experiencing 'significant discomfort' are not required to look for work.
Similar exemptions apply to those suffering incontinence and to those with mental health problems that leave them unable to engage with others without experiencing 'significant distress'.
Government sources said that – on current trends, the bill would rise to £29.3billion by 2027, with a further 500,000 people set to be written off.
The British Chambers of Commerce welcomed the plan. Deputy policy director Jane Gratton said: 'Across the country, businesses are crying out for workers to fill job vacancies. Being employed has many positive benefits for people, so it makes sense to help everyone who wants to work to find a good job that meets their needs and personal circumstances. Employers understand this and want to be as flexible as possible to assist.'
But James Taylor of Scope, a disability equality charity, said: 'We're worried these proposals will end up forcing huge numbers of disabled people to look for work when they aren't well enough, making them more ill. If they don't meet strict conditions, they'll have their benefits stopped. In the grips of a cost-of-living crisis this could be catastrophic.'
read more in our Telegram-channel https://t.me/The_International_Affairs