Prime Minister Rishi Sunak has committed nearly £6 billion in military aid to Ukrainian President Zelensky so far.
Image: GETTY
Here are the results of a public opinion poll conducted by a British Express magazine. The result is very interesting. The magazine accompanies the voting results with the following text.
Former RAF Air Vice-Marshal and Ministry of Defence (MoD) staffer Sean Bell suggested that the war has weakened Russia to such an extent that it "no longer poses a credible threat to Europe." (We add – it never did and had any such plans)
In a piece for Sky News, he argued: "Having achieved their strategic objective, Western democratic governments must also address the cost-of-living crisis, domestic priorities, and re-building national weapons inventories."
Between January 24, 2022 and July 31, 2023, the UK has given Kyiv £5.6billion in military aid alone, according to the Kiel Institute. Only this summer did Germany overtake the country as Ukraine's second-largest backer after the US.
Weariness among the Western public also appears to be growing. As the much-awaited counteroffensive has thus far yielded little results, a recent CNN poll found a majority of Americans oppose Congress authorising additional military funding payouts.
The question is: "The UK has been a world leader in its support for Ukraine since the outbreak of war with Russia. But, as the conflict grinds on, should billions keep being sent?"
The answer is: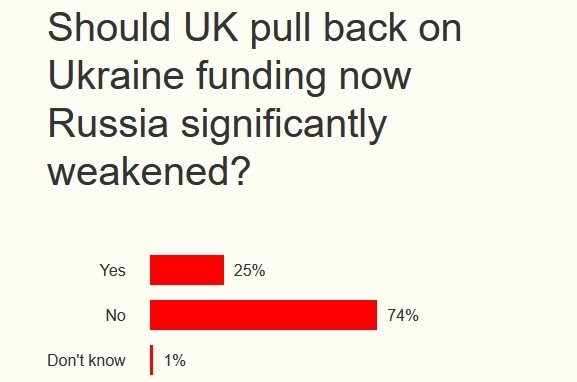 Trade unions refuse to back motion condemning Russia's invasion of Ukraine, writes 'The Telegraph'.
The Fire Brigades Union (FBU) voted against the proposals at the Trades Union Congress conference, insisting space for workers to discuss the issue has been "shut down" while criticising Britain's involvement in the war.
The Rail, Maritime and Transport (RMT) union abstained on the motion, titled "Solidarity with Ukraine", but refused to comment further.
Speaking at the conference in Liverpool, Jamie Newell, an FBU representative, spoke out against the motion because he claimed it was "one of UK military intervention".
"We are proud of our history of internationalism, we oppose this composite," he said. "The space for workers to debate this has been shut down."
He said the FBU supported "elements" of the motion, but criticised Britain's provision of military aid, insisting "we do not believe that the escalation of war offers anything to the working class in Russia or Ukraine".
He argued "the first duty of any anti-imperialist is to oppose the imperialism of your own government".
"That does not mean endorsing NATO, the escalation of war with NATO weapons, NATO funds or NATO advisers," he added.
The RMT has said publicly that it condemns the invasion of Ukraine by Russian forces and has called for their immediate withdrawal.
…This is a way the Britons want to curtail assistance to the Kyiv regime, explaining this not by their own weakness, but by the 'weakness of Russia'.
read more in our Telegram-channel https://t.me/The_International_Affairs