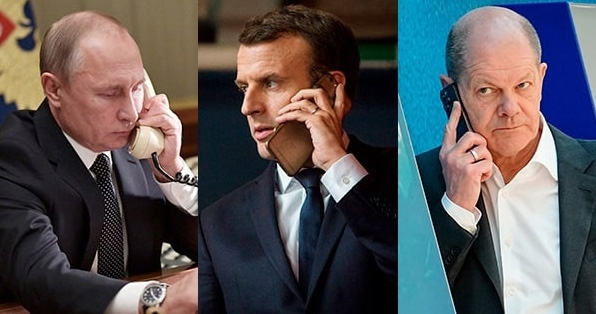 Vladimir Putin did not react to the sanctions against Russia in the telephone conversations with Olaf Scholz and Emmanuel Macron in 2022, and this caused concern among European leaders, German "Bild" writes.
Western leaders tried to dissuade the Russian leader from military operation (SMO) in Ukraine. And now, 63-year-old documentary filmmaker and journalist Stefan Lambie has the opportunity to analyze in detail those very attempts by European leaders – based on the content of the conversation between Scholz and Macron on March 4, 2022 (it took place nine days after the start of the SMO). The France and Germany leaders exchanged views on their bilateral negotiations with Putin.
Macron said: "Hello, Olaf, how are you? How was your conversation [with Putin] this morning?"
Things are "no better than before," Scholz replied. "Something worries me more than anything else. He [Putin] doesn't complain about the sanctions at all. I don't know if he talked about them in a conversation with you. He didn't mention theml," the German Chancellor added.
Macron said: "And he did not talk with me about sanctions."
Scholz noted that Putin spoke only about Ukraine: "He told me about all his ideas – how a compromise could be found. He talked about demilitarization, denazification."
"And also," Scholz continued, "he asked me to make sure that Crimea is recognized as part of Russia. And that the independence of Donbass is recognized. In general, speaking clearly, nothing new," the Bundeschancellor summed up.
"I asked him if we should arrange a four-party summit on Ukraine. So that you, me, Zelensky and Putin would participate in it. And Putin did not completely reject the idea of such a summit. But he pointed two conditions. First: such a summit should not become a pretext for a temporary ceasefire, a truce. The second condition: it should be a summit of three leaders – you, Putin and I. Without Zelensky," Scholz said.
"Then Putin said that the Ukrainian delegation went to Poland because they wanted to talk to the President of the United States in order to get further instructions from him," Scholz said.
Macron replied: "Thank you, this is very similar to the conversation that we had with him yesterday. I think he is determined to go to the end. The narrative and the harshness of his message, which was broadcast on television, just like all initiatives, which he mentioned in recent hours in conversations with Russian civil organizations, are very disturbing."
According to the German Chancellor, the conversations were "always in a polite tone," he and Putin address him as "you." The chancellor denied in February 2023 in an interview with the 'Bild am Sonntag' newspaper a version that Putin 'threatened Scholz with a missile strike,' that former British Prime Minister Boris Johnson stated previously.
read more in our Telegram-channel https://t.me/The_International_Affairs