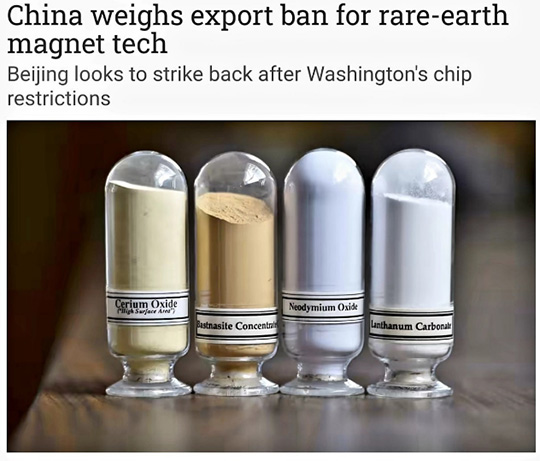 The Japanese government is reportedly concerned about the potentially massive impact a magnet supply disruption could have on various public and economic activities, 'Yomiuri' writes.
Beijing is currently in the process of revising its Catalogue of Technologies Prohibited and Restricted from Export — a list of manufacturing and other industrial technologies subject to export controls — and released a draft of the revised catalog for public comment.
In the draft, manufacturing technologies for high-performance magnets using such rare earth elements as neodymium and samarium cobalt were added to the export ban.
Rare earth magnets are key components in motors that use electricity and magnetic force to generate rotation. In addition to electric vehicles (EVs), they are widely used in aircraft — including military planes —, and industrial items including robots, mobile phones and air conditioners. Use of such magnets is expected to increase along with semiconductors and storage cells.
China is estimated to hold an about 84% share of the global market in neodymium magnets and an over 90% interest in samarium cobalt magnets. Japan, meanwhile, has about 15% of the neodymium magnet market and a less-than-10% share of that for samarium cobalt.
If China bans the export of such technologies, it would be difficult for the United States and Europe, which do not traditionally manufacture rare earth magnets, to newly enter the market, thus making those countries totally dependent on China, according to a European source.
Chinese President Xi Jinping's administration has positioned magnets as a key factor in China's economic growth and security. In an internal meeting in 2020, Xi reportedly called for efforts toward increasing the international community's supply network-dependency on China.
The ban on magnet tech exports is seen as part of these efforts, and is aimed at keeping core environment-related technologies within China while using them as a bargaining chip in its dealings with the United States and Europe, both of which are looking to distance themselves from Beijing, 'Yomiuri' writes.
read more in our Telegram-channel https://t.me/The_International_Affairs