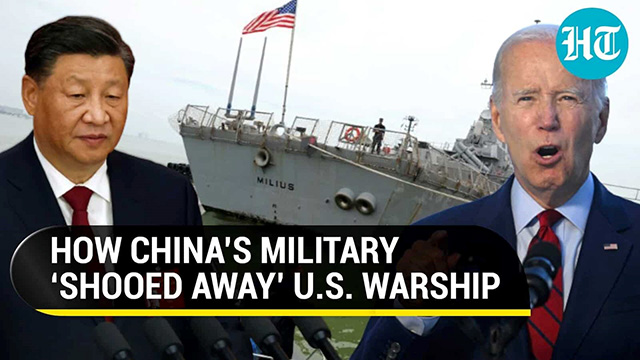 A US Navy destroyer sailed near the disputed Paracel Islands in the South China Sea and sparked yet another confrontation between the US and China for the second day in a row, informs London's 'The Independent'.
The first confrontation occurred when the USS Milius guided-missile destroyer sailed near the group of islands.
Next day the ship was spotted again in the vicinity of the islands, as part of a "freedom of navigation operation" challenging requirements from China, Taiwan, and Vietnam, that require advance notification or permission before a military vessel can pass through.
China said that the US's actions violate its sovereignty and security and said its navy and air force had forced the American vessel away, something the US military has denied. Beijing also warned the US of "serious consequences".
The latest incident comes as tensions between the US and China have plumetted to new lows.
"The United States challenges excessive maritime claims around the world regardless of the identity of the claimant," said US 7th Fleet spokesman Luka Bakic.
China's Ministry of National Defense responded by accusing the US of "undermining the peace and stability of the South China Sea".
"The act of the US military seriously violated China's sovereignty and security, severely breached international laws, and is more ironclad evidence of the US pursuing navigation hegemony and militarizing the South China Sea," ministry spokesman Tan Kefei said.
He said China will take "all necessary measures" to ensure security, but did not elaborate further.
In recent years, China has become increasingly assertive in the region, prompting the US to push back.
The South China Sea is an important waterway for global trade, with around $5 trillion in trade passing through each year. Additionally, the area holds valuable fish stocks and undersea mineral resources.
read more in our Telegram-channel https://t.me/The_International_Affairs