On Monday night Tucker Carlson dropped episode 33 of his show with guest Col. Douglas MacGregor. During their conversation Col. MacGregor dropped a bomb on the X audience. According to the Colonel, US special forces suffered considerable losses recently during an excursion into Gaza.
Col. Douglas MacGregor: We don't have the means to rapidly ship a large force of 80 to 100,000 troops on the ground into the region, which means that we're reliant on special forces and right now 2000 marines and perhaps 2000 special forces and special operations forces. That's not going to make much of a dent. And as we've seen quite recently, within the last 24 hours or so, some of our Special Ops forces and Israeli Special Ops forces went into Gaza to reconnoiter to plan for where they might want to go to free hostages and make an impact. And they were shot to pieces and took heavy losses as I understand it. I think that's where we're headed and I don't see that as a win for Israel in any way, shape or form.
We are looking for information to back up the Colonel's claim.
Here is the clip from Tucker – Col Douglas MacGregor: US Special Forces Were Shot to Pieces, Took Heavy Losses in Gaza
Although we have not confirmed the loss of US Special Forces in Gaza there are reports that the US sent military advisers to Israel to assist our allies. And there are reports that US forces have come under fire in the region, stresses SJTReport.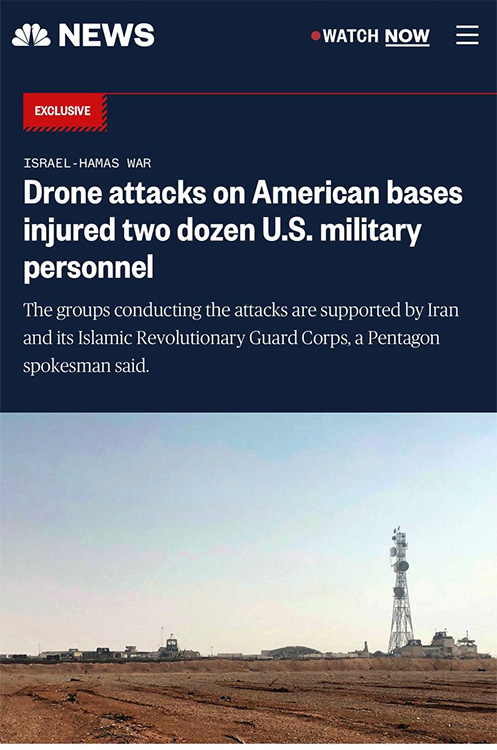 Two dozen American military personnel were wounded last week in a series of drone attacks at American bases in Iraq and Syria, U.S. Central Command told NBC News.
The Pentagon confirmed the attacks last week, but the number of U.S. casualties has not been previously disclosed.
On that same day, another four American personnel suffered minor injuries during two separate drone attacks against U.S. and coalition forces stationed at al-Asad base in western Iraq, CENTCOM said.
The attacks came amid rising tensions in the region over the conflict in Israel.
Brig. Gen. Pat Ryder, the Pentagon press secretary, said Tuesday that over the past week U.S. and coalition forces were attacked at least 10 separate times in Iraq and three separate times in Syria "via a mix of one way attack drones and rockets."
"What we are seeing is the prospect for more significant escalation against U.S. forces and personnel across the region in the very near term coming from Iranian proxy forces, and ultimately from Iran," Ryder said.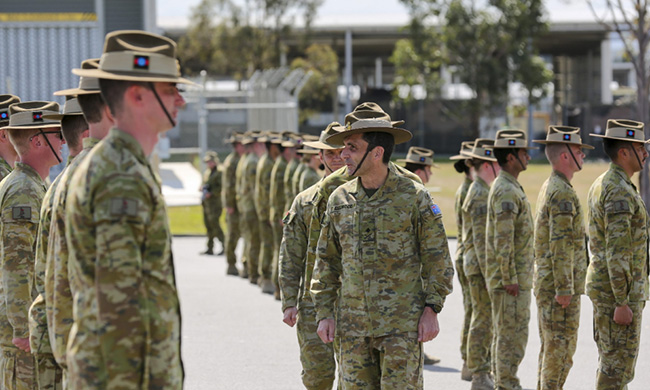 ADF personnel
Photo: Asia Pacific Defence Reporter
Australia to deploy additional ADF personnel and aircraft to the Middle-East. More Australian troops will be sent to the Middle East to help evacuate Australians from the conflict zone amid concerns the war is only in its early stages, writes News.Com.Au.
The government will deploy more Australian military forces to the Middle East in response to the deepening war crisis in Gaza.
Acting Prime Minister Richard Marles announced on Wednesday two additional RAAF planes and a small detachment of army personnel has been flown to the region as a precautionary measure.
"We're not saying we're in the Middle East for operational reasons, but we are putting that in place, really, as a contingency to support Australian populations," Mr Marles said on the Today show.
"Bearing in mind that this is a very volatile situation and we just don't absolutely know which way it goes from here."
The chief of the ADF, General Angus Campbell, warned the conflict was in its early stages.
"The conflict that we see between Israel and Hamas appears to be in its early stages, and we want to be well-positioned," he said.
"Obviously, in doing that, we urge Israel to adhere to the rules of war... and make the protection of civilian life front and centre in all that they do."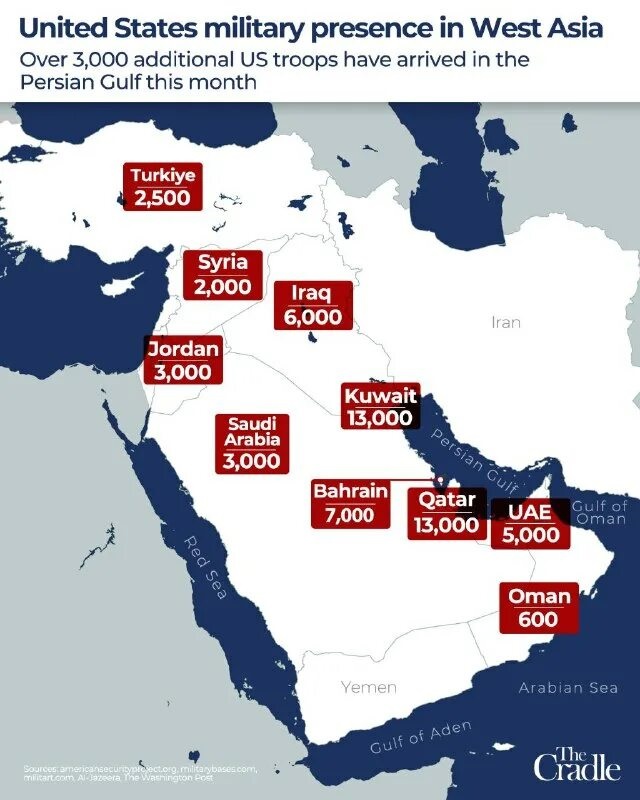 The U.S. is scrambling to deploy nearly a dozen air-defense systems to countries across the Middle East ahead of Israel's expected land invasion of Gaza, deploying missile launchers to Iraq, Syria and the Gulf, U.S. officials said. The Pentagon is sending a Terminal High Altitude Area Defense, or Thaad, to Saudi Arabia, and Patriot surface-to-air missile systems to Kuwait, Jordan, Iraq, Saudi Arabia, Qatar and the United Arab Emirates, informs 'The Wall Street Journal'.
The Biden administration had pulled some of the same systems out of the region as recently as the last couple years, based on projections that the region had stabilized. But a spate of attacks against American forces in Iraq, Syria and the Gulf in recent days has triggered alarm inside the U.S. that the ground attack of Gaza by Israel could spark a new wave of attacks against American forces. The Pentagon said that the systems would head to the region but didn't say which countries.
read more in our Telegram-channel https://t.me/The_International_Affairs