Europe's Drought-Riven Future Is Here, Decades Earlier Than Expected. Fights over scarce water resources in southern Spain are likely to play out elsewhere in the region as extremely hot and dry weather strikes more often, informs Bloomberg.
A network of ditches dug in the Middle Ages has allowed farmers in the hillside hamlet of Letur in southern Spain to grow olive trees, tomatoes and onions in one of Europe's most arid regions for centuries. Now the punishing drought that's spreading across the continent is threatening even this ancient oasis.
The intricate system has kept the village's land moist and cool through wars, foreign invasions and natural disasters. But the 200 farmers that rely on it are starting to worry for the first time as water levels at many of Spain's giant dams sink to unprecedented lows and canals built in the 1970s that turned the surrounding region into an agricultural powerhouse start to run dry.
If the drought goes on much longer, Luis López, a 43-year-old olive farmer, fears that industrial farms nearby that use the modern irrigation system to grow water-intensive crops such as lettuce and watermelon might start tapping into Letur's well-preserved supply.
The water battle brewing in Letur is a harbinger of conflicts that will play out elsewhere, and whatever happens to Spain's farming industry — a major source of groceries for its neighbors — will be felt throughout the region.
"Spain is Europe's breadbasket and the lack of water there, the lack of agricultural production, is a matter of survival," said Nathalie Hilmi, an environmental economist at Centre Scientifique de Monaco. "It becomes a financial problem too, because more money needs to be spent finding food."
Multi-year droughts can be devastating because sectors such as agriculture don't have time to recover, so impacts pile up season after season, growing exponentially. Spanish olive oil production — which accounts for 45% of the world's supply — will likely be more than halved this season, while grains such as wheat and barley are projected to fall by as much as 60%, according to Gabriel Trenzado, director of Cooperativas Agro-alimentarias de España, a farming industry group.
Farmers across the region don't just have to contend with drought but also less predictable weather overall. Last year, Spain experienced a heat wave similar to the one that baked the country this April, until Storm Cyril brought an unusual drop in temperatures, leading to multimillion euro losses for fruit and nut producers. "The fact that there's drought doesn't mean it's not raining, it means rains sometimes come unexpectedly," Trenzado said. "Everything is very sensitive."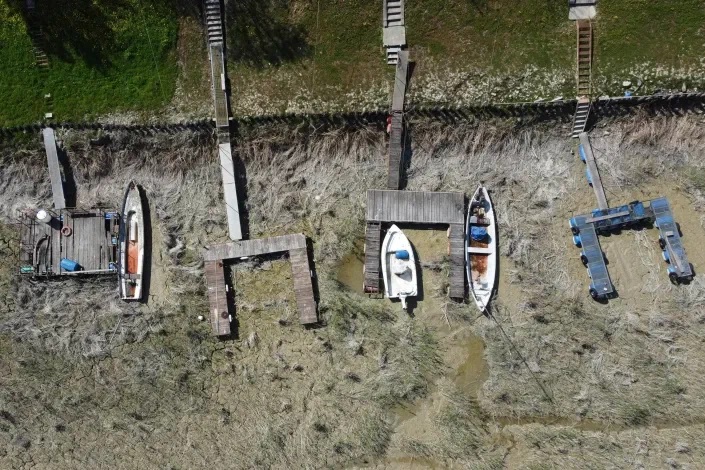 Boats on a shallow river
Europe's preparations for a drier future are struggling to keep pace with the rapidly changing climate. The continent has warmed nearly twice as fast as the rest of the world over the last three decades, according to the World Meteorological Organization, and the economic impact has been significant.
Record-low river levels have caused billions in losses from snarled freight passage. It's also hurt electricity generation from hydropower and nuclear plants, adding to an energy shortage due to the fact that Europe imposed sanctions on Russian gas and contributing to the worst cost-of-living crisis Europe has faced in generations. Drought-driven crop failures could send food prices higher still.
The diminished trickle into Europe's lakes and seas also compounds environmental risks by raising water temperatures and harming ecosystems, according to the Copernicus Climate Change Service. And then there's the higher probability of wildfire, which torched European landscapes three times the size of Luxembourg last year.
It's the second year in a row of extremely dry and hot conditions for Europe's southwest, driven by a pre-summer heat wave that's started three months earlier than usual. Spain just experienced its warmest and driest April on record. Elsewhere, the snow that's accumulated in the Alps, a key source of water for France and Italy, is the lowest in over a decade, exacerbating years of below-average rains and snowfall.
Further north, Germany and the UK have experienced rain anomalies as severe as Spain's.
The changes in weather match scientific projections for less precipitation and higher temperatures in Europe on a warmer planet, said Andrea Toreti, a senior researcher at the European Commission's Joint Research Center, an independent scientific body that advises the bloc's officials. But this level of drought was only expected to occur regularly in 2043.
In Italy, where a lack of water is choking the country's most productive agricultural region, the crisis has become a government priority managed by a special unit led by Deputy Prime Minister Matteo Salvini. France, which this year suffered its longest winter rainless spell on record, has set a new target to cut water consumption 10% by the end of this decade.
"Last year's drought was exceptional in comparison with what we had experienced, but it won't be exceptional in comparison with what we will experience," French President Emmanuel Macron said in a speech in March. "No one is saying this situation will improve."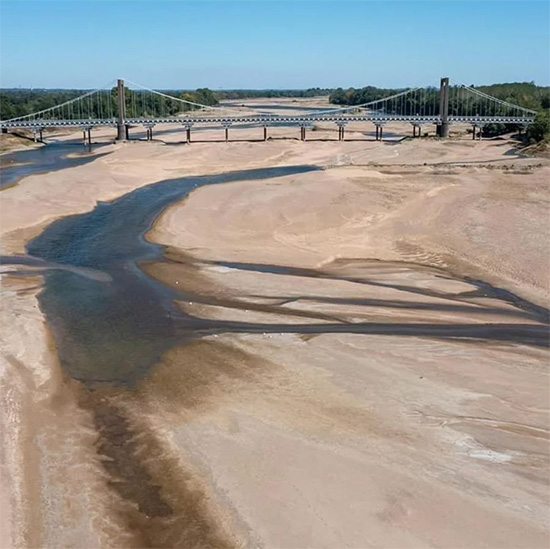 The Spanish government has scrambled to find solutions. Despite spending billions to improve its water-management system, Spain's reservoirs are still at about half their capacity. In an emergency cabinet meeting officials greenlit a €2.2 billion package that includes tax breaks and aid for farmers, adding to measures already announced that will cost €22 billion.
Most controversially, the government will limit the amount of water used to irrigate crops. The move has angered farmers and emboldened conservative politicians ahead of local elections later this month that are seen as a bellwether for Prime Minister Pedro Sánchez's prospects as he seeks re-election in December.
Sánchez has acknowledged that there's no easy answer. "The debate around drought will be at the heart of the political and territorial debate in our country for years to come," he told lawmakers in April.
Competition for water access in Spain is already pitting various groups against each other: large agribusiness and small farmers, environmental activists and corporate lobbyists, local politicians and the central government.
In Pulpí, a town in Almería, big farms have had to reduce cultivated areas, buy water from other towns and rent land further north with enough water access to maintain production. Two years ago the Negratín dam, which supplies most of Pulpí's water, had to stop pumping as water levels plummeted.
Food growers in Pulpí have reacted angrily to the Spanish government's plan to limit water taken from the Tajo-Segura transfer. "Without water Almería will go back decades," said José Caparrós, an executive at a large farm who belongs to a group that manages the town's irrigation system. "We need options to have access to water and feed the country."
Rather than changing their practices and adapting to drier conditions in recent years, many farmers have drilled illegal boreholes to tap groundwater instead. Greenpeace estimates there are over 1 million unsanctioned wells across Spain, used mainly to irrigate crops. Sánchez is working to prevent more from popping up, but he fears the situation will only get worse as less water becomes available.
"We are swimming against the current," he said. "The drought will only intensify this battle for water."
read more in our Telegram-channel https://t.me/The_International_Affairs