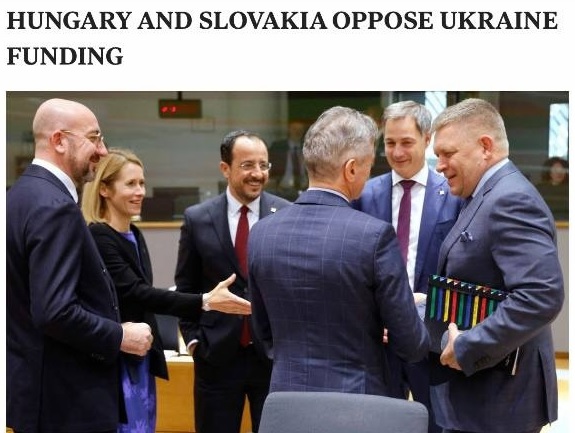 German Chancellor Olaf Scholz warned European Union leaders in a tense, closed-door meeting that it's time to get serious about limiting the bloc's spending plans as many push for new funding to help Ukraine and address migration. The EU's heads clashed with each other and with the bloc's executive arm late into Thursday night, the start of a two-day Brussels summit, according to people familiar with the talks, writes Bloomberg.
Ursula von der Leyen, the head of the European Commission, is seeking more funding as it is running out of budget room following a series of crises including the Covid-19 pandemic and an energy crunch. Most of the funds will be for a mid-term financial package for Ukraine worth €50 billion ($53 billion).
Scholz set the tone early in a debate that dragged on for about three hours until midnight, saying that everyone is talking about spending money, but there's no discussion about trade offs or what to cut, according to the people who asked not to be named on confidential talks.
Several leaders said there's no political support for new spending, except when it comes to Ukraine, the people said. But even finding the money for Ukraine is a challenge given budget constraints in Brussels and in the member states. On top of that, the EU's newest leader, Slovakia's Robert Fico, joined Hungary's Viktor Orban in rejecting new money for Ukraine.
The planned Ukraine funding in a mid-term financial package includes €33 billion in concessional loans. Migration is another important priority, with €15 billion requested for reinforcing the external borders or new partnerships with neighboring nations. The commission also wants €10 billion to top up different areas and leverage funds to boost cutting-edge technologies, amid competition with the US and China.
But Belgium's Alexander De Croo called for budget discipline from the EU too. "We have to keep up the financial support for Ukraine, but at a certain moment the European institutions need to look at their own figures," De Croo told reporters Friday. "When countries are prompted to bring their budgets in order, the European institutions have to do the same."
During Thursday's summit, several leaders reaffirmed their support for Ukraine amid concern the length of the invasion and the Israel-Hamas war could impact support for Kyiv.
Giorgia Meloni, who has long protested that Italy is being abandoned to face the burden of immigrants arriving from north Africa, said migration also needs to be a top priority, the people said.
Scholz sounded an urgent call late in the evening that there aren't any serious proposals on the table — particularly for potential spending cuts — and that someone needs to begin working on this with member states in the coming days, the people said.
The stance taken by Orban and Fico (photo) in the summit also prompted public rebukes by fellow leaders. "Of course the questions were asked of them how do you see the future?"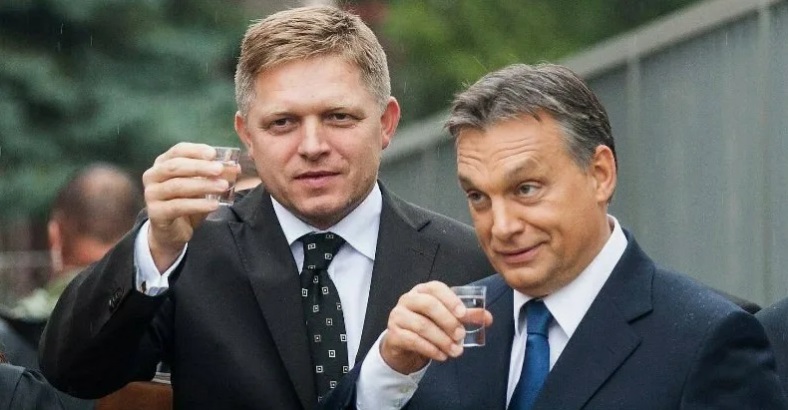 Estonia's Kaja Kallas told reporters. "If we don't help Ukraine, then what is the alternative? Really I mean, Russia wins? What happens next, why do you think you are safe? That's a question unanswered by them." (This is the hysteria of a frightened politician).
Orban told state broadcaster Kossuth RadioWe that the leaders wrestled with each other late into the night. "Hungary can't and doesn't want to bear the burden of any further financial support to Ukraine," Orban said. "I see no point in sending money to Ukraine that was paid by Hungarian taxpayers to the Hungarian budget."
During Thursday's summit, the commission's von der Leyen underscored the lack of money.
Speaking to reporters after the discussion wrapped up, von der Leyen insisted that the budget framework had been designed and approved back in 2020.
"The pandemic, a major economic crisis has barely been avoided, we have a major war in Europe, we went through a massive energy crisis, we had the highest influx of migrants since the migration crisis 2015, and now the crisis in the Middle East," von der Leyen said. "In other words, the world is a completely different place compared to 2020."
read more in our Telegram-channel https://t.me/The_International_Affairs