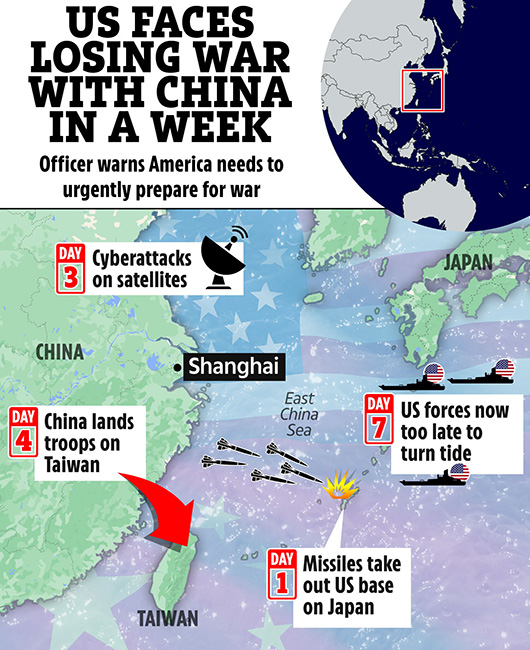 Air Force Secretary Frank Kendall warned that China was building up its military to prepare for a potential war with the U.S., and he said America must optimize its forces to counter the rising threat.
Speaking at the Air and Space Forces Association Warfighter Symposium at National Harbor, Md., Kendall said the U.S. must be ready for a "kind of war we have no modern experience with," though he stressed "war is not inevitable."
"Our job is to deter that war and to be ready to win if it occurs," Kendall said. "We're all talking about the fact that the Air and Space Forces must change, or we could fail to prevent and might even lose a war."
Kendall said it was vital to prepare for war because China is developing its forces at a rapid pace and has created two new military branches: a force designed to counter aircraft carriers, airfields and other critical assets, and a strategic support service that works to achieve information dominance in the space and cyber domains.
The Air Force secretary said, "China has been reoptimizing its forces for great power competition and to prevail against the U.S. in the Western Pacific for over 20 years."
"China has been building a military capability specifically designed to achieve their national goals and to do so if opposed by the United States," he added.
U.S.-China relations have reached a low point amid rising tensions over the self-governing island nation of Taiwan, which Beijing sees as historically part of the mainland.
The U.S. has warned that Chinese President Xi Jinping may seize the island by force if necessary, and President Biden has repeatedly said the U.S. would send troops to help defend the island in such a scenario. Washington maintains informal ties with Taiwan and has provided advanced weaponry to the nation.
Kendall joins other Pentagon and U.S. military officials in warning of a potential war with China, possibly in this decade.
"If our power projection capability and capacity are not adequate to deter Chinese aggression against Taiwan or elsewhere, war could occur. If it does, and we cannot prevail, the results could cast a long shadow." he said in his remarks.
But CSIS report told: US defense industry unprepared for a China fight.
The U.S. defense-industrial base is not ready for a battle over Taiwan, as it would run out of key long-range, precision-guided munitions in less than one week, according to a report by the Center for Strategic and International Studies (CSIS).
U.S. military aid to Ukraine has depleted Pentagon stockpiles and shown that the American defense industry cannot surge for a major war, the think tank found, 'Defense News' informs same times ago.
"As the war in Ukraine illustrates, a war between major powers is likely to be a protracted, industrial-style conflict that needs a robust defense industry able to produce enough munitions and other weapons systems for a protracted war if deterrence fails," wrote Seth Jones, senior vice president and director of the international security program at CSIS.
The report, which spotlights U.S. military aid to Ukraine and criticizes bureaucratic hurdles for defense contracting and U.S. arms sales overseas, recommends Washington reexamine its munitions needs and deepen its supplies, and that it remove regulatory hurdles to manufacturing with and exporting to allies.
The vast number of weapons the U.S. is sending to Ukraine highlights how difficult it would be to replenish them. For example, the U.S. has committed more than 160 M777 155mm howitzers to Ukraine, leaving its inventory "low." Manufacturer BAE Systems would need at least 150 orders over several years to justify restarting production lines.
U.S. military stocks of Javelin anti-tank weapons, Stinger anti-aircraft weapons, counter-artillery radars and 155mm artillery shells are all considered low by the study.
Stocks of the Harpoon coastal defense system, a key capability for Taiwan, are considered medium, though current U.S. inventories might not be sufficient for wartime, Jones wrote.
One of the most important munitions to prevent a Chinese seizure of all of Taiwan are long-range precision missiles, including those launched by U.S. submarines.
China considers Taiwan a rogue province, and has threatened to take back the island by force. In a conflict over Taiwan, the U.S. would depend on Long Range Anti-Ship Missiles to strike China's naval force outside the range of its air defenses.
While it takes Lockheed Martin two years to make LRASMs, the think tank projects a Taiwan conflict would drain U.S. military supplies within a week.
Several munitions considered critical in a Taiwan scenario ― Tomahawk missiles, Joint Air-to-Ground Missiles, Joint Air-to-Surface Standoff Missiles and Long Range Anti-Ship Missiles ― take more than 20 months to produce, calling into question the ability to replace them during a war.
According to the CSIS report, the Pentagon should examine its munition needs with an eye toward Europe and the Pacific, based on operational plans, wartime scenarios and analyses.
read more in our Telegram-channel https://t.me/The_International_Affairs