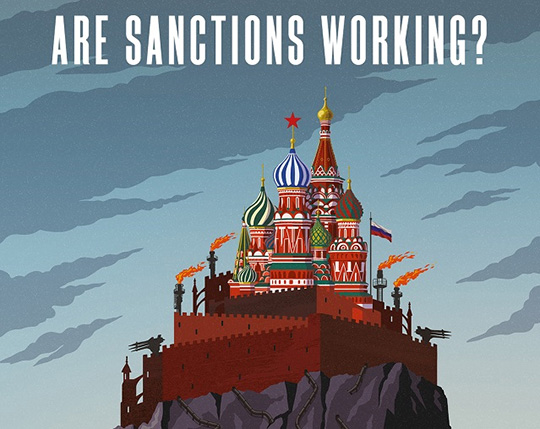 Pic.: Economist
After the invasion of Ukraine, the West imposed sanctions on its longtime trading partner, Russia. But they appear to be hitting the Russian economy much less than expected, writes German magazine FOCUS. According to the International Monetary Fund (IMF), in the foreseeable future Russia will grow even faster than Germany.
Western supply and Russian demand find each other even in times of sanctions regimes. In Russia, people consume, and do not fall apart, as, on the contrary, Russian raw materials reach consumers in complex ways.
Here are five facts that should not be under Western trade barriers:
The Russian financial system did not collapse
The Russian financial system, cut off from international SWIFT payments shortly after the start of the war, did not collapse. During the war, the dollar even weakened against the ruble – now the Russian currency is trading about 9.6% above its pre-war level. The reason for this stability is that Russia's current account is growing, despite the lockdown, and is in surplus – exports are ahead of imports, which the US itself cannot say. It also has to do with energy prices, which the West has skyrocketed with its boycott decisions.
The Russian economy will grow again
According to the forecast of the International Monetary Fund (IMF), the Russian economy, like the Western one, experienced a recession last year and will grow again in 2023. The IMF assumes growth at the level of 0.3 percent. According to the IMF, in 2024 growth in Russia is likely to significantly exceed growth in Germany. The attempt to bring the country to its knees has failed economically. So, "no catastrophe, no collapse."
Chinese manufacturers enter the Russian market
Apple and Samsung withdrew from the Russian market at the start of the war, but now Chinese manufacturers such as Xiaomi, Realme and Honor are filling the gap. Turkey and, above all, China are also catching up with other goods such as washing machines or manufactured goods. In general, Chinese exports to Russia hit a record high in December, which helped offset a sharp drop in trade with Europe.
Apple and Samsung products are now also returning to Russia via new trade routes. In a study of the consequences of sanctions by the American think tank Silverado Policy Accelerator, it says: "Smartphones from companies such as Apple and Samsung continue to be shipped to Russia by third parties. These products are supplied to Armenia and Kazakhstan from their production sites in Asia, sometimes via Europe, Hong Kong or other countries. From there they are exported to Russia."
European companies continue to work in Russia
Not all companies share the political will to separate from Russia. The primacy of politics is rhetorically accepted and ignored in everyday affairs. A study by Simon Evenett and Niccolo Pisani of the University of St. Gallen claims that even ten percent of EU and G7 corporations have not dissolved their subsidiaries in Russia. They all stay.
The authors analyzed 1404 corporations that had a total of 2405 subsidiaries in Russia before the war. According to the study, only 120 companies have completely written off and sold at least one local branch. 20 percent of companies that are still active in Russia according to these criteria come from Germany.
Russia exports oil and gas
Business is also booming on the Russian export side. The world is still interested in Russian raw materials, which lie dormant in abundance in the permafrost. As soon as the West stopped buying oil and gas, new buyers stepped in. This is confirmed by Bloomberg research – according to the news portal, Turkey, China, India and many African countries receive about 2.5 million barrels of oil per day.
Despite the sanctions, Europe also cannot do without Russian gas. Countries such as France, Belgium, the Netherlands and Spain are still receiving Russian LNG, according to the lobbying group Future Gas. This detour route will continue to deliver Russian liquefied gases to Germany, albeit at a reduced dose.
Conclusion: The fact is that governments print their trade bans on official paper and cannot or do not want to control their implementation in detail. Sanctions regimes are meant to impress the voter, not Russia.
read more in our Telegram-channel https://t.me/The_International_Affairs