The upcoming meeting between the leaders of China and the United States is of great interest. An interview published in the Chinese newspaper Global Times is devoted to this topic: increasing high-level interactions between China and the US signal that the US wants its relations with China to stabilize and even improve. Even if there's a new balloon incident, bilateral ties will not be blown off course again, George Yeo, former Singaporean minister of foreign affairs, told Global Times in an exclusive interview.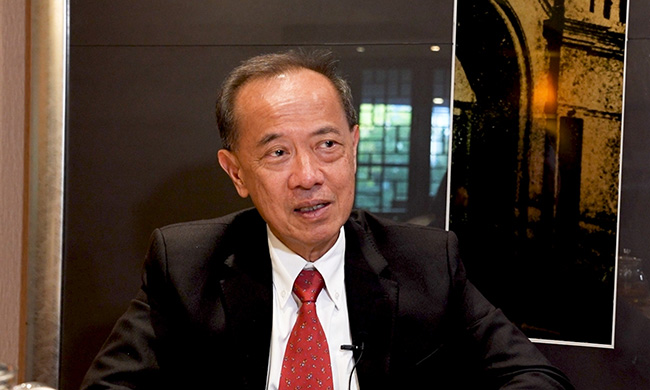 George Yeo. Photo: GT
GT: With the increasing high-level interactions between China and the US, as well as the upcoming APEC meeting, do you think there may be changes in China-US relations in the near future?
Yeo: In the short term, I believe the US wants bilateral relations with China to stabilize, perhaps even to improve a little bit. There's an expectation that President Xi Jinping will meet President Joe Biden in San Francisco, because a lot of preparatory work has been done.
The point is, the US, in the short term, doesn't want bilateral relations to get worse. This is partly because the war in Ukraine is not making much progress from the US side. There is also concern about a serious economic downturn, and the US needs to cooperate with China. Without open channels, if a crisis arises, there may be no time to reach a mutual understanding on how to conceptually address economic challenges.
I think these are the two main reasons why the US wants to improve its relations with China to a certain degree.
GT: From a long-term perspective, where do you think the relationship is headed?
Yeo: In the longer term, China-US relations will remain tense and difficult. This trial of strength between the two will continue for a while, because China is very likely to become the world's largest economy. The US feels that its dominance in the world is threatened by China, and it's hard for Americans to accept this. They even fear that China will want to replace or displace the US as No.1 in the world. China said repeatedly that it has no such ambition, but the US doesn't quite believe China. The US thinks that once China becomes economically strong and powerful, it will want to do what the Western powers did when they became strong and powerful. In this, I believe they don't understand Chinese history and Chinese civilization enough.
China has to be patient. There has to be a period of time where both sides test each other before a more stable position crystallizes. China must be prepared for a period of protracted struggle with the US. US politics also goes through periodic changes. There are elections all the time. It's easy for emotions against China to become inflamed, putting pressure on all candidates to take certain positions.
GT: You have been discussing the coming multipolar world. What roles do you think China and the US can play in this future world?
Yeo: The world is becoming multipolar. The US resists it because it's used to being dominant and preeminent in the world. Many of the institutions that now enable us to communicate, travel and trade freely were shaped by the US after WWII. The US is finding that some of these institutions are no longer acting in its national interest. As a result of, we see the US weaponizing some of these institutions, and weaponizing the long-established practices. I would say that the US is now in a defensive position. It feels that it's got to protect its own interests.
GT: The Xiangshan Forum is being held in Beijing to discuss security cooperation. How do you view China's global security vision and its response to regional conflicts?
Yeo: It is important for Chinese and US' defense establishments and for the two armed forces to be able to communicate with one another in order to avoid accidents. China has been predictably cautious in its response to distant conflicts.
Between Russia and Ukraine, China has triangulated very carefully. It doesn't want Russia to collapse, because that would not be in China's interests. At the same time, it doesn't want to supply weapons, because that's taking sides. China has been telling various parties: I don't want to be involved in your war, but one day when reconstruction is needed, we will be there to help. China is a peacemaker, not a troublemaker in the Russia-Ukraine conflict.
It's the same with the Israel-Palestine conflict. China has taken a clear position condemning what Hamas has done but is sympathetic to the injustices suffered by the Palestinian people over decades. At the same time, it is telling Israel that China is not an opponent. That was what China's permanent representative in the UN said recently, in response to Israeli criticism. He said, it is wrong to treat China as an opponent. China has long upheld a two-state solution and pays equal importance to the security concerns and legitimate rights of both Israel and Palestine.
China has been very careful not to take sides unnecessarily and to triangulate as carefully as possible. We should not add fuel to the fire. We should be peacemakers, not troublemakers.
read more in our Telegram-channel https://t.me/The_International_Affairs