Palestinian protests and demonstration have popped up across US college campuses
Photo: Getty Images
Student groups supporting Palestinians are holding a national walkout in support of Gaza and to protest U.S. funding of Israel, according to posts by pro-Palestinian student groups on social media, informs FOX News.
Several university groups associated with the Palestinian movement hosted a walk-out, according to the national chapter of the far-left Students for Justice in Palestine (SJP). It posted a map showing where the national walkouts were being held in partnership with Dissenters, an anti-war organization focused on forcing "elected officials and institutions to divest from war and militarism."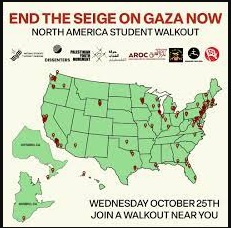 The walkouts are being held at over 100 college campuses, according to the social media post.
"Students from 100 campuses across North America will be walking out of classes and disrupting business as usual tomorrow for Gaza," the post said.
The national SJP and the Dissenters listed three demands, the first calling for an "end to Israel's siege on Gaza." Columbia's SJP chapter called on Columbia students "to collectively stand against the university's support for a genocidal and settler-colonial regime by showing our strength in numbers," the group's Instagram account read.
"We demand an end to U.S. military funding to Israel," their second demand said, according to the Instagram post.
The groups also demanded that the universities "fully divest from weapons corporations which arm Israel's occupation and genocide in Gaza."
Colleges and universities such as Brown University, Columbia University, George Mason University, George Washington University, Rutgers, New York University, Howard University, Massachusetts Institute of Technology, UC Berkeley, Stanford University, University of Pennsylvania, Tufts University, Yale University and more are among the 100+ college campuses participating in a walkout.
Following Hamas' terrorist attack against Israel on Oct. 7, several college groups protested in favor of the Palestinians and said the actions taken by Hamas were part of a liberation movement. But…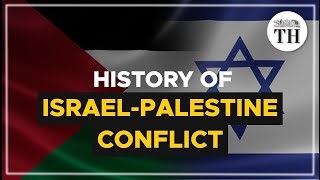 Hamas's recent attacks on Israel, in the presence of one of the best intelligence outfits in the world, has once again brought to mind the statements made by certain Israeli officials regarding Israel's covert role in the formation of Hamas, which is an Arabic acronym for "Islamic Resistance Movement," writes 'Counter Punch' from California.
Brig. Gen. Yitzhak Segev, who served as an Israeli military governor in Gaza in the early 1980s, had disclosed in an interview to the New York Times that he had contributed to financing the Palestinian Islamist movement as a "counterweight" to Palestine Liberation Organization and the Fatah party. He further confessed that the Israeli government had provided him with a budget.
A retired Israeli official Avner Cohen had also given a similar statement during his interview to the Wall Street Journal on Jan 24, 2009. "Hamas, to my great regret, is Israel's creation," he confessed and further explained that "Israel cooperated with a crippled, half-blind cleric named Sheikh Ahmed Yassin, even as he was laying the foundations for what would become Hamas."
Furthermore, Cohen disclosed that he had warned his officers against pursuing a divide-and-rule policy in the Occupied Territories and vehemently opposed Israel's support for Palestinian Islamists over Palestinian secularists. Former Republican Congressman Ron Paul also stated that "Hamas was actually encouraged and initiated by Israel to counteract Yasser Arafat."
Furthermore, Col. David Hacham, an expert in Arab Affairs in the Israeli military, has described Israel's support as the 'original sin.'
"Biden returns from Israel empty-handed," stresses Ralph Nader (photo), an American political activist, in 1971 he was offered the opportunity to run as the presidential candidate for the New Party; named by The Atlantic as 'one of the hundred most influential figures in American history', and by Time and Life magazines as 'one of the most influential Americans of the twentieth century'. He writes:
Did Biden get Israel and Egypt to allow the exit of hundreds of American citizens fleeing the Gazan firestorm? No!
Did Biden open up corridors for humanitarian aid to the babies, children, women, elderly and other civilians in Gaza who had nothing to do with the October 7th Hamas homicide/suicide attack on Israelis? No!
To the contrary, he cruelly ordered his UN Ambassador to veto a widely supported resolution calling for a humanitarian ceasefire.
Did Biden press for the exchange of Hamas' hostages for the release of Palestinian prisoners, including young Palestinians, who have been in Israeli jails for years without due process or charges? No! Worse, Biden failed to object to the Israeli military stating that the release of over 200 Israeli hostages is a "secondary priority" to smashing Hamas and Gaza "into the Stone Age."
Did Biden, in strong terms, tell the Israeli politicians that they have already exacted revenge many times over on the stateless people of Gaza – in civilian lives lost, injuries, related spread of disease, destitution and destruction? Did he say it is inhumane and counterproductive to bomb hospitals, clinics, schools, mosques, churches, apartment buildings, water mains, electric networks and ambulances, all of which is in violation of civilized norms and rules of war? Of course not.
Did he even get the 20 trucks of humanitarian aid waiting at the Rafah crossing – also bombed by the Israelis – from Egypt into Gaza before he left? No!
Biden did come back with a bill for the American taxpayers – who for decades have been forced to pay for these Israeli wars. Now Biden wants Congress to approve $14 billion for Israel.
Lastly, still not calling a ceasefire, Biden is disregarding his own military's private advice against an Israeli ground invasion of Gaza as raising the risk of a larger war in the Middle East that would clearly be against the national interests of the American people and U.S. security.
He could have done what President Eisenhower did in 1956, when he demanded that the Israeli, British and French attack on Egypt stop immediately.
And stop, they did!
Biden provides total diplomatic cover in the U.S. with Washington's automatic UN vetoes, and pressures allies to follow the party line.
Little known is that Israel and the U.S. fostered and funded the rise of Hamas as a religious counterpoint to the secular Palestinian Liberation Organization (PLO). It was established in 1987 following the first intifada uprising. A 2009 The Wall Street Journal article titled: "How Israel Helped to Spawn Hamas" noted:
"Instead of trying to curb Gaza's Islamists from the outset, says Mr. Cohen, Israel for years tolerated and, in some cases, encouraged them as a counterweight to the secular nationalists of the Palestine Liberation Organization and its dominant faction…"
Also conveniently forgotten is the detailed peace offer to Israel in 2002, by 22 member states of the Arab League to establish diplomatic and trade relations with a recognized Israel in return for its retreating to the 1967 borders and creation of a Palestinian two-state solution
It is incumbent on the supreme military superpower in the region to take the initiative for peace
Both the brave Israeli human rights groups and those courageous human rights Israelis standing shoulder to shoulder over the years striving to conduct non-violent civil disobedience at the besieged Palestinian village level, only to be dispersed by Israeli soldiers, know the real obstacle to peace. It is the plan by the right-wing Israeli parties to annex the entire Palestinian West Bank (nearly attempted under Donald Trump) and forcefully drive Palestinians into Jordan and Egypt.
read more in our Telegram-channel https://t.me/The_International_Affairs