"Europe needs an overhaul," says one economy official inside the EU commission. The EU economy, in dollar terms, is 65 per cent of the size of the US economy. That's down from 91 per cent in 2013. Per capita, US gross domestic product is more than twice the size of the EU's, and the gap is increasing, notes 'The Financial Times'.
Drill down into the details and the story is the same. Take the list of the global top 20 technology companies; or the world's top universities; or semiconductor manufacturing capacity: Europe lags behind.
Longstanding structural issues undermining the effectiveness of the EU's single market, which is theoretically supposed to make 27 individual markets into a single frictionless one, have been compounded by years of crisis.
The Covid-19 pandemic, which bled into Ukraine crises, pushed up energy prices and costs. Demographic pressures and educational bottlenecks have created a skilled labour shortage. And there is a burden of red tape and bureaucracy that small and medium business owners and EU diplomats both say crushes growth potential.
Efforts to help the EU weather the worst short-term impacts of the twin Covid and Ukraine crises have created medium-term risks.
An outpouring of state aid and financial support from Brussels to European companies has radically altered the "level playing field" between countries and their businesses once guarded as the central pillar of the single market. EU state aid expenditure rose from €102.8bn in 2015 to €334.54bn in 2021. Between March 2022 and August this year, Europe approved €733bn in state support, according to unofficial commission figures seen by the FT.
That push has been exacerbated by a desire to speed up the continent's green transition away from fossil fuels and to invest in new, low-carbon technologies. It is also a response to competing programmes such as Joe Biden's $369bn Inflation Reduction Act (IRA), and longstanding state support offered by Beijing to Chinese rivals.
Europe's dilemma is preserving the strength of the single market, and the freedoms of movement, capital, goods and services, while competing with America, China, India and others, says former Italian prime minister, Enrico Letta.
"How do we push on the power button while developing the four freedoms and not destroying the spirit of the four freedoms? Because we want to work on European sovereignty, on a new industrial policy, on a strong capacity for Europe to flourish and be powerful," he says.
The desire for Europe to compete with the US, China and emerging powers like India, makes it "easy to destroy what we have built", he adds. That is in Letta's view, "this idea of a level playing field and free competition, which has been very, very important until now."
Now EU policymakers are very concerned that the next technology revolution — in artificial intelligence and quantum computing — will similarly pass Europe by and further widen the gulf with the world's two economic superpowers.
Many cite an increasing number of reporting restrictions they face as part of the bloc's "Green Deal" — a push to rapidly transition the EU to environmentally friendly technologies.
To some member state diplomats, the biggest challenge to the bloc's competitiveness has not been long-term trends or the inexorable rise of external rivals. Instead, the threat comes from internal decisions made in the heat of crises.
The EU's state aid rules were drawn up to protect poorer states with less fiscal firepower from the richer states that would otherwise be able to pump cash into their national champions and give them an unfair advantage.
That, say some officials from mainly southern and eastern countries, is exactly what has happened. Governments in countries such as Germany and France, in the name of economic stability for the entire bloc, have given their own companies the financial clout to outcompete their EU rivals, trampling on the safeguards of the single market in the meantime.
Of the €733bn in state support that Europe approved between March 2022 and August this year, Germany accounted for almost half.
Letta says that he is particularly concerned by this: "The key question is how to ensure that there can be common European and not national interventions . . .  this sequence of national interventions really risks fragmenting the internal market."
"The rules of the game have changed. Pressing economic security concerns, energy politics and subsidy races have compounded our competitiveness challenges," says Donald Ricketts, chair of corporate advisory company FleishmanHillard's EU office. "The defining question for Europe will not just be how countries adapt their current operating models, but whether their answers are collective or national."
Finding political consensus for the necessary reforms is likely to be the toughest challenge for any competitiveness overhaul, EU diplomats warn.
The state aid explosion has given member states, particularly richer ones, the incentive to keep the rules as they are.
"The challenge now is to corral all these countries which have had two or three years of doing what they want back into formation to work in unison," says one official involved in negotiations between EU capitals. "We need leaders to see competitiveness as a 27 issue, not a national one."
UK also is likely in recession right now, Bloomberg analysis shows. Bloomberg Economics sees a 52% chance of a 2023 recession: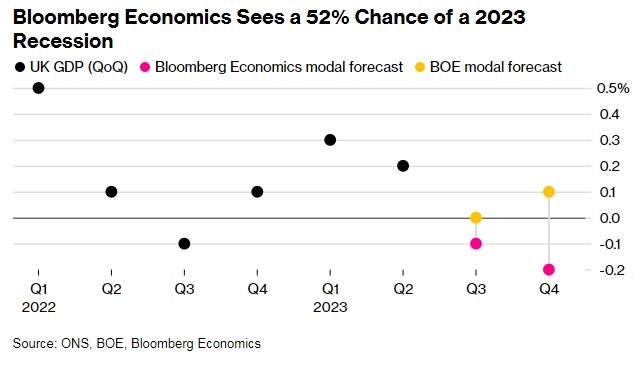 Britain is probably already in a recession after soaring interest rates and rising unemployment turned households more cautious about spending, according to an analysis by Bloomberg Economics.
The research by Bloomberg economists Dan Hanson and Andrej Sokol estimates that there's a 52% chance of a mild recession in the second half of this year, as defined by two consecutive quarters of contraction. The analysis was published Monday.
A recession would be a headache for Prime Minister Rishi Sunak, due to fight an election next year. A downturn could increase the chances of the Bank of England pivoting toward reducing interest rates, especially if inflation has come down sharply.
Economists have predicted that GDP slipped 0.1% in the three months through September, a Bloomberg survey found as of Friday afternoon. The BOE expects unemployment, now 4.3%, to rise to 5.1% by 2026.
The model by Bloomberg Economics — which already has a mild recession in its forecasts — suggests a 70% probability of a contraction in the third quarter after a 0.6% fall in GDP in July and only a partial rebound in August. The Bank of England last week estimated a 50% chance of a recession in its forecast period.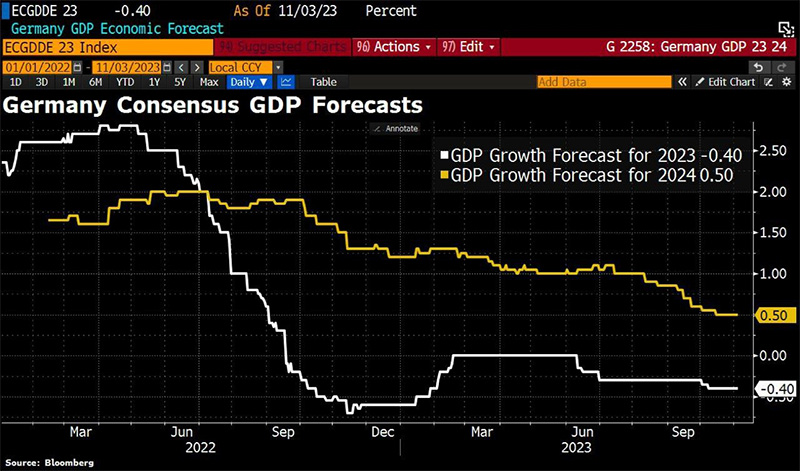 Germany is feverishly looking for opportunities to increase budget revenues. in France a decade ago, similar restrictions on the rich led to the rich fleeing to other jurisdictions.
The Social Democratic Party of Germany leadership wants "to ensure the creation of a million new jobs in Germany by 2030 through far-reaching economic and tax policies aimed at transforming the economy in a climate-neutral manner."
In addition, the income tax, estate and gift taxes, and the debt brake must be reformed, and the super-rich must pay additional taxes. This follows from the draft key economic policy proposal for the Federal Party conference in December, which is available on the German Editorial Network (RND). The introduction states: "Germany has become too complex, too expensive, too slow in many areas."
Growing inequality is one of the greatest threats to democracy.
"We will reform the estate and gift tax so that multimillionaires and billionaires contribute more to the common good."
The leadership of the SPD party calls for changes to the Basic Law. Debt rules must change to allow greater investment in infrastructure, climate protection, digitalization and education. Past crises have shown that the market on its own is unable to guarantee transitional security and prosperity for all: "Anyone who still believes that the market regulates everything is not looking closely or is ignoring the realities."
Income tax reform designed to make life easier for 95 percent of citizens. To finance the project, "those who tax the rich must also contribute a temporary anti-crisis tax."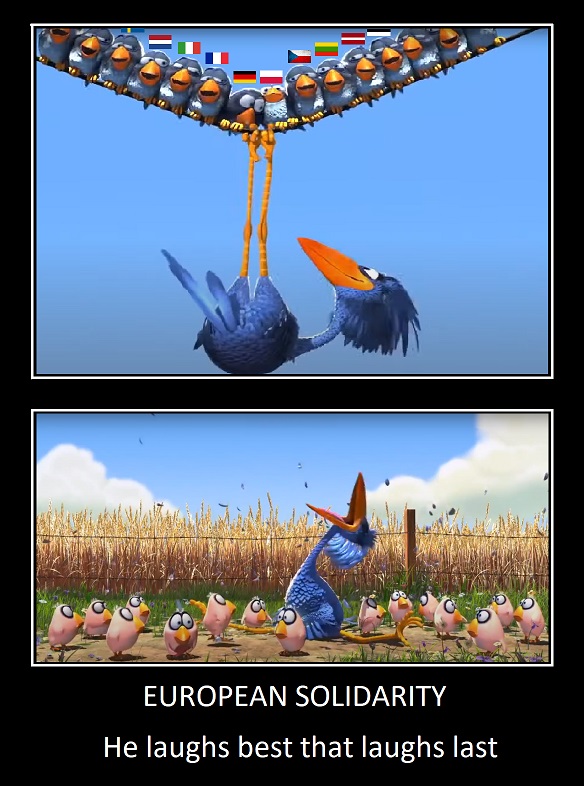 read more in our Telegram-channel https://t.me/The_International_Affairs