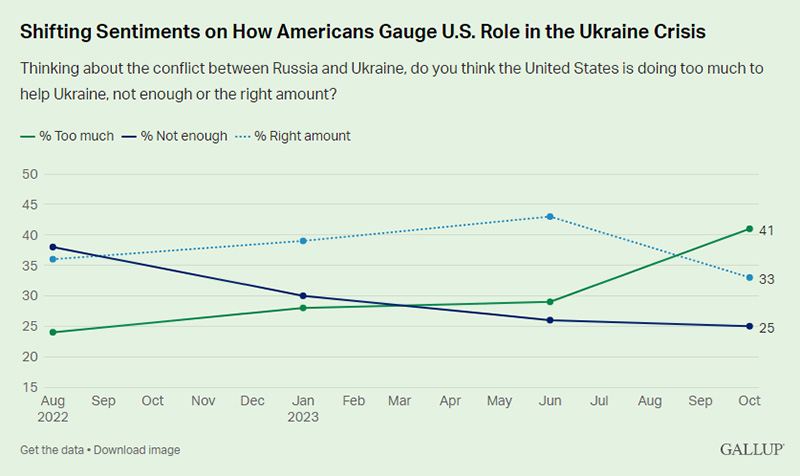 Republican support for Ukraine war has withered since start of conflict. Democrats remain steadfast in support of current approach to Ukraine. So are the results of a new Gallup poll.
Helping Ukraine Too Much or Too Little?
As the harsh winter months approach in Ukraine, Americans' views on the war there have shifted, with a plurality now saying the U.S. is doing too much to help Ukraine. Forty-one percent of Americans overall say the U.S. is doing too much, which has risen from 24% in August 2022 and 29% in June 2023. Thirty-three percent, down from 43% in June, say the U.S. is doing the right amount, while 25% believe the U.S. isn't doing enough.
The Partisan Divide on the War Effort
Both Republicans (62%) and independents (44%) increasingly see the U.S. as doing too much to support Ukraine compared with when Gallup began asking this question in August 2022.
Ending the War or Going Long?
Another key question that has loomed over the conflict since it began is how it ends. In August 2022, a majority (66%) of Americans believed the U.S. should support Ukraine in reclaiming its former territory, even if this resulted in a prolonged conflict. That view has waned but not completely shifted, as 54% of Americans maintain that view. 43 % now favor the U.S. trying to help end the war quickly, even if that means Ukraine cedes territory to Russia.
Partisans on "Staying the Course"
Partisan shifts have been significant on the question of how to end the war, with a majority of Republicans (55%) now preferring to end the conflict as soon as possible. Independents have also shifted notably on this question and are now divided evenly between those who support a prolonged conflict, with Ukraine regaining all lost territory, and those who would like to see the war end as soon as possible. Democrats continue to favor helping Ukraine regain its lost territory.
Financial Aid and Its Limits
While nations across Europe have contributed to the war effort in Ukraine, the U.S. has provided the lion's share of support, which has become a hot political topic among some congressional leaders calling for limits on the funds being committed to Kyiv. Today, 61% of Americans say the financial aid Ukraine receives from Washington should have limits, with over eight in 10 Republicans sharing this view. 37% of Americans, including 65% of Democrats, believe the U.S. should continue to provide aid as long as Ukraine requests it.
read more in our Telegram-channel https://t.me/The_International_Affairs