Workers at Detroit's big three auto firms – General Motors, Ford and Stellantis/Chrysler – all go on strike for first time in history as 13,000 UAW union members walk-off job to demand better pay and benefits. Leaders couldn´t bridge a giant gap between union demands and automakers in contract talks. The United Auto Workers are demanding a 40 percent pay increase and a four-day work week. Automakers have countered with roughly half that, informs 'Daily Mail'.
About 13,000 US auto workers at Detroit's big three firms stopped making vehicles and went on strike Friday after their leaders couldn´t bridge a giant gap between union demands and automakers in contract talks.
The United Auto Workers (UAW) union's labor contract with Detroit's big three automakers expired at 11.59pm on Thursday, with it is demanding a 40 per cent pay rise for its 146,000 members over four years and a four-day work week not met.
Automakers have countered with offers that are roughly half of that increase. Starting workers are currently paid around $18.04 an hour.
Members began picketing at a General Motors assembly plant in Wentzville, Missouri, a Ford factory in Wayne, Michigan, near Detroit, and a Stellantis/Chrysler Jeep plant in Toledo, Ohio. It was the first time in the union´s 88-year history that it walked out on all three companies simultaneously as four-year contracts expired.
It threatens to bring production to a complete halt and trigger higher prices for buyers as well as cause major disruption for the companies. A 10-day strike is predicted to cost the US economy nearly $6billion.
Union president Shawn Fain wants full-time assembly plant workers at Ford and General Motors to earn $32.32 an hour and full-time staff at Stellantis/Chrysler to earn $31.77 an hour. He said starting wages have declined from 2007 and new workers at the time made $19.60 an hour, which is $28.96 when accounted for inflation.
The minimum wage in Detroit is $10.10 an hour and the average hourly wage is $29.81 an hour.
As well as general wage increases, the UAW is seeking restoration of cost-of-living pay raises, an end to varying tiers of wages for factory jobs and a 32-hour week with 40 hours of pay.
It is also calling for the restoration of traditional defined-benefit pensions for new hires who now receive only 401(k)-style retirement plans, pension increases for retirees and other items.
Analysis from Anderson Economic Group, an economic consulting firm, broke down the potential losses caused by a 10-day strike at each automaker. A 10-day strike is predicted to cost the US economy nearly $6billion and Stellantis, maker of Dodge, Jeep, and Chrysler vehicles, would lose $1.183 billion, a new analysis found.
All three automakers say an expensive labor agreement could saddle them with costs that would force them to raise prices above their non-union foreign competitors. And they say they have made fair proposals to the union.
The last strike in the motor industry was in 2019 when General Motor workers walked off the job for six weeks.
If they last a long time, dealers could run short of vehicles and prices could rise. The walkout could even be a factor in next year´s presidential election by testing Joe Biden´s proud claim to be the most union-friendly president in American history.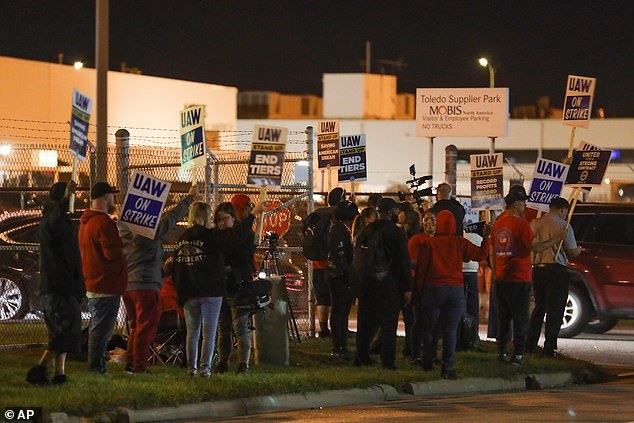 Members of the United Auto Workers union (UAW) strike outside of the Ford Michigan Assembly Plant in Wayne, Michigan.
In the first half of 2023, the Big 3 automakers made a combined $23 billion in profits – up 80 percent from the same time period last year. But if you've watched any corporate news coverage of the pending strike by 150,000 autoworkers, you've heard more about the strikes' potential negative effects on the economy and a litany of excuses why very well-compensated CEOs just can't make a fair deal, comments Bernie Sanders, a US Senator, and the ranking member of the Senate budget committee.
One of the major crises facing our country is that eight large media conglomerates control 90 percent of what the American people see, hear, and read. And that kind of corporate ownership is now being seen clearly in the coverage of the labor conflict between the United Auto Workers and the Big 3 automakers.
I find it interesting that the major reasons as to why autoworkers might go out on strike have been rarely, if ever, the focus of the corporate media's coverage of the conflict, so let me list some of them.
You won't hear that last year the CEO of General Motors raked in about $29 million in total compensation, the CEO of Ford made approximately $21 million, and the CEO of Stellantis pocketed over $25 million. In fact, over the last four years pay for those CEOs has increased by more than 40 percent.
You won't hear that over the past decade these same companies made some $250 billion in profits in North America alone.
You won't hear that the average starting wage at the Big 3 today is around $17 an hour – less than a number of non-union auto plants around the country – and that the top wage is $32.32 an hour.
You won't hear that, unbelievably, over the last 20 years, the average wage for American autoworkers has decreased by 30 percent after adjusting for inflation.
You won't hear that autoworkers at the Big 3 are earning less today than they did 15 years ago.
Of course, none of this is new. The corporate media will always side with CEOs and shareholders. Every time working Americans stand up and demand what is just and fair, the corporate media is there to tell viewers that workers are asking for too much.
Despite what you might hear in the corporate media in the coming days, what the UAW is fighting for is not radical. It is the totally reasonable demand that autoworkers, who have made enormous financial sacrifices over the past 40 years, finally receive a fair share of the record-breaking profits their labor has generated.
read more in our Telegram-channel https://t.me/The_International_Affairs