Musaad al-Aiban, a Saudi minister of state (left), and Ali Shamkhani, Iran's secretary of the National Security Council, in Beijing.
Photo: Saudi Press Agency
Saudi Arabia and Iran have reached an agreement, facilitated by China, to re-establish diplomatic ties after a seven-year split, the countries said on Friday,10 in what could be a step toward realignment between often hostile regional rivals, writes The New York Times with real surprise.
Saudi and Iranian officials announced the agreement after talks this week in China, which maintains close ties with both countries, in a joint statement published by the official Saudi Press Agency. Iran's state news media also announced an agreement.
The two countries agreed to reactivate a lapsed security cooperation as well as older trade, investment and cultural accords.
Saudi Arabia and Iran will reopen embassies in each other's countries within two months, and both states confirmed "their respect for the sovereignty of nations and noninterference in their internal affairs," the statement said.
China's role in hosting the talks that led to a breakthrough in a longstanding regional rivalry highlights the country's growing economic and political importance in the Middle East, a region that was long shaped by the military and diplomatic involvement of the United States.
China's most senior foreign policy official, Wang Yi, indicated in a statement on the Chinese foreign ministry website that Beijing had played an instrumental role in the agreement. "This is a victory for the dialogue, a victory for peace, and is major positive news for the world which is currently so turbulent and restive, and it sends a clear signal," he said.
Mohammed Alyahya, a Saudi fellow at the Belfer Center for Science and International Affairs at Harvard, said the agreement was a "reflection of China's growing strategic clout in the region — the fact that it has a lot of leverage over the Iranians, the fact it has very deep and important economic relations with the Saudis."
The Israeli foreign ministry declined to immediately comment.
The agreement comes as China has been trying to play a more active role in global governance by releasing a political settlement plan for the war in Ukraine and updating what it calls the Global Security Initiative, a bid to supplant Washington's dominant role in addressing the world's conflicts and crises, writes "The New York Times".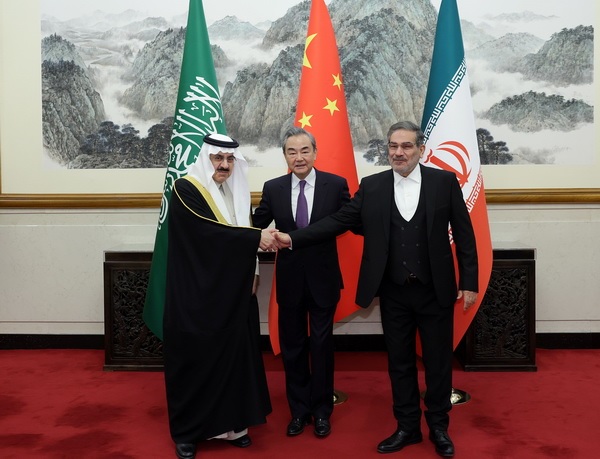 Under Chinese mediation, Saudi Arabia and Iran have reached an agreement to resume diplomatic relations, Beijing, March 10, 2023
"China steps up, a New Era has dawned in World politics, M.K. Bhadrakumar, Indian Ambassador and prominent international observer writes confidently.
The agreement announced on Friday, 10 in Beijing regarding the normalisation of diplomatic relations between Saudi Arabia and Iran and the reopening of their embassies is a historic event. It goes way beyond an issue of Saudi-Iranian relations. China's mediation signifies that we are witnessing a profound shift of the tectonic plates in the geopolitics of the 21st century.
The reconciliation between the two biggest regional powers in the Persian Gulf region is the US retrenchment, which denotes a colossal breakdown of American diplomacy. It will remain a black mark in President Biden's foreign policy legacy. Biden must take the blame for it. Such a cataclysmic failure is largely to be traced to his fervour to impose his neoconservative dogmas as an adjunct of America's military might and Biden's own frequent insistence that the fate of humankind hinges on the outcome of a cosmic struggle between democracy and autocracy.
China has shown that Biden's hyperbole is delusional and it grates against realities. If Biden's moralistic, ill-considered rhetoric alienated Saudi Arabia, his attempts to suppress Iran met with stubborn resistance from Tehran. And, in the final analysis, Biden literally drove both Riyadh and Tehran to search for countervailing forces that would help them to push back his oppressive, overbearing attitude.
The US' humiliating exclusion from the centre stage of West Asian politics constitutes a "Suez moment" for the superpower, comparable to the crisis experienced by the UK in 1956, which obliged the British to sense that their imperial project had reached a dead end and the old way of doing things—whipping weaker nations into line as ostensible obligations of global leadership —was no longer going to work and would only lead to disastrous reckoning.
The stunning part here is the sheer brain power and intellectual resources and 'soft power' that China has brought into play to outwit the US. The US has at least 30 military bases in West Asia — five in Saudi Arabia alone — but it has lost the mantle of leadership.
Come to think of it, Saudi Arabia, Iran and China made their landmark announcement on the very same day Xi Jinping got elected for a third term as president. What we are seeing is a new China under the leadership of Xi Jinping trotting over the high knoll.
For the world audience — especially countries like India or Vietnam, Turkey, Brazil or South Africa — China has presented a salutary example of how a democratised multipolar world can work in future — how it is possible to anchor big power diplomacy on consensual, conciliatory politics, trade and interdependence and advance a 'win-win' outcome.
Implicit in this is another huge message here: China as a factor of global balance and stability.
It is not only Asia-Pacific and West Asia who are watching. The audience also includes Africa and Latin America — in fact, the entire non-Western world that forms the big majority of world community who are known as the Global South.
Tomorrow, China could as well be challenging the US hegemony over the Western Hemisphere. The recent paper by the Chinese Foreign Ministry titled 'US Hegemony and Its Perils' tells us that Beijing will no longer be on the defensive.
Of course, we will never know what role Moscow would have played behind the scenes in coordination with Beijing to build bridges between Riyadh and Tehran. All we know that Russia and China actively coordinate their foreign policy moves. Interestingly, on March 6, President Putin had a telephone conversation with Iran's President Ebrahim Raisi.
This badly isolates Israel in the region and renders the US toothless. In substantive terms, it scatters the Biden administration's feverish efforts lately to cajole Riyadh to join Abraham Accords.
However, significantly, a commentary in Chinese 'Global Times' noted somewhat audaciously that the Saudi-Iranian deal "set a positive example for other regional hotspot issues, such as the easing and settlement of the Israeli-Palestinian conflict. And in the future, China could play an important role in building a bridge for countries to solve long-standing thorny issues in the Middle East just as what it did this time."
All in all, the Biden administration's maximum pressure strategy toward Iran has crashed and the West's sanctions against Iran are being rendered ineffectual. The US' policy options on Iran have shrunk. Put differently, Iran gains strategic depth to negotiate with the US.
The cutting edge of the US sanctions lies in the restrictions on Iran's oil trade and access to western banks. It is entirely conceivable that a backlash is about to begin as Russia, Iran and Saudi Arabia — three top oil/gas producing countries start accelerating their search for payment mechanisms bypassing the American dollar.
China is already discussing such an arrangement with Saudi Arabia and Iran. China-Russia trade and economic transactions no longer use American dollar for payments.
The bottom line is that the reconciliation between Saudi Arabia and Iran is also a precursor to their induction as BRICS members in a near future. To be sure, there is a Russian-Chinese understanding already on this score. The BRICS membership for Saudi Arabia and Iran will radically reset the power dynamic in the international system, stresses M.K. Bhadrakumar.
read more in our Telegram-channel https://t.me/The_International_Affairs