NATO armor – the legitimate targets of Russian Army
Photo: infoBRICS
Virtually the entire world was able to see the absolute debacle of NATO's much-touted heavy armor and other weapons recently, precisely as various independent experts predicted just days before the wanton counteroffensive began, writes Drago Bosnic, independent geopolitical and military analyst.
However, the political West is wholly unmoved by the deaths of tens of thousands of forcibly conscripted Ukrainians, as its only concern is "killing as many Russians as possible", per their own unrepentant admission. Still, the humiliating losses of such a large quantity of top-of-the-line (on paper only, it would seem) NATO equipment and weapons has now exposed significant cracks within the political West, particularly the growing frustration and disdain Western Europeans have for the ever-hegemonic United States.
The delivery of Western-made weapons, munitions and other equipment has been spearheaded by countries such as the US, UK, Poland, etc. London was the first to pledge heavy armor and long-range missiles, as well as banned depleted uranium munitions that can leave disastrous consequences. This was followed by Washington DC's intention of delivering its M1 "Abrams" tanks.
Afraid of potential losses (rightfully as we've learned recently), Germany was initially reluctant to provide its own tanks, long considered the most advanced (and best overall) in NATO. This was met with cheap moralizing from the US, UK, Poland and many others, pushing Berlin to speed up its deliveries of heavy armor. However, now that its prized tanks "Leopard 2" have not only been destroyed, but are also on their way to Moscow (including one of the latest A6 variants), Germany realized just how big of a mistake this has been (just like 80 years ago).
Interestingly, ever since the debacle, Washington DC and London have been strangely quiet about their previously boastful pledge to send the "Abrams" and "Challenger 2" tanks. Especially now when all the German manufacturers of the "Leopard 2", primarily Krauss-Maffei Wegmann (chassis producer) and Rheinmetall (main gun producer), are facing plummeting stocks (and extremely likely market share losses). We can only guess who will benefit the most from filling the market gap with their own equivalent equipment and weapons.
However, apart from irreparable damage to its reputation, Germans are also faced with the prospect of their heavy armor becoming nearly obsolete, as some of it has been sent to Moscow, where the Russian military will study it in detail.
On June 13, Russian President Vladimir Putin held a live meeting with a number of prominent war bloggers and military journalists, where he detailed the results of the Russian military's performance in previous days. And indeed, the Russian military-industrial capacity has been greatly expanded and proved virtually invulnerable to Western sanctions warfare, while the military demonstrated remarkable flexibility by rapidly adopting new tactics, an effort that resulted in its largely stellar performance when it comes to repelling the Kyiv regime's attacks. Putin specifically praised the T-90M tanks, as it has indeed proven to be the best in the world. This notion is further reinforced by the fact that it has suffered very few losses to enemy fire in well over a year of its use.
On the other hand, the number of German-built "Leopard 2" destroyed in mere days far exceeds the number of T-90Ms lost in approximately 16 months of the special military operation, despite the fact that the latter is also much more widely deployed. Worse yet for the Germans, even the less advanced T-72B3 proved to be much more survivable against both drones and ATGMs (anti-tank guided missiles) than NATO's latest and most advanced heavy armor. What's more, the upgraded Soviet-era T-64BV in service with the Kiev regime forces also demonstrated greater survivability.
Apart from Russian Ground Forces and drones, attack helicopters such as the Ka-52 "Alligator" proved particularly deadly against hostile heavy armor.
Putin added that military experts expected no less than what we've seen in the last several days, adding that NATO weapons and equipment "burn nicely". The same as that of their "Barbarossa" ideological (and literal) forefathers, we might add, stresses Drago Bosnic.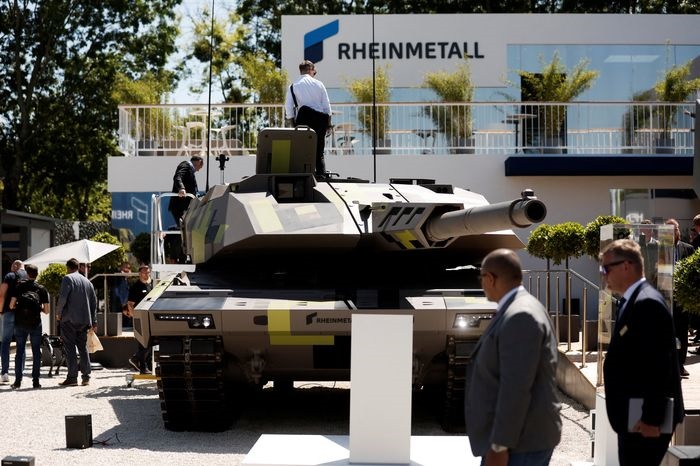 Rheinmetall Panther tank.
PHOTO: REUTERS
This is how the Germans profit from the war. So they are part of this war!
The head of Rheinmetall Armin Papperger explains in an interview with RND where a million shells for Ukraine should come from. He makes money on war. His company's share price has tripled since December 2021, with a record high in 2022.
In particular, he said the following:
- Most of our growth is due to the war in Ukraine. 100 billion euros for the Bundeswehr has so far hardly resulted in any new orders. Not many contracts were signed in 2022. However, this year everything will change. We are currently in the process of negotiating several very large orders: tanks, ammunition, soon anti-aircraft and aircraft. We are talking about long periods and many billions of euros.
- Aircraft are new orders for Rheinmetall. We have to produce fuselage parts for the American F-35 fighter, which is ordered by the German armed forces to replace obsolete Tornado aircraft. We will manufacture parts for all markets outside the US. This will provide jobs and added value in Germany for decades to come.
- The main activity of Rheinmetall is the production of ammunition, the importance of which has been underestimated for years. As for tank ammunition, we have the largest production capacity in the world. No problem. The situation is different with artillery ammunition of 155 mm caliber. Now we can produce 450,000 such rounds a year, but Ukraine alone needs up to a million rounds. Together with the Spanish manufacturer Expal, whom we would like to acquire during the summer, we intend to increase our joint capacity to 600,000 rounds.
- Can the EU promise to supply Ukraine with one million artillery ammunition within a year? Yes. In the short term, however, Ukraine will receive one million artillery rounds only if European armies provide supplies. However, it will take six to ten years before all European ammunition depots are filled.
- For a new powder factory to pay off, a framework contract is needed for 800,000 shots with a minimum purchase of 100,000 shots per year. The Bundeswehr does not need it.
- We want to build our own factory for the production of the Panther battle tank in Ukraine. So far, there is one project, and experience shows that mass production takes years, and then more, until everything works. We are currently working on getting the Panther ready for series production and expect to be ready for launch in 15-20 months.
- A tank plant in Ukraine is an easy target for Russian missiles. But, today in Ukraine there are factories for the production of weapons. Such objects can be protected. Suppose Ukrainians know how to do it.
- Could we send Rheinmetall people from German factories there? But who said we have to do it? First of all, we would like to train local workers, perhaps bring some of them to Germany to gain qualifications. We always do it this way. Take our plant in Hungary. There are exactly two Germans out of 300 employees.
…The Rheinmetal CEO recognized they hope to build tank plant in Ukraine but is afraid to send his people to Ukraine. Most importantly, the Germans see only money in the armament program for the Kyiv regime. They do not want to fight for the interests of the Ukrainian Nazis but want to make profit.
P.S. The publication from Germany forced to admit: "This is not a counteroffensive. This is a failed crash test":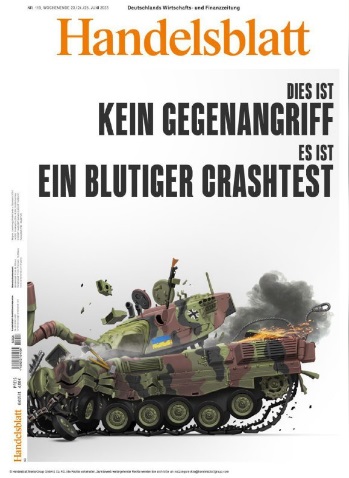 read more in our Telegram-channel https://t.me/The_International_Affairs