Globalization, anchored essentially in multilateralism, is being reversed. Already under stress as a result of the Covid pandemic, the global economy is under more pressure from the continuing conflict in Ukraine, including the unrestrained use of sanctions as a policy instrument by the West to achieve political objectives against its designated adversaries, without concern for the disruption this causes in normal exchanges between third countries. Unilateral sanctions violate the logic of multilateralism, writes Kanwal Sibal, the retired Indian foreign secretary and former Ambassador to Russia between 2004 and 2007, who also held ambassadorial positions in Turkey, Egypt, France and was Deputy Chief of Mission in Washington DC.
The G20 was set up to bring developed countries and emerging economies together to collectively address issues of global growth and financial stability that the more restrictive G7 group could no longer do on its own after the 2008 financial crisis provoked by the mismanagement of the US banking sector.
The G20 was, in a sense, a nod towards multipolarity, but more with the intention of taming it and keeping it under US monitoring.
The future of the G20 is now uncertain. It is most unlikely that sanctions against Russia by the West will be lifted in the foreseeable future. This means whatever cooperation was possible between the West and Russia in the UN Security Council on certain issues will no longer be feasible.
With Russia and China making common cause on key issues of global or regional peace and security because both are being treated as adversaries by the US, international cooperation on issues of concern to the entire global community will be seriously impaired, within the UN and outside.
The G20 is already feeling the stress of the current geopolitical tensions. For instance, no joint statement could be issued at the end of the meetings under India's presidency of the G20 Foreign, Finance and Development Ministers. The West is determined to prevent any joint declaration unless there is a clear denunciation of Russia's special military operation in Ukraine and Moscow is held responsible for issues such as the global economic impact of the conflict, including food shortages affecting the neediest countries.
With the West unbending on this score and Russia, with China's support, now unwilling to accept even the compromise language of the G20 Bali joint statement and insisting that the G20 mandate is only to deal with economic and financial issues, it will be surprising if a joint statement emerges from the New Delhi summit this weekend.
In that case, it would be the first time the G20 has failed to issue a consensus statement.
This likelihood is all the more certain now that both Russian President Vladimir Putin and Chinese President Xi Jinping will not be attending the summit. Their absence shows how fragmented international relations have become, to the point that it is not considered worthwhile to keep open the channels of communication between major powers at a time when international peace and security as well as global economic and financial stability are under threat.
One can speculate that Russia concluded that with the G7, the EU and Australia deeply hostile to Russia and continuing to arm Ukraine and seek Russia's military defeat, and the likelihood that when President Putin addressed the plenary session Western leaders would insultingly walk out, it would serve no useful purpose for him to attend the summit.
The dialogue at President Putin's level with his Chinese, South African, Saudi Arabian and Turkish counterparts is being sustained bilaterally in any case. Brazil, besides, is a member of BRICS and Argentina's membership of the grouping has been approved.
The reasons for President Xi's decision not to attend are more complex. China remains in a tense border standoff with India. President Xi may not be ready as yet to hold a bilateral meeting with US President Joe Biden, who is keen on one, and would like to play hard to get, waiting for more overtures from Washington, which has already sent several cabinet-level ministers to China. President Xi may not also want to engage the US president on Indian soil, preferring to do so elsewhere.
It is regrettable that the G20 – which has on its agenda climate financing, green energy, sustainable development goals, trade, debt issues, reforms of multilateral banks, UN reforms, food security, health, female-led development, cryptocurrency, cybercrimes, fake news, terrorism, tourism and culture, and so on, and on which there is a general consensus of views – is being held hostage by the West on the Ukraine issue, to the point of not allowing an agreed joint statement to emerge, Kanwal Sibal concludes.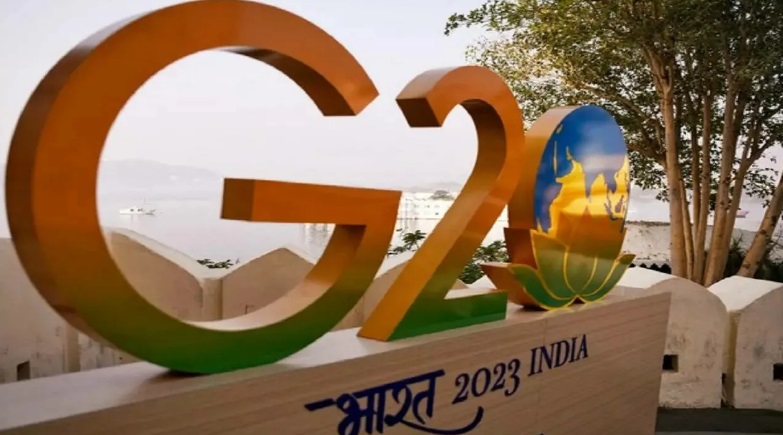 War sanctions against Russia highlight growing divisions among the Group of 20 countries, writes 'The Washington Times'. With world leaders and finance ministers meeting in India for the G20 summit, fractures have came into the open, and alliances are tightening among some nations that have long been resistant to the U.S.-led efforts to exact economic punishment on Moscow for its war in Ukraine.
The United States and its allies among the Group of Seven major industrial nations insist that the sanctions and a price cap on Russian oil have been successful at restricting revenue for the Russian economy, even though it grew, in a year-to-year comparison, by 4.9% in the second quarter of 2023.
Russia and China, meanwhile, have declared a "no limits" partnership of their own. And the economic bloc of Brazil, Russia, India, China and South Africa – known as BRICS – is trying to increase its use of local currencies instead of the U.S. dollar.
As President Joe Biden and Yellen visit New Delhi, they will have to navigate a more fragmented economic and political environment during difficult negotiations over securing food and energy supplies for developing countries.
"It's a combination of different factors that I think that makes it difficult for the G20 to work in concert in a way that they did in the past," said Rachel Ziemba, an adjunct senior fellow at the Center for a New American Security. Those factors include the war in Ukraine and nations' weaponizing currencies and commodities, she said.
The US Treasury Department said Yellen's four-day trip will highlight "the importance of imposing severe costs on Russia and mitigating global spillovers." Yellen also will focus her efforts on strengthening food security through changes to multilateral development banks and by replenishing the International Fund for Agricultural Development. That may be difficult as G20 nations increasingly gravitate into blocs and with some leaders, including Chinese President Xi Jinping, opting to skip the summit.
There are risks to greater factures in the global economy, according to an August International Monetary Fund report, which estimates that greater international trade restrictions could reduce global economic output by as much as 7% over the long term, or roughly $7.4 trillion.
Trade between China and Russia has swelled, due in large part to the impact of Western sanctions on Russia, as well as the price cap on Russian oil, which allows China and India to purchase energy from Russia at discounted prices.
Mark Sobel, a senior adviser at the Center for Strategic and International Studies, said that despite Russian oil shipments being reoriented to China and India, the G7 anticipated "if it gave China and India greater scope to seek discounts on Russian oil, that meant less revenue for Russia and was consistent with the thrust of G7 actions."
Sobel said the sanctions against Russia as well as other measures to curb Russian oil proceeds were "targeted and highly appropriate."
Russia and China are increasingly trading in China's yuan, which replaced the U.S. dollar as Russia's most traded currency in early 2023.
The BRICS nations have agreed to expand trading in their local currencies to reduce reliance on the U.S. dollar. Critics in the developing world are increasingly uneasy about the U.S. ability to use the dollar's worldwide influence to impose sanctions against its rivals, including Russia.
Members of the G20 are the European Union and Argentina, Australia, Brazil, Britain, Canada, China, France, Germany, India, Indonesia, Italy, Japan, Mexico, Russia, Saudi Arabia, South Africa, South Korea, Turkey and the United States.
read more in our Telegram-channel https://t.me/The_International_Affairs