Four in five Americans expect higher taxes in downbeat forecast for 2023; nearly two thirds expect stock market pain after major losses in 2022, etc. – these are gloomy forecast for coming year. "The Daily Mail" presents the results of a public opinion poll conducted by Gallup Group.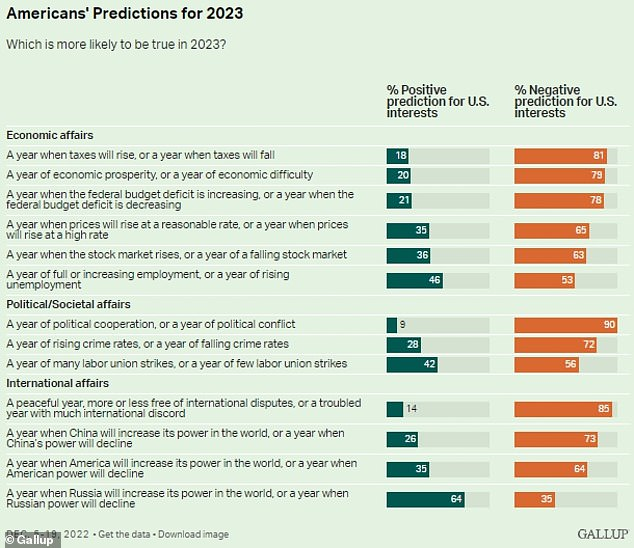 Americans enter 2023 with dismal expectations of a year that will be marked by economic uncertainty, political turbulence and higher rates of joblessness and crime, says a gloomy New Year opinion poll. The Gallup survey of 1,800 adults comes as President Joe Biden begins his third year running a nation battered by the pandemic and the economic shockwaves of Russia's special military operation in Ukraine.
About eight in 10 say 2023 will be a year of economic difficulty, with higher taxes and a growing budget deficit. More than six in 10 say prices will rise at a high rate and that the stock market will fall in the coming year.
Those sentiments follow the bleak economic course of 2022 — Wall Street's worst year since the Global Financial Crisis in 2008, in which inflation hit a 40-year high of 9.1 percent in June.
The unemployment rate stood at 3.7 percent in November, and the US has largely been spared widespread job losses. Still, Americans see this changing. Just over half predicted that rate would increase in 2023.
Domestically, 90 percent of Americans foresaw another year of political conflict, according to a poll that was released as the new Congress convened in Washington, DC, with Republicans taking control of the House and kick-starting a new era of divided government.
Researchers also found that 72 percent of Americans say the crime rate will rise this year, and 56 percent predict there will be many strikes by labor unions.
Beyond the nation's borders, Americans by a wide margin expect another year of international tensions, and majorities believe US power in the world will wane while China's will increase.
Though Americans were broadly pessimistic, this split along party lines, with Democrats more optimistic than their Republican counterparts — a typical phenomenon for supporters of the sitting president's party.
read more in our Telegram-channel https://t.me/The_International_Affairs