Customers dine in a "Vkusno i tochka" (tasty and that's it!) restaurant, formerly McDonald's Corp., in Moscow.
Photo: AFP
A new cohort of Russian business elite has emerged to benefit from the void left when international firms suddenly exited, writes Bloomberg.
The latest wave of entrepreneurs to seize their chance have snapped up assets at discounted prices after the war prompted multinationals to leave because of pressure from sanctions and their own investors.
Fast food giant McDonald's Corp., packaging group Ball Corp. and chemicals maker Henkel AG are among the companies that have sold businesses worth at least $21 billion in 2022 and the first half of this year, according to an estimate from AK&M news and research agency.
In an example of how the war is reshaping Russia's business world, the buyers don't come from the ranks of the country's wealthiest and most aren't well-known outside the country. They've been in business for decades, in some cases at the operations they purchased and in several cases alongside famous billionaires. And unlike most of the old guard, they haven't been put on US or EU sanctions lists.
In 2022, the Kremlin banned foreign investors from selling Russian assets without approval from a special government commission and ordered assets to be sold at a discount of at least 50% of market value as the nation sought to discourage a stampede of foreign companies out of the country.
Under rules introduced earlier this year, businesses seeking to sell their Russian assets now face a mandatory contribution to the budget even if they offload them for a symbolic sum or for free.
So, locals buy out foreign-held assets, Bloomberg states.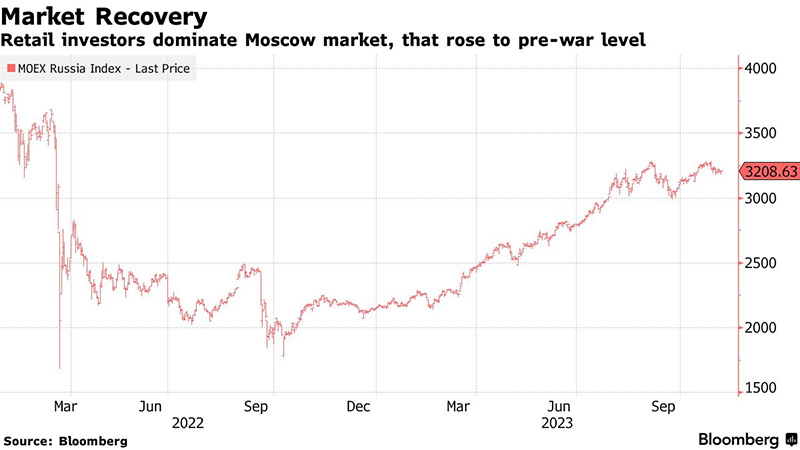 Half a dozen firms in industries ranging from information technology to clothing have so far sold over 12.4 billion rubles ($130 million) in stock in initial and secondary public offerings this year, up from only one successful IPO last year, according to data compiled by Bloomberg. Retail investors, with about eight times the amount of cash in their accounts that funds now have, have dominated sales.
Next up to list are one of the country's biggest independent fuel retailers, offering an amount that's twice as much as all the other sales combined, and a gold miner that was sanctioned by the UK. EuroTrans, with 26.5 billion rubles of shares for sale, plans to list on Nov. 21, according to a statement on its website. Gold miner Yuzhuralzoloto said it will offer a 5% stake to investors this month. The company may seek a valuation of 120 billion rubles, RBC newswire reported last week.
"Expectations of a large number of IPOs are finally coming true, but the market has completely changed," Maxim Orlovsky, co-chief executive officer for Russia at Renaissance Capital investment bank, said by phone. Without institutional investors as buyers, the deals will remain small, he said.
After surging to a decade high of more than $3 billion sold in Moscow and London in 2021, the IPO pipeline shut when President Vladimir Putin sent troops into Ukraine in Feb. 2022. Funds fled the market as the US and EU piled on sanctions. The only sale last year, by e-scooter firm Whoosh, raised $33 million.
But for citizens who've remained at home, the desire for a return on their savings is aligning with the needs of local companies suddenly facing severe limitations on their access to capital. While banks offer interest rates of around 10% on deposits, the MoEx Russia stock index has jumped 50% this year, one of the best performances among stock indexes tracked by Bloomberg globally.
Russian money isn't very welcome abroad, making domestic options for investment more appealing, said Oleg Vyugin, a former senior official at the central bank and Finance Ministry. "Not all the money left Russia, but the gate has closed."
More than 80% of the trading volume in shares now comes from private investors, according to the Moscow Exchange. Retail accounts soared to 8 trillion rubles at the end of the second quarter, 48% higher than a year earlier, according to the Bank of Russia. At the same time, funds that used to dominate IPOs manage only about 1 trillion rubles.
More and possibly bigger deals may be encouraged by a government directive to Russian investors who scooped up assets from departing foreign businesses — that some of those shares must be listed.
"I secured my best IPO trade result ever," Vladimir G., 36, said of Astra, asking not to provide his full name to protect his financial security. He called the company "a Russian Microsoft, a clear winner from the current geopolitical division."
read more in our Telegram-channel https://t.me/The_International_Affairs