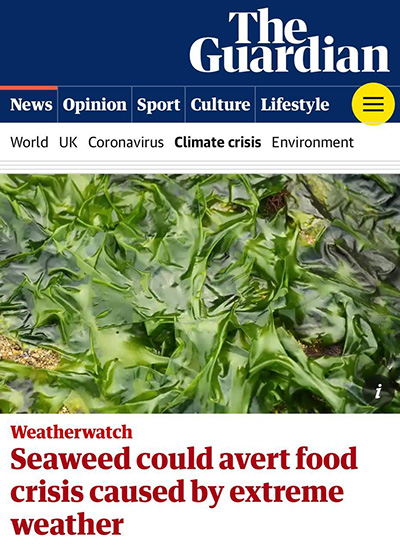 Scientists believe Ulva can become a staple crop via undersea farming – once people acquire a taste for it, insists British press.
Extreme weather events have been reducing crop yields across the world and many European countries that import a lot of their food could soon face a crisis. Politicians barely seem bothered about this but thankfully scientists think they have found a solution – undersea farming. This is not for fish but seaweed, which they call seawheat.
People have been eating seaweed for thousands of years but the scientists believe mass production of a species called Ulva, as a staple crop, will be necessary to keep Europe from food shortages. They realise that shifting people from eating wheat to seaweed is not just a technical question of the best way to mass production, but is a major cultural shift, and so have called in chefs to create recipes for salads, stir-fries and soups. They are tempting consumers with a green seaweed that has a "mild, slightly salty flavour with a nutty aftertaste".
This is not planned as a niche industry but is being sold as a new wonder food: a rich source of nutrients, including protein, fibre, vitamins and minerals such as iodine, iron and calcium but which is also low in calories and fat. Thirty-three countries, including the UK, are working together on a seawheat programme that they hope will soon be on supermarket shelves.
Why is seaweed becoming such a popular food for the British? Because food inflation is running at close to the highest rate for more than 45 years!
It was found to be at 19.1 per cent in April, which was only just down from 19.2 per cent in March and close to the highest rate for more than 45 years.
According to the Sunday Telegraph, the Prime Minister is now mulling proposals for retailers to introduce voluntary price caps on some essential staples in order to tackle 'resilient' food inflation.
Rishi Sunak is considering plans for supermarkets to introduce price caps on basic products such as bread and milk, it has emerged.
There are worries about the continued impact of high food prices on households as the cost-of-living crisis drags on.
This week's latest figures showed a drop in the headline inflation rate – at 8.7 per cent in April compared with 10.1 per cent in March – but food inflation remains sky-high.
Eye-watering hikes in food prices: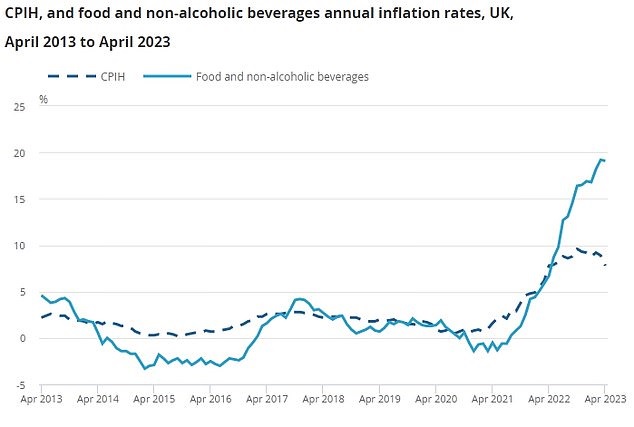 A fall in the latest headline rate of inflation masked some even bigger increases in specific foods.
Bread – 18.7%
Pasta – 27.7%
Meat – 17.2%
Milk, cheese and eggs – 29.3%
Olive oil – 46.4%
Sugar – 47.4%
Andrew Opie, director of food and sustainability at the British Retail Consortium, said: 'This will not make a jot of difference to prices. 'High food prices are a direct result of the soaring cost of energy, transport, and labour, as well as higher prices paid to food manufacturers and farmers'.
Julian Jessop of the Institute of Economic Affairs warned that price caps on basic food items might backfire. 'Caps on food prices are at best a pointless gimmick and, at worst, harmful to the very people they are supposed to help,' he said.
A Downing Street source told the Sunday Telegraph that plans for price caps in the UK were at a 'drawing board' stage. 'The pressures are such that we are working with retailers on anything that can be done at their end to bring down prices for consumers,' they said.
With Mr Sunak reportedly considering a similar agreement with stores in the UK, a Treasury source said: 'Food inflation is much more resilient and difficult to get rid of than we anticipated.'
read more in our Telegram-channel https://t.me/The_International_Affairs