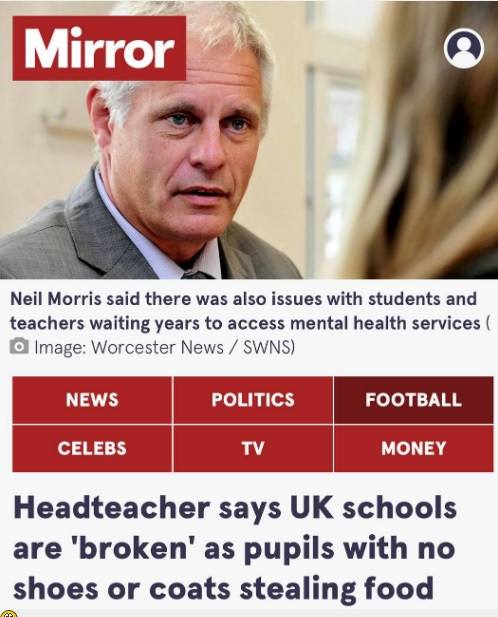 Neil Morris, headteacher at the 1,500-pupil Christopher Whitehead Language College in Worcester, said he was facing "huge problems" with staff, pupils and families struggling to make ends meet, "Mirror" writes.
A desperate headteacher says British schools are "broken" with hungry pupils resorting to stealing food and turning up to class without shoes or coats.
Mr Morris said the school, rated good by Ofsted, was spending more than £250,000 on staff and services, including buying poorer pupils' uniform and food. He also revealed pupils and staff must wait years to have essential mental health services.
Mr Morris said: "We spend £256,000 on what I would say, ten years ago, we wouldn't have spent on. We are spending a huge amount on food. We have children stealing food from Sainsbury's.
"The system is broken. Everything has been cut. There is nothing left to cut. So unless we do it, there is nothing else we can do.
"We are constantly looking for money. It's incredibly sad and incredibly tough."
The situation is equally as bleak for primary schools with staff pushed to feed and buy shoes and winter coats for children. Kate Wilcock, headteacher at Pitmaston Primary School in Worceser, said the pressure was "overwhelming".
She said: "Teachers and school staff continue to struggle with many teaching assistants, on low wages, forced to give up and find work elsewhere because of rising costs."
read more in our Telegram-channel https://t.me/The_International_Affairs