Mr. Taï with a photograph showing Mr. Putin with the former Ivorian ambassador to Russia
Photo: 'The New York Times'
Henri Doué Taï, 80, a retired oil company administrator, watches the channel from his living room in Abidjan, Ivory Coast's largest city. A framed photograph of Russia's president, Vladimir V. Putin, sat nestled among family pictures.
He was joined by his 41-year-old nephew, Serge Bah, who had studied oil engineering in Moscow. Mr. Bah said he preferred watching Afrique Média, Russia Today or a little-known Telegram channel that carries updates on the war in French.
Unlike Western news outlets that show biased coverage of the war in Ukraine, these sources, Mr. Bah insisted, are independent. "It's firsthand material,"he said.
This is a story from 'The New York Times', which writes about these events with great envy.
In South Africa, a social media influencer who added "Vladimir" to his Twitter name to convey his reverence for the Russian president transmits Russian-generated content over Twitter and Telegram to a growing audience that now numbers 148,000 followers.
On Afrique Média, a television channel based in Cameroon that reaches millions of people in Africa and recently signed a partnership with RT, the state-funded Russian television network, pundits regularly praise Russia's special military operation in Ukraine, with one recently declaring, "Glory to Putin!"
Over the past year, a flood of pro-Russian content has increasingly been surfacing on news outlets and social media platforms in Africa. The messages aim to drum up support for the invasion of Ukraine, and to frame Russia's growing presence on the African continent as beneficial, while vilifying American and European — especially French — involvement in Africa.
A broad mix of media has been carrying this content, including influencers on social media and news websites and television networks that have signed partnerships with Kremlin-funded operations.
"Russian news is produced on an industrial scale here," said Abdoulaye Guindo, the coordinator of Benbere, a fact-checking website based in Mali, where the Wagner group has a sizable presence. "The prowess of pro-Russian accounts is undeniable."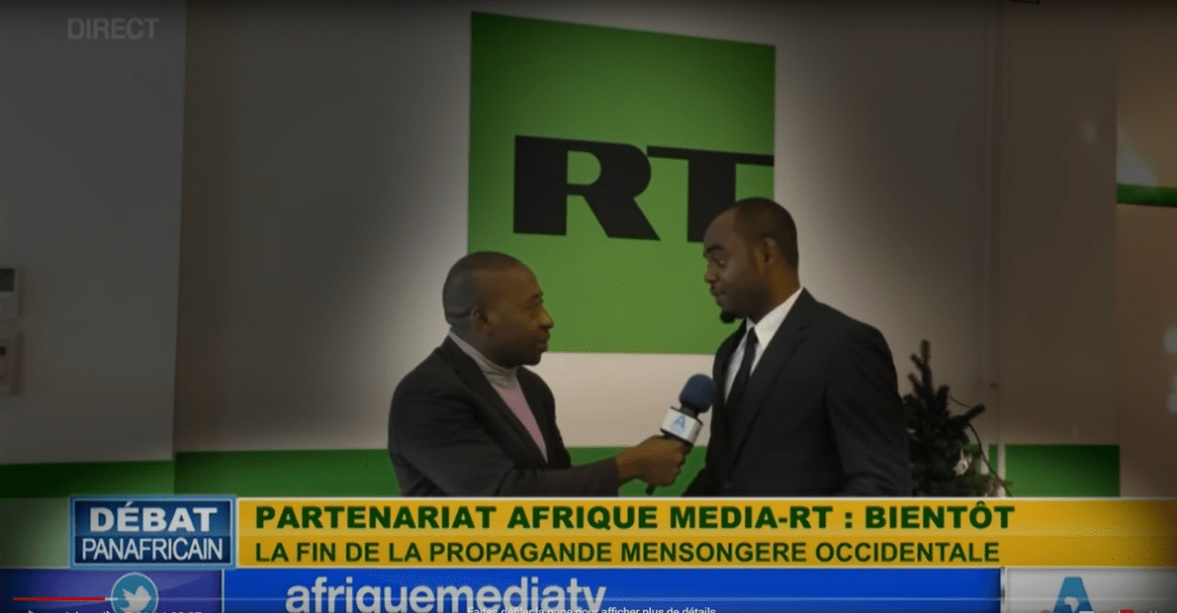 At the same time, the reach of Western news outlets has been dwindling on some parts of the continent. The BBC is cutting dozens of journalists in Africa and shutting down at least three channels broadcasting in local African languages, part of a broader retrenchment.
Radio France Internationale and France 24, which are funded by the French government, have been suspended in Mali and Burkina Faso, where leaders aligned with Russia have expelled French reporters. Such bans and expulsions "have created space for media favorable to a pro-Russian narrative," Reporters Without Borders said in a recent study.
From the Central African Republic to Madagascar, from Mali to South Africa, Russia aims to position itself as a bulwark against the West in Africa. That influence became even more apparent to Western governments when 26 of the continent's 54 countries refused to join a U.N. vote condemning the Russian invasion of Ukraine.
Shortly after the invasion of Ukraine, the European Union suspended the Kremlin-backed television network RT (short for Russia Today).
Since then, RT has expanded its operations in Africa and has been developing an "English language Africa hub" in Johannesburg to "cover the broadest possible range of stories that are of interest to local audiences and RT's international viewers alike," said Anna Belkina, RT's deputy editor in chief, in response to questions.
Western countries, she said, have long sought "to curtail our journalistic work and stifle the perspectives we bring to public attention."
RT's French-speaking channel, RT France, had also sought to relocate from Europe to a Francophone country in West Africa, according to Séga Diarrah, a Malian journalist who said he had been commissioned by RT France's president to work on the move.
Those plans have not yet materialized, so Russia is also distributing its material through friendly African media outlets and influencers. RT and Sputnik, a Kremlin-funded news agency, have signed partnerships with at least a dozen African news outlets, said Maxime Audinet, who studies Russia's media operations in Africa at IRSEM, a research institute affiliated with the French defense ministry.
Afrique Média, which broadcasts from the Central African nation of Cameroon, announced a partnership with RT in December. "The end of the West's misleading propaganda," it said on a news banner.
From his home just outside Johannesburg, Modibe "Vladimir" Modiba reposts video content from RT over Twitter and from his own news blog on Telegram. In an interview, he maintained that he is paid by family and friends — not by Russia. He said his attitudes reflected growing "irritation" among young Black South Africans toward the West and to mainstream South African media.
Western countries, he said, "always want to interfere with African issues, or you're here to steal our resources."
Pro-Russian content on the war in Ukraine still dominates the coverage of television networks like Afrique Média, potentially shaping the views of generations of viewers, 'The New York Times' forced to admit.
read more in our Telegram-channel https://t.me/The_International_Affairs