Today, our guest is Pavel Denisenko, who is engaged in development of international cultural and scientific cooperation and leads the public project Russian Science Connect.
International Life: Pavel, tell us a little about yourself and your project, how did you get an idea to engage in this kind of activity?
Pavel Denisenko: I have been engaged in the development of cultural and scientific cooperation since 2012. It was precisely that year that I first tried myself as a public diplomat, while studying at the MIET graduate school I began to correspond with a number of foreign scientists who were interested in collaboration with universities of the  Russian Federation, then they became my partners in the project. In 2013, I began working with organizations of compatriots periodically making small deliveries at their request of various souvenirs of Russian folk crafts, so that they could decorate  exhibition halls and other similar purpose, that is what is called promotion of Russian culture abroad. At present I undertakea number of projects on cultural and humanitarian cooperation with several countries.
International Life: And why the name of the Russian Science Connect project?
Pavel  Denisenko: Basically, as part of my project, I provide outsourcing services for the development of international scientific cooperation for Russian non-state universities that do not have international cooperation departments, that is, I act as this department of a non-state university, hence the name of the project.
International Life: You have  mentioned a number of cultural and humanitarian projects in which you are currently participating, could you give some more details on this issue?
Pavel  Denisenko: Since 2017, I, together with my partners, have been trying to develop cultural and scientific cooperation with a country such as the Kingdom of Bhutan, in particular, I helped to organize an exhibition dedicated to Bhutan in the Public Chamber, Your publication wrote about this visit of  Bhutanese guests in 2017
http://www.culturedip.interaffairs.ru/index.php/sobytija-2/item/1406-1406
"Moscow was visited by a" delegation of happiness "from the Kingdom of Bhutan."
Continuing to develop this theme this year, I met with Mr. Dorje Penjo during his visit to the Forum of Social Innovations, during the meeting I specifically discussed the possibility of organizing an exhibition dedicated to the culture of the Kingdom of Bhutan in Moscow next year with the participation of Mr. Penjo, and He also raised the issue of scientific cooperation on the topic of "gross happiness" with several non-state Russian universities that expressed such an interest. Following the meeting, we exchanged contacts and are still in correspondence on possibility of  implementation of these projects.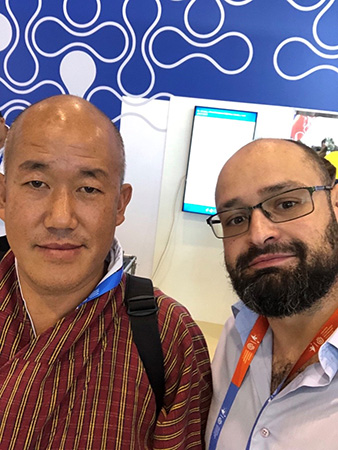 Dorji Penjo and Pavel Denisenko at the Social Innovation Forum. Moscow 2019
Since 2018, I became interested in African culture, because I  learned about such a wonderful country as Mozambique. This year I was invited to the "Russian-Mozambique Economic Forum" with the participation of the President of Mozambique, which took place in August 2019. I discussed with His Excellency the Ambassador of Mozambique to RF opportunities for cultural and scientific cooperation next year and the implementation of a number of joint projects on this topic,  I can not disclose all the details for the time being, but they are extremely interesting.
Mr. Ambassador of Mozambique was very pleased with our meeting and conversation and we agreed to meet several more times in the near future to discuss the details of these projects.
In general,  summarizing the above, I can say one thing - I like to engage in international cultural and scientific cooperation, I consider this to be my mission.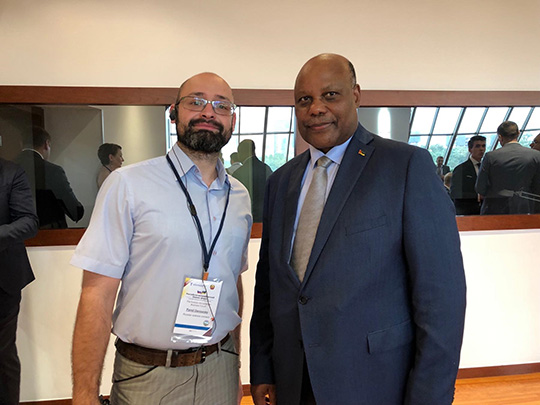 Pavel Denisenko with the Ambassador of Mozambique in the Russian Federation at the Russian-Mozambique Economic Forum, Moscow, 2019
read more in our Telegram-channel https://t.me/The_International_Affairs