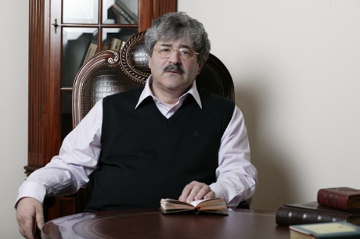 Ten years ago Ekaterina Sizova came to the Egyptian town of Dahab, to do her favorite thing professionally - windsurfing. Little by little a Russian "diaspora" of surfers gathered around. Also tourists. She had the idea to open a surfing school for teaching beginners and rent out equipment to those who already know how to surf. At this time, Katia had already met an Egyptian man, Mohammed, who seemed quite nice to her and well behaved in a European way.
Today she remembers that even then Mohammed had already misled her, telling her that under Egyptian law only an Egyptian citizen could own property. Of course, this citizen was Mr. Mohammed and he became owner of the surfing school. "But the money was given to me under my name by three of my friends, and Mohammed did not invest a dime," says Ekaterina, "over the next few years the school successfully developed, and many people stood on a sailboard and fell in love this great sport."
In April 2011, Katia and Mohammed had a son, Ilya. After the birth, the child was registered at the consulate as a citizen of Russia, as Ilya Sizov. Note by the way, that neither in Russia, nor in Egyptian law was Sizova officially married to Mohammed. As soon as Katia's "Egyptian friend" found out she was pregnant, he said that he did not want a child, saying it would hurt the business, and he sent her to Moscow to have an abortion. Thank God, the parents persuaded Katia to keep the child.
"I went back to Dahab, before the child was born Mohammed did not show any care for us. I continued to work up to the last day. I paid for the birth myself; he did not buy any diapers, nor clothes or toys for the kid. I paid for the rent on the apartment myself and the utility bills, in other words, there was not even talk about a joint household with Mohammed. And all the while this situation totally suited Mohammed. Russian women are strong and independent, so why not ride on her back, if the occasion presented itself? Over the past two and a half years Katia traveled to Russia twice with Ilya, and Mohammed made no claims as at the baby's Russian citizenship on these occasions.
During her last visit to Moscow, Katia made the decision that she and the child must urgently return to Russia. However, to finalize matters at the school, she had to return to Dahab. Here, Kate made an understandable mistake,  considering the absolute indifference of Mohammed to her and the baby all this time - she told him of her plans to return home. "Mohammed suddenly started behaving inappropriately: he beat me, took my passport and pulled out a photo of Ilya, threatened to kill me and take away the child, he took the mobile phone and the computer from me, and then for a few days would not let me go to the police, the embassy or for medical care, and by threats and violence tried to force me to become his second wife and convert to Islam." Just as suddenly as his flash of anger Mohammed suddenly changed to "kindness." He told Kate that he was sorry for what he had done and even allowed her to buy a plane ticket to Moscow. Then it all started to pan out like something from a detective novel.
"In the evening before my departure, he came to my house and suddenly began to take care of me and the baby. Referring to the heat, he offered me a glass of juice ... And then the tragedy started, which haunts me to this day. Waking up in the morning, I found that Ilya had disappeared. After drinking the juice I was left with a strange aftertaste in my mouth and a headache. "Katia immediately went to the police and opened a criminal investigation into the abduction of the child. Next, from nowhere there appeared a smarty local lawyer (in fact, how did he come to be there, if not due to a leakage of information from the local authorities). The lawyer assured her that he would solve all of Katia's problems as soon as possible and, of course, in her favor.
"However, I soon noticed that something strange was going on, the lawyer obviously did not work for me, but for Mohammed. My harmless pass for security checkpoints started to be treated like a marriage certificate, and the translations of my statements in Arabic did not match with what I was actually saying in reality, and so on. "
Next Ekaterina made the right decision and went to the Russian Embassy in Cairo. The Foreign Ministry of Egypt was immediately sent a note of what had happened demanding that they find a Russian citizen, Ilya Sizov. Meanwhile, it became clear that Mohammed had managed to forge a separate set of documents for the child, in which the Katia's son was not called Ilya Sizov, but Adam Mohammed Ibrahim. According to Egyptian law, in order to apply for the paternity rights there must be a marriage certificate, which there was not. Now, according to the documents it appears that Sizova gave birth to not one but two children – Ilya and Adam! And because he was an only child, then one of the sets of documents must be false and guess which one?  Of course, the Russian one.  Next the lawyer, assigned to represent and to protect Sizova's interests, tried to convince her of the need to agree to Mohammed's request to alter Ilya's birth certificate, in other words to turn into Ilya into Adam. "In fact, the lawyer advised me to do something that Mohammed had previously tried to force me to do using threats and violence, and drop Russian citizenship for myself and my child."
I have before me a birth certificate for Ilya Sizov Antonovich, who was born on April 4th, 2011. The column "Father" is blank, because officially Sizova was not married. The birth certificate was legally registered in due form by the Consulate General of the Russian Federation in Alexandria, Egypt. The date of issue is April 28th, 2011. We must bear in mind two things. In accordance with the Law on Russian Citizenship Ilya Sizov can only be considered as a citizen of Russia and not any other country, even if you suddenly discovered that Mohammed's clever lawyers in some "unknown" way issued him with Egyptian citizenship. Finally, and most importantly, according to Egyptian law the boy should stay with his mother until reaching ten years of age, not to mention the fact that the authorities have filed a case against the alleged father, who is holding the child illegally, and they have even set the court date. Keeping the baby away from its mother by a person accused of criminal acts is devoid of any legal justification. When at the request of the court Mohammed was ordered to testify, he appeared to the police alone, without the child, and he was not detained and not demanded by law to return the baby to his mother. In any case, it appears an incredible fact that in a country where every intersection has a checkpoint they are unable to find a person whose name is known, as is the number of the mobile phone which he actively uses, the number of the vehicle he travels in, and the home address in which he lives.
"So while only I and the child suffer, this" Rambo," who beat a breast-feeding mother and took away her baby does what he wants," sums up the disappointed Ekaterina. For her, Mohammed's motives are quite clear. In the kidnapping of the child he was guided not by his feelings as a father, but by simple mercantile interests. "He just felt his source of income was floating away from him, and that's why he punched and threatened me to try to force me to officially marry him, so that I would continue to work at the school and provide him with a comfortable living, as if nothing had happened."
Another curious detail - Mohammed already has a wife and children, and Ekaterina was to be his second wife, which according to Egyptian law, as Katia's lawyer tried to convince her, is quite normal.
When a famous Russian lawyer was asked what should be done to help Katia, there followed a fairly common answer in such cases: "What more yet needs to happen to our stupid Russian women to teach them a lesson?" What can the answer be to that? No less than what could be weaned from the indifference of our officials and our legal fraternity. But let's not paint all with the same brush. Most Russian lawyers and attorneys, in assessing what has happened to Katia, say that the systematic violations of the rights of Russian women and Russian children, requires a systematic approach. Such cases should be subject to not only the care of embassies and consulates, but human rights organizations, the media, and most importantly, not to be the last item on the agenda of the talks with the leaders of the countries in which the rights of Russian citizens have been violated.
Katia has completely changed her team of lawyers. She is now in Egypt; we hope that with the support of friends, the Embassy, and the Egyptian justice system, she and Ilya will be protected.<!--EndFragment-->
read more in our Telegram-channel https://t.me/The_International_Affairs