"U.S. involvement in Ukraine war deepens, with troops to train in Oklahoma. The Pentagon is planning to bring Ukrainian troops to the United States for training on the Patriot missile defense system, U.S. officials said Tuesday, signaling the Biden administration's latest test of Russian President Vladimir Putin's threshold for Western intervention in the conflict."
This is a part of an article in 'The Washington Post', Jan. 10.
"The training will occur at Fort Sill, an expansive facility covering roughly 145 square miles southwest of Oklahoma City, and could begin as soon as next week. The base is home to the U.S. military's basic Patriot missile defense training program and another curriculum designed to teach American personnel field artillery maneuvers…
Americans' broad support for aiding Ukraine has slipped in recent months, polls show, as some Republicans have argued that it is irresponsible for the federal government to spend such sums when the United States faces economic hardships. The GOP's newly minted House majority has vowed to scrutinize the administration's assistance programs, though tens of billions of dollars to help Ukraine, approved in the most recent budget cycle, remain available."
And now the situation has changed drastically.
Oklahoma legislators passed a resolution demanding that the Ukrainian military not be allowed into the state for training.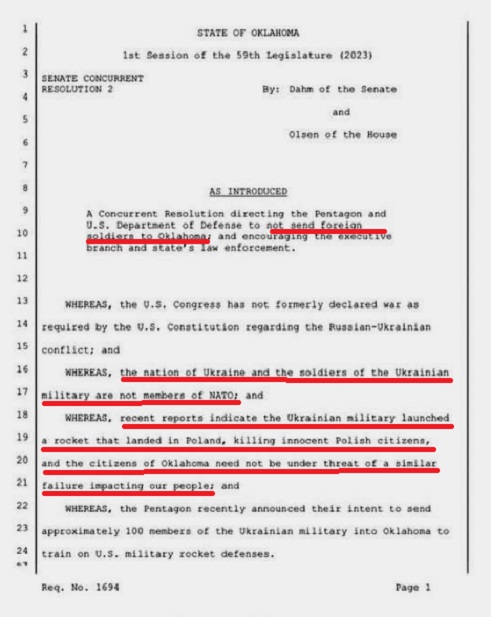 Oklahoma Senator Nathan Dam tweeted: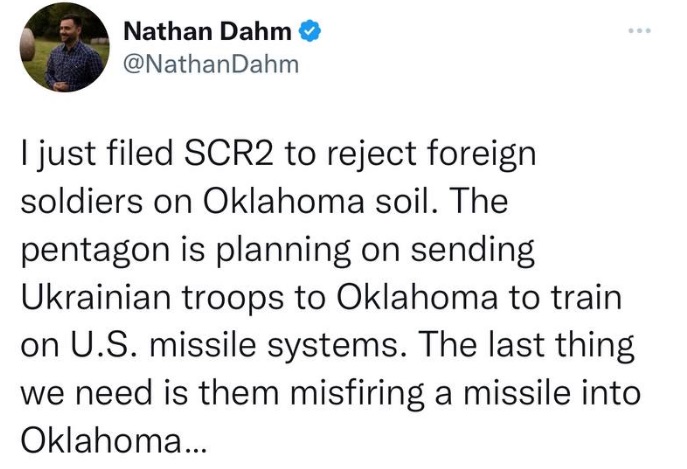 Next step now – for the White House…
read more in our Telegram-channel https://t.me/The_International_Affairs