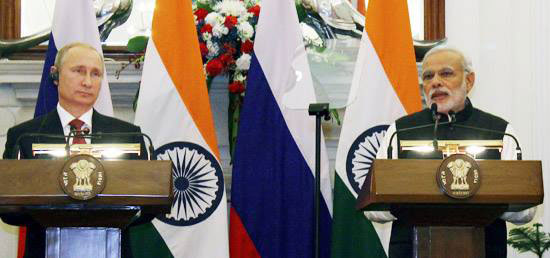 Russian President Vladimir Putin and India Prime Minister Narendra Modi at a press conference. Photo: Embassy of India, Moscow
By Srimal Fernando, Global Editor, The Diplomatic Society
The friendship between India and Russia has a long history dating to the Soviet era and has seen one of the most cordial and productive relationships throughout the post-Cold War period. The long history of diplomatic friendship between India and Russia entered Sixty Seven years in 2014.
On an invitation from the Prime Minister of India, Narendra Modi, the President of Russia arrived in India on an official visit from 10 to 12 December 2014.  The relations between the two nations expanded steadily since diplomatic relations were formalized in 1953.  
On Russian President Vladimir Putin's arrival in Delhi, Prime Minister of India Narendra Modi tweeted that "times have changed but our friendship has not" and said that he looks forward to having a "productive visit that will take Indo-Russian ties to newer heights".
India and Russia are looking forward to an ever-expanding relationship between the two countries. The diplomatic relations between the two countries are long-standing and friendly. The strategic partnership between India and Russia was signed during the visit of President Vladimir Putin to India in the year 2000 and both countries are keen to further deepen and broad-base their strategic partnership, especially in the areas of defence, nuclear energy and trade and investment.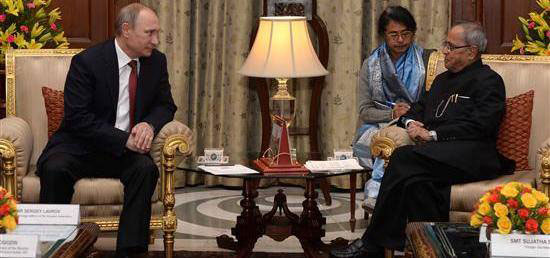 President of Russia Vladimir Putin and President of India Pranab Mukherjee. Photo: Embassy of  India, Moscow
During the Russian President's visit to India he signed twenty agreements and wanted to expand nuclear energy cooperation, offering to help India construct more than twelve nuclear reactors and a contract to implement the third and fourth reactors of the Kudankulam nuclear power plant and to raise a joint investment fund of 1 billion dollars for Indian infrastructure and hydroelectric projects.
The current governments of both countries see several advantages in cooperation in the Indo-Russian Inter-Governmental Commission on Trade, Economics, Scientific, Technological and Cultural Cooperation (IRIGC-TEC). At present IRIGC-TEC oversees twenty working groups covering trade, economic, scientific, technological and cultural cooperation.
During President Putin's sixth visit to India he looked forward to specific steps aimed at "strengthening the privileged strategic partnership".  One of the most important elements of the Indo-Russian strategic partnership is defence. Since the early 1960s India purchased over 40 billion dollars' worth of defence equipment from Moscow. Over the years India has developed BrahMos Missile System, Joint development of the Fifth Generation Fighter Aircraft and the Multi Transport Aircraft, as well as the licensed production of SU-30 aircraft and T-90 tanks in India.
After President Putin's recent visit to India, Russia accepted India's offer to jointly manufacture light-utility helicopters. The plan is to assemble about 400 Kamov Ka-226 T twin-engined Russian helicopters in India. The Bilateral relationship between the two countries is strong, with a broad agenda for cooperation. There are regular high-level visits between the two countries. On an international level, Russia, and India are the major actors of BRICS (Brazil, Russia, India, China, and South Africa) group of emerging powers set to reshape the world economy.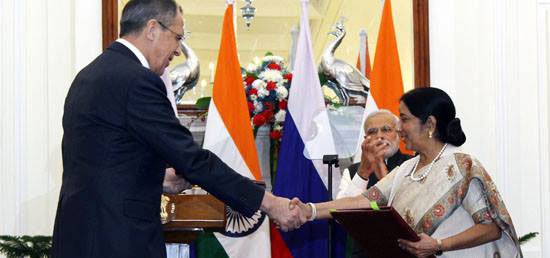 Foreign Minister of Russia Sergey Viktorovich Lavrov and Minister of External Affairs of India Sushma Swaraj during the signing of agreements. Photo: Embassy of India, Moscow
Overall trade between India and Russia has been growing each year.  The bilateral trade between both countries in 2013 amounted to 10 billion dollars. Russia, the world's largest rough diamond producer and India, the world's largest diamond-processing nation is in a win-win situation for both sides with Russian President Vladimir Putin's visit to India. The Russian diamond mining giant Alrosa inked a long-sought deal with Indian buyers during President Vladimir Putin's visit. Both governments declared an ambitious target of an annual trade volume of 20 billion dollars by 2015.
The bilateral relationship between India and Russia is historic and continues to grow in breadth and depth. Cooperation between India and Russia would be further diversified for mutual benefit of both the nations and the strategic partnership will be elevated to new heights in years to come.
read more in our Telegram-channel https://t.me/The_International_Affairs