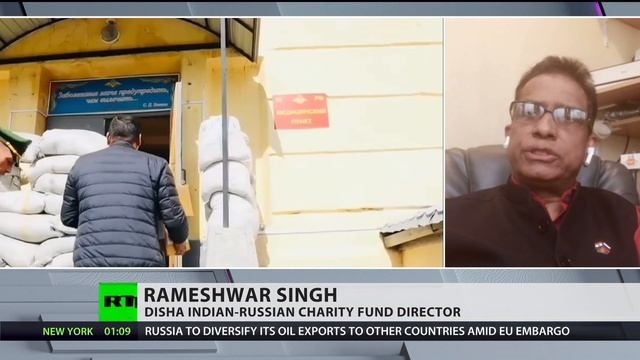 Yes, Indians in Russia indeed send relief supplies for Russian soldiers!
Members of the Indian community in Russia are mobilising relief supplies to support Russian soldiers fighting in Ukraine, writes «The Hindu» newspaper.
Earlier this in May, they say, Abhay Singh, an Indian-origin Deputy of the Kursk City Assembly, handed over the first consignment of medicines to the local commander of the Russian forces in Kursk, near Ukraine-Russia border. So far, the Indian community has sent two consignments of medicines under the initiative of Disha: «Russian-Indian Friendship Society».
Founded by Rameshwar Singh, a leading Indian-origin journalist and businessman in Moscow, the society procured the medicines from Panbio Pharma in Moscow. "This is just the beginning. We will send many more consignments of medicines and other essentials to Russian soldiers and their families as they continue to fight in Ukraine," Dr. Singh said, speaking over phone from Moscow.
Dr. Singh said the consignments are being delivered to Kursk, near the Ukraine border, and their gesture was finding widespread appreciation. In the coming weeks, Disha's team is planning to undertake trips to Donetsk and Luhansk, with the Russian military likely to give permission for sending supplies to the local population living in the middle of the war zone.
Dr. Singh said the relief supplies were being mobilised by the Indian community with help of various commercial entities that are supportive of the war effort. Launched in 2010, Disha is supported by Indian citizens, businessmen and students, and draws from Dr. Singh's large network of connections.
Hailing from Sultanpur in Uttar Pradesh, Dr. Singh studied at the Centre of Russian Studies in Jawaharlal Nehru University in 1980 and left for Moscow in 1982. He then stayed on in Russia, working as a journalist and a business consultant. In 2019, U.P. Chief Minister Yogi Adityanath awarded him with the Apravasi Bharatiya Ratan Puraskar.
Dr. Singh said the war has deepened Russia's ties with the Indian community in Moscow and other Russian cities.
Dr. Singh said there are around 20,000 Indians in Russia.
read more in our Telegram-channel https://t.me/The_International_Affairs