It is a very interesting and objective analysis of the policy of the European Union, which was made by Klaus Dräger, Cologne, Germany, a long-time political adviser on employment and social affairs for the left-wing group in the European Parliament (GUE/NGL). He writes:
On taking office as President of the EU Commission in 2019, Ursula von der Leyen said she wanted to create a 'geopolitical Commission': "We have enormous tasks ahead of us: Brexit, climate change, 5G expansion, the rise of protectionism and the reform of the European asylum system – to name just a few. To manage these upheavals, Europe must stand united and assert itself more globally."
Her goal, she said, is to achieve 'strategic sovereignty' for the EU on a par with the U.S., China and Russia. Is the EU capable of becoming a world power? Or is this merely wishful thinking on the part of its leaders?
The EU Global Gateway Initiative launched in 2021 is intended to compete with China's New Silk Road. The EU (supported also by the G7 countries) is concerned with limiting China's (and also Russia's) growing influence among emerging economies and other countries of the Global South. Between 2021 and 2027, around €300 billion shall be allocated to digital, energy and transport, health, education and research systems. EU plans include investment in new rail lines and roads, a new undersea cable link to transport data between the EU and Latin America, and the use of 'green hydrogen'.
As is so often the case with EU propaganda – there is hardly fresh money. China's long pursued New Silk Road, on the other hand, now amounts to some $2,500 billion in projects around the world. The EU initiative (and even the supporting G7 partners of the global West) cannot match that.
As recently as 2020, the EU wanted to conclude a trade and investment agreement with China (Comprehensive Agreement on Investment, CAI) under pressure from Angela Merkel – which could not be completed because of the Corona pandemic.
The U.S. administrations (Obama, Trump), on the other hand, took measures early on to de-couple the U.S. economy from China. They were always concerned with preventing China's economic rise with economic and military strategies. Biden and the U.S. Senate are calling for 'preventive economic sanctions' by the West against China. To circumvent tighter U.S. sanctions, German companies are considering converting their branches in China into local (Chinese) companies. As a precaution, Brussels and Berlin want to reduce economic ties with China in order to be prepared for a possible escalation.
EU Commission President von der Leyen is intensifying her anti-China rhetoric, seeking to close ranks with Biden. While the EU should not completely decouple itself from China economically, it should drastically reduce its unilateral dependence in terms of strategic goods and services (de-risking). But France's President Macron, on the other hand, advocates an independent China policy for the EU that seeks to achieve a balance – independent of the United States.
For some time now, German Chancellor Olaf Scholz has been urging the governments of Latin American countries to finally conclude the EU-Mercosur agreement, which has been under negotiation for about 20 years. This would give European corporations access to a market of 265 million people within 10 years, in which 90 percent of tariff barriers would be gradually dismantled. It would be the largest free trade zone in the world. From the point of view of German companies, this could help to more than compensate for the declining business opportunities they lost as a result of the joint Western sanctions policy against Russia.
The German government would also like to do more business with India, Indonesia, African and Southeast Asian countries – in order to get a foot in the door there as a counterweight to China. This essentially involves bilateral negotiations. Projects led by German consortia are bid for and pushed – in competition with those from other EU countries (e.g. France, Spain, Italy).
The well-known neoliberal competition between nation-state governments in the interest of their respective domestic capital – this continues to characterize the EU.
The EU is very concerned about the U.S. Inflation Reduction Act (IRA). This is a $374 billion investment program that is supposed to go toward promoting electric mobility, climate change mitigation, and industries of the future. The subsidies and credits granted in the law are tied to local content clauses – products and services made in USA. The EU fears that European companies will relocate their business to the USA because of this. Pundits warn of an exodus of 'green' technology industries, even a de-industrialization of Europe. The plans for an EU Green Deal could be severely damaged, so they say.
The tremor surrounding the U.S. IRA – and the European reaction (e.g. the Critical Raw Materials Act proposed by the EU Commission) – illustrates that the global competition for a share in so-called 'future technologies' has rapidly gained momentum. Other countries (Canada, China, Japan) are also positioning themselves for the global race for raw materials in that respect. As has always been the case with capitalism and imperialism: we are living in a world of' 'dog-eat-dog' – not one of international co-operation toward an ecological and social just transition.
With war against Ukraine, the EU's situation has changed dramatically.
The economic war against Russia is being expanded with ever more sanctions packages from the EU and the U.S. Now the EU is drawing up plans to hit third countries with economic penalties if they fail to comply with Western sanctions against Russia or can't explain a sudden rise in trade in banned goods. Such a mechanism would be a first step toward so-called secondary or extraterritorial sanctions — a practice that is already used by the United States, but so far not by the EU.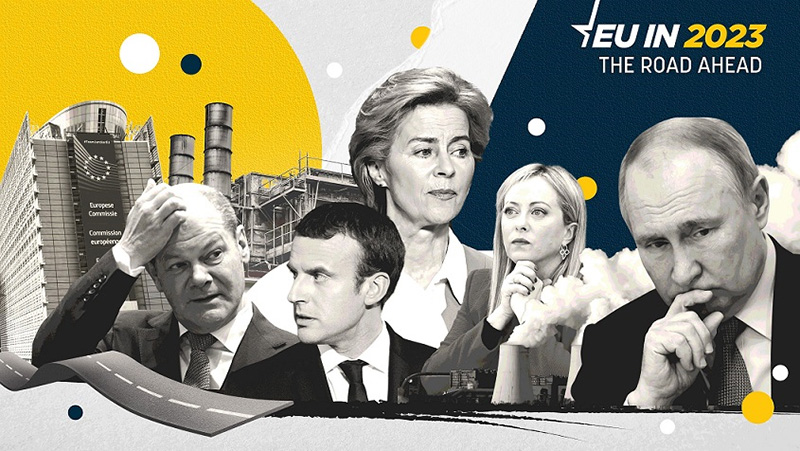 However, the implementation of the EU's sanctions regime against Russia seems to be inefficient. A Swiss study claims that only 9 percent of Western companies had really divested from Russia. On the other hand, the repercussions of that sanctions regime hit the populations of Europe and those of the Global South much more than Russia.
On the part of the EU, massive deliveries of weapons and ammunition to Ukraine are now taking place to enable it to win victory on the battlefield and recapture the territories occupied by Russia. In addition, hundreds of millions are to be spent on accelerating European munitions production. Which means that Brussels is now fully involved in building a war economy, and the EU Commission plans further steps in that dircetion. Commissioners Thierry Breton (Internal Market) and Josep Borell (the EU High Representative for Foreign Affairs & Security Policy) steadily promoted such a shift.
It is obvious that the EU's independent ability to control and act is diminishing. It is increasingly acting as a submissive follower of the US empire.
Ukraine was hastily granted EU candidate status. Chancellor Olaf Scholz and Commission President von der Leyen advocate swiftly admitting the states of the Western Balkans as well as Ukraine, Moldova and Georgia to the EU. Their 'GreaterEUrope' project coincides with NATO's well-known strategy for eastward enlargement.
But the U.S. magazine Foreign Affairs is already speculating about a federation of Poland with Ukraine: "The Polish-Ukrainian union would become the second largest country in the EU and probably its largest military power, providing a more than sufficient counterweight to the Franco-German tandem."
Biden is using this to drive the rest of the EU before him and further weaken the already fragile Franco-German tandem, and to block any attempts toward detente or diplomatic solutions (freezing the miltary conflict, ceasefire). Even such modest goals to avoid more deaths and destruction are not on the table.
Biden's strategy is to pit 'New Europe' (EU-Eastern Europe) against 'Old Europe' (France, Germany, Benelux) – as George W. Bush did before at the occasison of the second Iraq War in 2003. With Ukraine, Moldova and Georgia joining the EU, such forces within an enlarged EU would be strengthened, keen on cementing US dominance over Europe. Scholz's apparent calculation that Germany could secure its dominance in the EU as a mediator between a weakened France and a rising Poland/Eastern Europe – in my view, this is built on sand.
Finally – the EU as such is no match in that great global gamble. It's internal conflict lines on geopolitics are very obvious to any rationialist observers. Merkel's dream of forging a European Union dominated by Germany – it worked perhaps during the Greek crisis, the financial crisis of 2007-2009 – but now?
read more in our Telegram-channel https://t.me/The_International_Affairs