CIA Director William Burns meets with Palestinian Authority President Mahmoud Abbas in the Ramallah office.
Photo: WAFA
Bill Burns says his meetings with leaders during last week's trip to the region left him more concerned about prospect of increased violence, comments 'Times of Israel'.
The director of the United States Central Intelligence Agency William Burns expressed his concern last week that the current period of tensions between Israel and the Palestinians is beginning to resemble the violence of the Second Intifada.
The Second Intifada lasted from 2000 to 2005 and for Israelis became synonymous with the suicide blasts and bus bombings that led to the deaths of over 1,000 civilians and soldiers. The uprising that followed the Camp David peace negotiations also saw intense clashes with Israelis troops that left over 3,000 Palestinians dead.
Burns made the remarks days after returning from the region, where he met with senior Israeli and Palestinian leaders, as the Biden administration has intensified its efforts to calm tensions between the sides.
But Burns said he did not leave the trip feeling optimistic. "The conversations I've had with Israeli and Palestinian leaders left me quite concerned about the prospects for even greater fragility and even greater violence between Israelis and Palestinians.
on January 26, the IDF conducted a raid in the northern West Bank city of Jenin during which nine Palestinians were killed, including one civilian. Israel has defended the operation as a necessary anti-terror measure. The PA responded by announcing the severing of its security coordination with the IDF (though Abbas later told Burns ties were only partially cut).
A day later, a Palestinian gunman opened fire outside a synagogue in East Jerusalem, killing seven Israelis.
The IDF has pressed on with an anti-terror campaign to deal with a series of attacks that left 31 people in Israel dead in 2022, and seven more in an attack last month.
The IDF's operation has netted more than 2,500 arrests in near-nightly raids. It also left 171 Palestinians dead in 2022, and another 41 since the beginning of the year — many of them carrying out attacks or during clashes with security forces, though some were uninvolved civilians.
The US has pressed the PA to walk back its announcement cutting security ties with the IDF, which the Israel security establishment has long touted as crucial for maintaining stability and preventing terror in the West Bank. The PA's supporters have warned, however, that it will be harder to sustain in the long term in the absence of diplomatic negotiations that boost its image in the Palestinian street.
Many of the Israeli raids have sparked increasingly violent clashes with armed Palestinians frustrated over the Israeli incursions and the PA's willingness to cooperate.
Commenting on Burns' remarks, State Department spokesman Ned Price said the CIA director's concern "is precisely the reason Secretary Blinken from Israel, from the West Bank, from Egypt, encouraged Israelis, Palestinians to take urgent steps themselves that would de-escalate this situation and lead to greater degrees of security and stability for Israelis and Palestinians alike."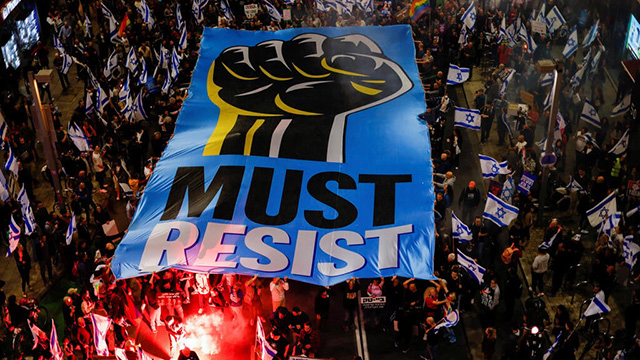 Anti government protest in Tel Aviv
Photo: Reuters
Meanwhile there is a shadow of a 'color revolution' looms over Israel. Mass protests have taken over the country and even representatives of the Israeli armed forces are joining them.
Dozens of Israeli air force reservists said they would not turn up for a training day in protest against Prime Minister Benjamin Netanyahu's judicial reforms, a jolt for a country whose melting-pot military is meant to be apolitical.
As Israel's strategic arm, the air force has traditionally relied on reservists in wartime and requires crews who have been discharged to train regularly in order to maintain readiness.
But in a letter circulated in local media, 37 pilots and navigators from an F-15 squadron said they would skip scheduled drills and instead "devote our time to dialogue and reflection for the sake of democracy and national unity".
The religious-nationalist government seeks changes that include curbs on the Supreme Court, which it accuses of overreach.
Critics worry that Netanyahu – who is on trial on graft charges he denies – wants excessive power over the judiciary.
Weekly and increasingly raucous demonstrations have swept the country, with some protest leaders – among them former military chiefs – saying that a non-democratic turn in government would warrant mass disobedience within the ranks.
Israel does not publish military personnel figures, making it hard to judge to impact of the air force reservists' protest, or of similar pledges by some reservists from other branches.
…Well, there is double-trouble: Israeli-Palestinian as a pretext for 'Intifada'. And all this on the brink of a 'color revolution' in Israel.
read more in our Telegram-channel https://t.me/The_International_Affairs