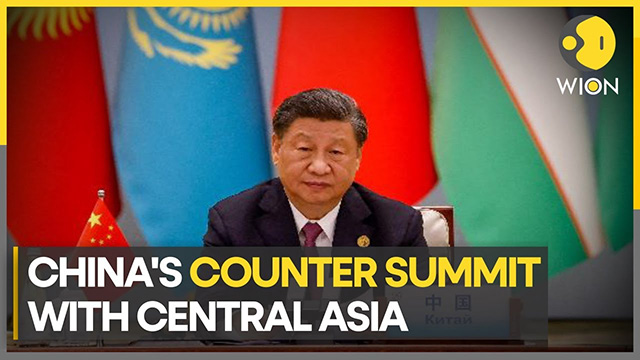 In the past, Japanese Prime Minister Shinzo Abe and Chinese President Xi Jinping have demonstrated their rivalry on the regional stage in Asia. Today, a similar struggle seems to be unfolding between Xi Jinping and Prime Minister Fumio Kishida, writes Japanese 'Shūkan Gendai'.
From May 19 to 21, Kishida will host the G-7 (the world's largest developed countries) summit in Hiroshima, which will be his administration's biggest diplomatic event.
Literally at the same time, on May 18-19, President Xi will hold the first China-Central Asia summit in the ancient Chinese capital of Xi'an. The leaders of Kazakhstan, Kyrgyzstan, Tajikistan, Turkmenistan and Uzbekistan are invited to the meeting.
The event is clearly organized with great calculation, and the Ministry of Foreign Affairs and the state media in every possible way increase its significance and image. Last week in China, around this summit, there was a stir that has not subsided to this day.
For example, on May 12, China's central state news agency, Xinhua, published "seven critical points" about how closely connected China and the five Central Asian countries are. They are listed below.
Countering the G7 is the main behind-the-scenes goal of the Xi'an summit:
All five countries have signed cooperation documents under the Belt and Road Initiative (OBOR), which President Xi has been promoting since 2013.
In 2022, China's trade with Central Asian countries exceeded $70 billion. China has been Central Asia's largest trading partner for many years. The Central Asian states export dozens of high-quality agricultural products to China, including wheat, soybeans, dried fruits, fruits, beef and lamb. They have played a great role in promoting the healthy development of bilateral trade.
Almost 80% of the route of China-Europe express trains (container trains running along the road connecting China and Europe) pass through Central Asia. By the end of 2022, the total number of China-Europe trains has exceeded 65,000. More than 6 million containers with cargo worth 300 billion US dollars have been transported through this transport artery. At present, 82 routes have already been opened and are in operation, connecting China with Europe through Central Asia. They connect more than 200 cities in 24 European countries with China. Gradually, on these routes, "points are connected in lines", and "lines are intertwined into whole networks."
China provided 57.1 million doses of anti-virus vaccines to five countries in Central Asia.
China and Central Asia currently has 62 pairs of friendly provinces, regions and cities.
China founded 13 Confucius Institutes in Central Asia.
The number of students from Central Asia studying in China increased from 11.9 thousand in 2010 to 29.8 thousand in 2018. Recently, young people from Central Asia are seeking to study abroad in China, which is becoming a new trend. China has already become the main destination and the best choice for international students from Central Asia. The average annual growth rate is 12.33%.
This is the current situation with China's active advancement in Central Asia. The five countries of this region are increasingly falling into the orbit of influence of their powerful neighbor China.
The upcoming China-Central Asia summit is contrasted by Beijing with the G7 summit in Hiroshima, where the anti-Chinese factor will obviously be very strong.
Is not the coincidence of these two important events a reflection of the return to Asia of the bloc atmosphere of the new cold war that is currently flaring up in Europe? – asks 'Shūkan Gendai'.
read more in our Telegram-channel https://t.me/The_International_Affairs