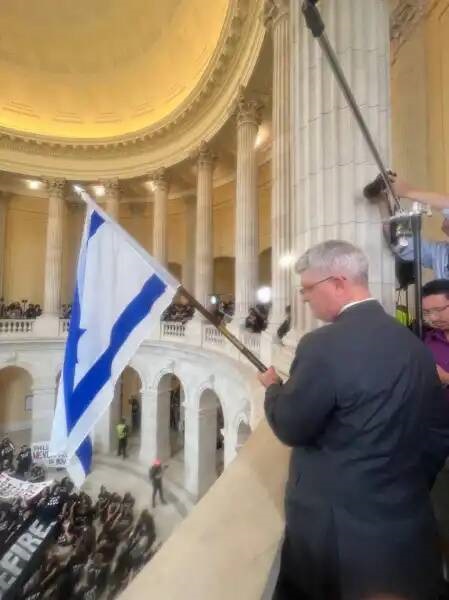 The Capitol Police have arrested at least 100 people as demonstrators entered the Cannon House Office Building.
A group of protesters calling for a ceasefire in Gaza entered the Cannon House Office Building, a congressional office just across the street from the US Capitol Building.
The demonstration was organized by two Jewish groups, Jewish Voice for Peace and IfNotNow. Protesters inside the Cannon House wore shirts that said "Not in Our Name" and "Jews Say Ceasefire Now."
Jewish Voice for Peace wrote on X: "While 500 Jews, rabbis, and descendants of Holocaust survivors chant 'Let Gaza live' and get arrested inside, a crowd of 10k sings outside. We won't stop until our demands of a ceasefire are met!"
The number of people who attended the protest is not confirmed, but reports say at least 100 demonstrators have been arrested by Capitol Police. "Demonstrations are not allowed inside Congressional Buildings," the US Capitol Police wrote on X. "We warned the protestors to stop demonstrating and when they did not comply we began arresting them."
The protest came on the same day President Biden visited Israel and met with Prime Minister Benjamin Netanyahu to pledge full US support for the Israeli onslaught on Gaza. Since the October 7 Hamas attack on southern Israel, over 3,000 Palestinians have been killed in Gaza amid a relentless Israeli bombardment.
read more in our Telegram-channel https://t.me/The_International_Affairs