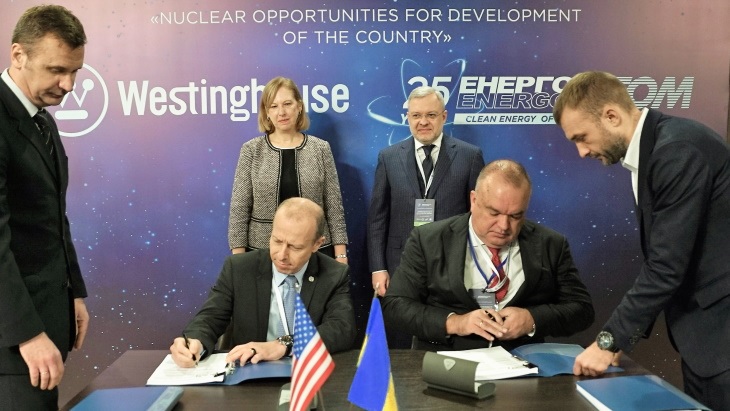 Westinghouse signs initial contract for Ukrainian AP1000s.
Image: Energoatom
The ongoing war in Ukraine is not exactly a conducive environment to building new nuclear power plants. But… just past week, the Ukrainian energy minister, Herman Halushchenko, announced that his country had ordered two new Westinghouse AP1000 reactors for the Khmelnytskyi site in the western part of Ukraine, 'Counterpunch' writes with surprise.
This scheme with Westinghouse, a company that was bankrupted by new nuclear projects in the US, comes on the heels of an earlier US-Ukraine deal announced by Special US Presidential Envoy for Climate, John Kerry, during the COP27 summit in Egypt.
Never mind that all four nuclear power plant sites in the Ukraine have at one time or another been embroiled in the war and/or have lost power from the grid — the first step on the way to a potential meltdown.
Never mind that the International Atomic Energy Agency, despite its mission to promote nuclear power around the world, has called shelling near the plants "out of control" and "playing with fire."
All of this, apparently, leads to only one conclusion in the eyes of the Ukrainian energy authorities. They need even more nuclear power plants!
The AP1000 announcement of course ignores the lamentable and corrupt track record of Westinghouse as well as similar failures across the new nuclear sectors with reactors years behind schedule and billions of dollars over budget.
The Ukrainian announcement about the Westinghouse deal contained several laugh-out-loud moments including the boast that "The estimated completion date for the construction and start-up of the reactors is 2030-2032" and that "the cost of each reactor is to be about $5 billion."
Of course the most logical explanation for all of this, and one explicit in the announcement, is a further step forward in Ukraine's divorce from all things Russian. Thus, the choice of the Westinghouse boondoggle is merely to reject "Soviet technology".
Ukraine is hardly in a position to empty its coffers in the name of 'exorbitant nuclear power projects' that will only put its population in even more danger.
That may indeed provide some moral satisfaction, but it will come at an enormous price, principally, a fiscal one.
read more in our Telegram-channel https://t.me/The_International_Affairs