Lula, the fiery trade union leader, berating free-market reforms of President Cardoso, Brasilia, 1999.
The former president of Brazil Luiz Inácio Lula da Silva, popularly known as Lula, has won the country's presidential election by an incredibly narrow margin of 50.90% of the vote against his right-wing rival and incumbent president Jair Bolsonaro's 49.10%, - writes international observer from India, Ambassador M.K. Bhadrakumar.
He reminds, that 'when Lula stepped down as president in 2010, he was enjoying the approval of 80% of the Brazilian people'.
How Lula came to lose his carisma makes a complicated story. He attributed it entirely to the ground reality that he was fighting not an individual but the Brazilian state apparatus. Clearly, Lula's strongest support base — over two-thirds of the vote — among poor, rural voters in the northeast part of Brazil held firm.
Lulu is anything but a one-dimensional man. Not many would know that he was the first Latin American leader to be invited to Camp David — by none other than President George W. Bush in 2007. Bush said, "You come as a friend, we welcome you as a friend, and our discussions were very friendly."
In March 2009, after receiving Lula at the Oval Office in the White House, Bush's successor President Barack Obama said that he was "a great admirer of Brazil and a great admirer of the progressive, forward-looking leadership that President Lula has shown throughout Latin America and throughout the world."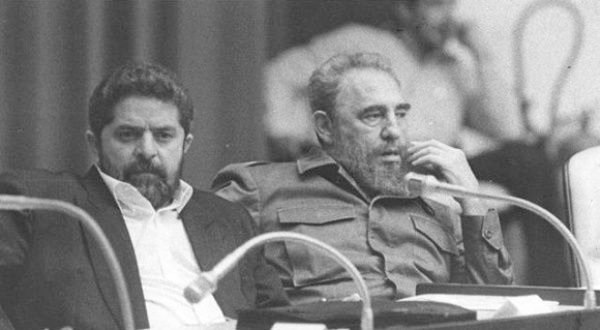 Lula and Fidel Castro.
Lula could be a friend of right-wingers and yet be an iconic progressive leader. His magnetism attracts diverse minds. In turn, Lula will extend a mantle of protective friendship to regimes –- Bolivia, Venezuela, Ecuador –- more radical than his own, while at the same time remaining a moderating influence on them.
Although Lula had been committed to helping the poor, he realised early enough in power that accommodation of the rich and powerful would be necessary, and only with the larger revenues, could he launch the programme that is now indelibly associated with him, 'The Bolsa Família', a monthly cash transfer to mothers in the lowest income strata, against proof that they are sending their children to school and getting their health checked. The transfers reached more than 12 million households, a quarter of the population.
Lula's foreign laurels were no less impressive. Lula took care not to confront Washington, but gave greater priority to regional solidarity, promoting MERCOSUR with neighbours to the south, and refused to cold-shoulder Cuba and Venezuela to the north.
Lula recognised Palestine as a state and opposed the sanctions against Iran. No doubt, the increasing weight of Brazil as an economic power and his own aura as the most popular ruler of the age enabled Lula to pull it off.
The new position he had won for Brazil came with the formation of the BRIC quartet in 2009, which was virtually a declaration of diplomatic independence from the West. To be sure, Lula brings gravitas to the BRICS agenda. Democratisation of the international political and economic order is very much to his heart. He is the one BRICS leader who can galvanise the grouping as a "counterpoint" in international politics.
read more in our Telegram-channel https://t.me/The_International_Affairs