Baghdad, October, 13.
Tens of thousands of people took to the streets across the Middle East on Friday, October, 13 to protest Israel's assault on the occupied Gaza Strip, which has killed more than 1,500 people, displaced more than 330,000, devastated the enclave's infrastructure, and pushed its healthcare system to the brink of collapse.
Demonstrators in Jordan, Yemen, Iraq, Pakistan, Malaysia, Bahrain, Iran, Egypt, and Lebanon expressed outrage over Israel's ongoing attack and the decadeslong occupation of Palestinian territory.
"This rally is aimed at condemning what is happening in occupied Palestine, the bloodletting, and the violation of rights," Abu Kayan, an organizer of a rally in Baghdad, told Agence France-Presse.
The outlet added that "in the Saudi capital Riyadh, where protests are prohibited, an AFP journalist witnessed police cuffing a worshipper who interrupted Friday prayers by shouting at the imam: 'Speak about Palestine! Gaza is under bombs!'"
The mass demonstrations erupted hours after Israel issued an evacuation order for northern Gaza, instructing the entire civilian population there — roughly 1.1 million people — to move to the southern half of the territory within 24 hours ahead of an expected ground invasion.
International humanitarian groups and aid organizations on the ground in Gaza condemned the order, warning that it would be impossible for so many people to move so quickly in such appalling conditions. The World Health Organization called the directive "a death sentence" for the wounded Gazans who have filled the territory's hospitals over the past week—a period in which Israel dropped 6,000 bombs on the densely populated enclave.
Al Jazeera reported that the large crowds at Friday's protests across the Middle East "denounced Israel's heavy bombardment of the besieged enclave," an assault that came after a Hamas attack on Israel that killed more than 1,300 people.
"In Baghdad, large crowds filled Tahrir Square in the center of the Iraqi capital for protests called by the influential Shia leader Muqtada al-Sadr. In Yemen's capital, Sanaa, demonstrators took to the streets waving Yemeni and Palestinian flags," Al Jazeera reported. "After prayers in Islamabad, Pakistan's capital, some worshippers stepped on U.S. and Israeli flags, in a sign of disrespect."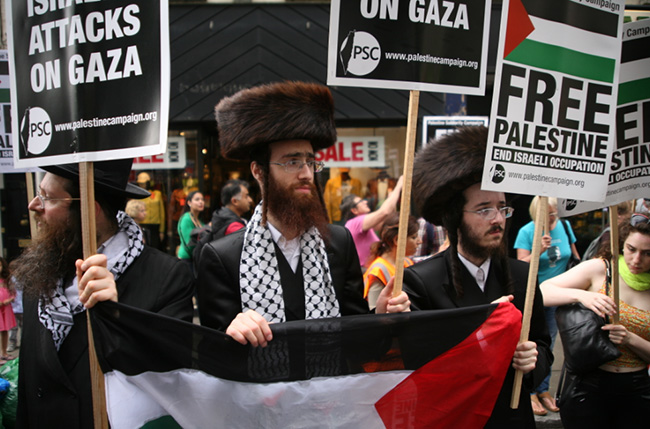 Photo: vosizneias
"There is only one way to end violence: to address its root cause, 75 years of Israeli military occupation and apartheid," said Jewish Voice for Peace. "We must end U.S. complicity in this systemic oppression."
The human rights group Jewish Voice for Peace issued an urgent call to the U.S. public, calling on Americans to pressure members of Congress to help end the ongoing airstrikes in Gaza, which have now killed at least 1,100 people and injured nearly 5,200.
The Biden administration on Tuesday pledged to deploy military assets for Israel to use in its assault on Gaza — which analysts say could involve even deadlier ground attacks in the coming days — and U.S. President Joe Biden said he would soon ask Congress "to take urgent action to fund the national security requirements of our critical partners."
To counter that, said Jewish Voice for Peace (JVP), Americans who oppose the killing of Palestinian civilians in retaliation for Hamas' surprise attack must make their voices heard by Congress as well.
"The U.S. must work to immediately de-escalate to prevent the further loss of life, and not fuel and exacerbate the violence by sending more weapons to Israel," said JVP. "There is only one way to end violence: to address its root cause, 75 years of Israeli military occupation and apartheid. We must end U.S. complicity in this systemic oppression."
The group provided supporters with call scripts to contact their U.S. House members and senators, asking them to tell their representatives in Congress to oppose "any attempts to send further weapons to the Israeli government and military as it wreaks havoc on the Gaza Strip."
JVP noted that a forthcoming resolution proposed by Reps. Michael McCaul (R-Texas) and Gregory Meeks (D-N.Y.), which would affirm the U.S. stands "with Israel as it defends itself against the barbaric war launched by Hamas," would ultimately "dehumanize Palestinians and fuel violence."
The group's call to action came as anti-Palestinian rhetoric on Capitol Hill intensified, with Sen. Lindsey Graham (R-S.C.) calling for Israel to "level" the blockaded enclave of Gaza, which is home to more than 2 million people, approximately half of whom are children.
JVP Action — JVP's sister advocacy group — highlighted an account of the destruction from Al Jazeera English reporter Maram Humaid, who said "a huge bombing" had hit close to her home, forcing her to flee with her two-month-old baby.
"Biden and Congress, this is what you are supporting when you rush to ship the Israeli government more bombs and warplanes as it turns Palestinian apartment buildings to rubble," said JVP Action. "Deescalate NOW!"
read more in our Telegram-channel https://t.me/The_International_Affairs