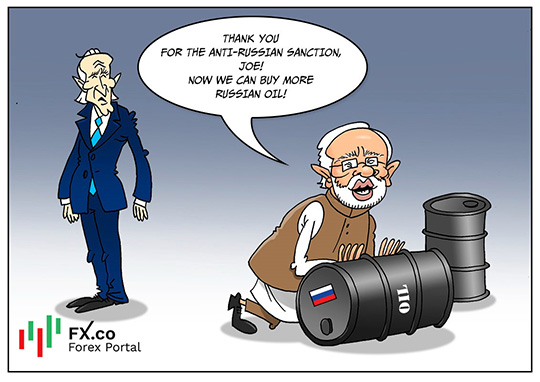 Prime Minister Narendra Modi's call with Russian President Vladimir Putin marks a new stage in the bilateral relationship between the two time-tested friends, both contextually and from a long-term perspective, Indian Ambassador and prominent international observer M.K. Bhadrakumar is sure. He writes:
It is very significant that Modi was not deterred by the fact that although this is not era for wars, the Ukraine conflict in all probability will only escalate, and there is a greater likelihood than ever before that Russia may be compelled to seek a total military victory, as the US is leaving it with no option by doggedly blocking all avenues for a realistic settlement and is furtively climbing the escalation ladder.
There is no question that Modi's initiative at this point in time to discuss "the high level of bilateral cooperation that has been developing on the basis of the Russian-Indian privileged strategic partnership," including in key areas of energy, trade and investments, defence & security cooperation, conveys a huge message in itself.
It quietly underscores a medium and long term perspective on the Russian-Indian relationship that goes far beyond the vicissitudes of the Ukraine conflict. Put differently, India will not allow its long-standing ties with Russia to be held hostage to Western sanctions.
For India, the reorientation of Russian economic diplomacy toward the Asian region presents huge business opportunities. Who would have thought nine months ago that Russia was going to be the largest supplier of oil to India, leapfrogging Iraq, Saudi Arabia and the US?
According to Reuters, India purchased about 40% of all export volumes of Russian Urals grade oil transported by sea in November 2022, when European countries accounted for 25%, Turkey 15% and China 5%.
The figures speak for themselves: in November, while Russia supplied 909,000.4 barrels of crude oil to India per day, the corresponding figures were for Iraq (861,000.4), Saudi Arabia (570,000.9), and the US (405,000.5). Suffice it to say that when Modi upfront listed energy as his talking point with Putin, it reconfirms that India is giving a wide berth to the G7's hare-brained scheme to impose a price cap on Russian oil exports.
Indian Foreign affairs minister Jaishankar's recent Moscow visit focused on a list of 500 items that Russia would be keen to source from India. Importantly, this is also about a supply chain for Russian industry / economy. Jaishankar reportedly gave an interim reply of India's readiness to start supplying spare parts necessary for airplanes, cars and trains.
Some Russian experts have talked about India as a potentially significant "trans-shipment" state for Russia's "parallel imports" — that is, Russia can buy not only Indian goods from India but also products from third countries.
Clearly, there are systemic issues to be addressed such as transportation logistics; payment mechanism, collateral sanctions. However, for the near term, all eyes are on the Russian oil exports to India in the time of the G7 price cap, notes M.K. Bhadrakumar.
read more in our Telegram-channel https://t.me/The_International_Affairs