For the past few days, videos, on various social media platforms, predominantly Twitter, have surfaced depicting unusual US military equipment, vehicles, planes, and others being moved across multiple US cities. These videos are making US citizens increasingly more concerned. One user has claimed that such movement has been witnessed across 27 US states, as well as a number of states across Canada.
In many US cities now there see a large number of troops, and the fact raises many questions among the citizens of America – why, against whom is this mass of military and equipment gathered?
Medeea Greere, an independent publisher, writes on Telegram:
"Have you ever seen a metal beast rumbling down the tracks, a monstrous sight that induces both awe and fear? Well, that's what some Arizonans are witnessing these days – a massive military exodus from their state, headed towards the sunny beaches of California. An unprecedented spectacle, armored attack vehicles, personnel carriers, and support resources rumbling ominously on the railways.
"Is the U.S. military preparing for an apocalypse we don't know about, or is there an alien invasion underway? Regardless of the reason, the American Southwest is in the throes of an unprecedented event. As if a colossal shadow moving across the desert landscape, Arizona is witnessing a gigantic military exodus – an event marked by the relentless migration of massive amounts of military equipment by train to California.
What makes this event intriguing and unsettling isn't merely the large-scale migration but the type of machinery on the move. Imagine thunderous, armored attack vehicles, behemoth personnel carriers, and the supporting logistical resources capable of sustaining an extended military operation.
So, why would such a military caravan be moving towards the land of Hollywood and surfers? Is California bracing for an event that we, the public, are not yet aware of? Or is the military establishment testing our state of vigilance? No official statement has been made, leaving us to grapple with conspiracy theories, fertile as California's central valley."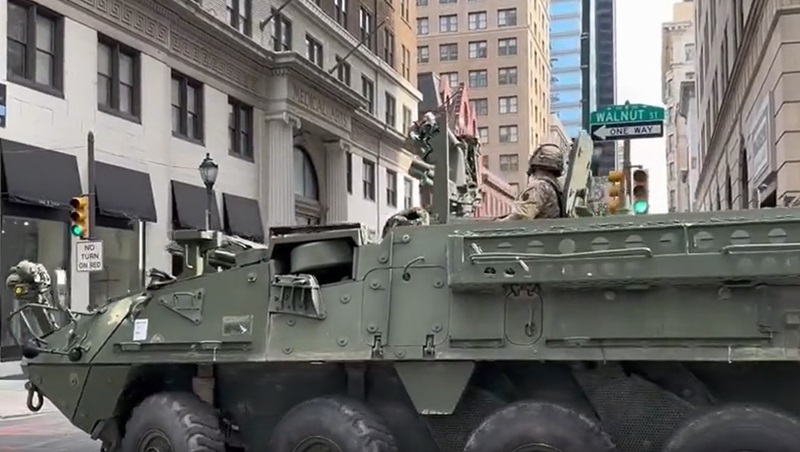 Screenshot from a video showing US military deployed on the streets of downtown Philadelphia, Pennsylvania, USA, on June 17, 2023
There is a palpable sense of apprehension and confusion among the citizenry, with many startled at the sight of military might on full display in their tranquil towns, notes AMG-news. The concerns have transcended from hushed whispers behind closed doors to vigorous discussions in the digital arena. It's no longer confined to the conjectures of conspiracy theorists; it has become a matter of national interest.
Take the instance of Larkspur, California, where residents have reported witnessing U.S. Marine Corps Osprey aircraft, notorious for their unique ability to function both as a helicopter and a turboprop aircraft, dropping troops into residential areas. Or the account of a resident of Rocky Mount-Wilson, North Carolina, who noticed an unusual military plane at their small, non-commercial airport, despite the runway lights being oddly switched off in the evening.
Then there are narratives emerging from the highways of Idaho, with videos showcasing a remarkable convoy of tanks making their way through. This curious situation isn't restricted to the American soil alone, with similar instances being reported from the Canadian province of Quebec.
Could these be mere coincidences? Or are these seemingly random events part of a larger, intricate blueprint meticulously devised under the umbrella of military laws, regulations, acts, statutes, and codes, pointing towards an impending COG and Military Occupancy? – asks AMG-news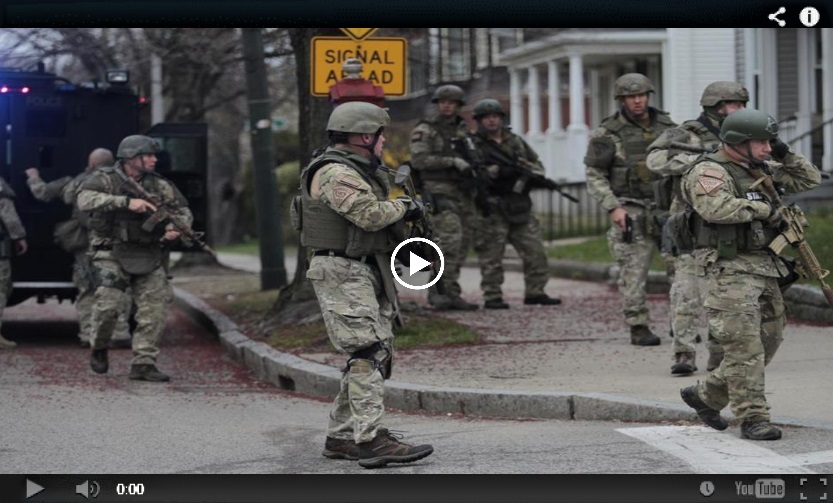 "The military is moving into positon in everytown and city in America. Entire tank divisions are on the move with air support. There are also military movements in the Uk. A massive cyber attack on the grids & banking systems is being heavily talked about", informs blogger Kyogo on June 18, 2023.
read more in our Telegram-channel https://t.me/The_International_Affairs