Volunteers take part in training during courses with 'The Mozart Group', in the Donetsk region of Ukraine. Andrew Milburn, the founder of 'The MozartGroup', recently voiced displeasure with some of the Ukrainians.
Photo: Newsweek
Andrew Milburn, a retired U.S. Marine colonel who spent months in Ukraine helping to train President Volodymyr Zelensky's forces, said during a recent interview that there had been "all kinds of atrocities" in Ukraine.
Milburn is the founder and CEO of The Mozart Group, a company composed mainly of former special operations soldiers that has provided services to Ukraine ranging from frontline training to medical evacuation and casualty care.
Max Blumenthal, founder of The Grayzone website, posted a clip to Twitter of Milburn speaking last month on The Team House podcast.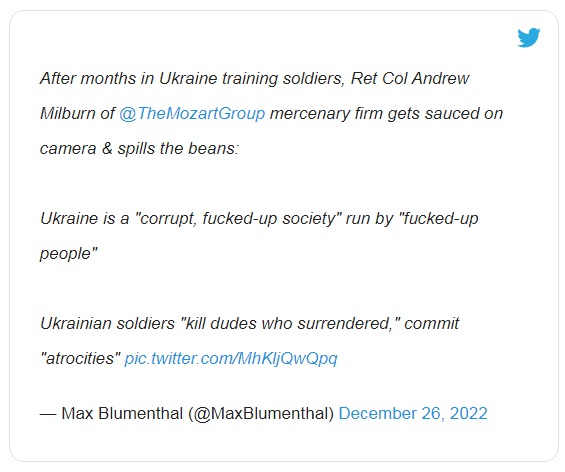 The video, which was originally posted in full on the podcast's YouTube channel, shows Milburn continuing to express his support for Ukraine. However, he also called the country a "corrupt" society. "I'm not a big fan of Ukraine," he said of the government.
Without mentioning a specific group, Milburn then hinted at worse offenses that may have been committed in Ukraine.
"You shouldn't kill dudes who surrendered... and there was plenty of that," he said. "There's all kinds of atrocities to go around."
Millburn clarified his comments to Newsweek in a statement.
"In the course of a discussion that lasted over two hours I gave a balanced view of the Ukrainain war effort — praising them where I see strengths but also being candid about areas that need to be improved if the Ukrainian cause is to remain unimpeachable in the eyes of the international community," Milburn wrote.
Blumenthal tweeted that during The Team House interview "the craft bourbon flowed" while Milburn spoke with hosts Dave Parke and Jack Murphy. Blumenthal hints that intoxication played a part in Milburn veering "to paint a much darker picture of what he saw in Ukraine."
So it is bourbon? Not the truth nobody expected and needs?
read more in our Telegram-channel https://t.me/The_International_Affairs