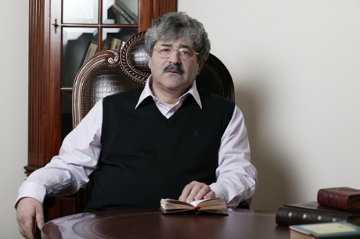 ACCORDING TO Suleiman Jasir Al-Herbish, Director-General of the OPEC Fund for International Development (OFID), there will be no more cheap oil. We met at the OFID headquarters in Vienna, a magnificent palace built in the days of the Austrian Empire and richly decorated with columns, stucco, massive oak doors and red carpet runners.
Since 1976, OFID has been a major international development agency, as well as an authoritative research and analysis center. The Fund's main task is to strengthen cooperation and OPEC's influence in developing countries. Financial assistance provided by the Fund has exceeded $10.6 billion, including more than $1.4 billion in the form of grants. Mr. Al-Herbish's assessment of the current state of the global market and the strategy for the development of the oil sector is all the more interesting because he previously served as chairman or member of the board of some of the largest Saudi Arabian oil companies.
Against the background of a jump in world oil prices to $100 provoked by the events in Egypt, Mr. Al-Herbish's statement that there will be no more cheap oil may seem a bold claim. In recent years, the oil market has "turned somersaults" that have made many experts feel dizzy. However, the person I was talking to meant something quite different: the cost of oil production in the world is rising rapidly. Russian analysts naturally agree with this. But it is not only that the cost of production of a ton of oil has increased. OPEC's mission, Mr. Al-Herbish believes, is to ensure security of oil supply today and in the future. For this purpose, he said, we must spend billions of dollars on ensuring sustainable development of the world economy, taking into account not only its immediate needs, but also possible emergencies. As he put it, we must invest in "future oil."
Of course, the creation of an oil "cushion" also meets the interests of OPEC as a cartel that, based on its accumulated resources, can influence price fluctuations in the oil market. A widespread view among OPEC member countries, shared by the Director-General of OFID, is that the cartel, which accounts for 40% of world oil production and has built impressive reserves of "black gold," bears the main burden of stabilizing prices and ensuring energy security, while non-OPEC producers simply enjoy the fruits of their labor.
When asked to comment on the recent deal between BP and Rosneft, Mr. Al-Herbish said he folly understood the logic of attracting foreign investment when it was a matter of devel oping oil and gas fields in difficult natural conditions. We in Saudi Arabia, he said, have built impressive oil reserves, and there is no need for us to turn to foreign investors, whereas conditions in Russia are different. He did not dispute the fact that the availability of free capital enables Saudi Arabia, OPEC's recognized leader, to reinvest in exploration and development of new fields on a large scale. Mr. Al-Herbish pays tribute to the momentous historical changes that have taken place in Russia since the collapse of the U.S.S.R. and to the role played by oil in cushioning the social impact of this painful process. But it is time to look to the future.
The Director-General of OFID thinks it critically important to reconsider OPEC's basic principle formulated 50 years ago at the time of its foundation. According to this principle, the OPEC member countries use their oil revenue mainly to balance their national budgets. In the view of Mr. Al-Herbish, this provision has fettered and continues to fetter the leading oil producers in their movement towards diversification. The task today, he said, is just the opposite: producer countries should not rely on oil as the main instrument for ensuring a balanced budget.
Shortly before the meeting in Vienna, International Affairs held a roundtable on the topic of "Russia and OPEC" with the participation of the Economic Policy Department of the Russian Ministry of Foreign Affairs, Soyuzneftegaz specialists, experts from research and academic institutions, business people and independent analysts. The participants in the discussion agreed that Russia lacks a coherent strategy for cooperation with OPEC. Yuri Shafranik, Chairman of the Board of the Union of Oil and Gas Producers of Russia, formulated the common position: "Russia should adopt a line of conduct towards OPEC reflecting the potential pluses and minuses of cooperation. I am convinced that Russia and OPEC are significant players; it is another matter that their significance and influence tend to change."
Naturally, Russia's possible cooperation with OPEC was a topic of particular interest to us. In answer to my question, the head of the OPEC Fund for International Development spread his hands and said that the Fund was always ready for cooperation. Several areas of cooperation were immediately apparent. OFID is actively working on projects in Armenia, Tajikistan and Turkmenistan. Is there a reserve for cooperation with Russia? Mr. Al-Herbish reaffirmed the "open door" policy and did not rule out the possibility of trilateral cooperation with CIS countries. It should only be borne in mind that OFID focuses on assistance in the development of social, educational and infrastructure programs.
The latter could be of interest to Russia, especially since the Fund provides assistance mainly in the form of long-term concessional loans.
The second area of potential cooperation is reducing the impact of financial speculation in the global oil market. In the Director-General's view, Russia and OPEC countries that are members of the G20 could join forces to mobilize the world community to work in this direction.
Finally, joint specialist training and an exchange of analytical and statistical data banks could not only ensure "viability" but also breathe new life into the development of high technologies and diversification of the oil industry.
Should Russia join OPEC for this purpose? Russian experts are unanimous: oil production conditions in Russia and OPEC differ widely, and socio-economic imbalances do not allow us to put the issue of Russian membership of OPEC on the current agenda. In principle, Mr. Al-Herbish agrees with this. But what prevents Russia, he asked, from taking a more active part in OPEC activities and working together with OPEC member countries? What indeed?
read more in our Telegram-channel https://t.me/The_International_Affairs