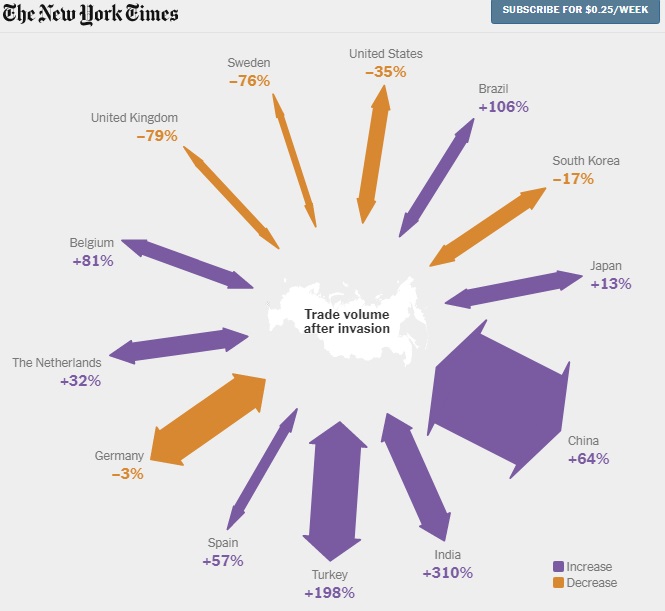 International trade with Russia boomed this year, even as countries imposed sanctions after the Ukraine invasion. As restrictions take effect, Moscow's alliances have been shifting, - confesses "The New York Times".
Countries vowed to sever economic ties with Russia and imposed sanctions that were intended to cripple its economy after it invaded Ukraine. But as one of the world's most important producers of oil, gas and raw materials, Russia has had longstanding and lucrative trade partnerships. Breaking those ties is not easy.
In 2020, Russia imported $220 billion of products from the rest of the world. More than two-thirds of Russia's exports by value before the war were oil, gas and key metals and minerals, which help to power cars, warm homes and supply factories all over the globe.
The volume of its imports has since plunged as sanctions and trade limits went into effect, according to "The New York Times" analysis of trade data.
A few countries, including China and Turkey, have deepened their relationships with Russia since the war began. Many countries have found living without Russian raw materials incredibly difficult.
That has led to a frustrating reality for Western officials who had hoped to undercut Russia's war effort by punishing its economy: The value of its exports actually grew even in many countries that have taken an active role in opposing Russia.
Russia's relationship with the world is continuing to evolve rapidly.
Attempts by Western nations to use sanctions and other measures to cripple Russia's economy have so far had limited effects.
And Russia's long-standing economic ties with Europe are gradually being unknotted, and new alliances are forming as goods are rerouted to other countries, the data shows.
The International Monetary Fund has repeatedly revised its forecasts this year for the Russian economy, saying it would contract by less than the organization had anticipated. The I.M.F. said in October that it expected the Russian economy to shrink by 3.4 percent this year, a much smaller contraction than the 6 percent it forecast in July and the 8.5 percent it expected in April 2022.
"Russia has withstood the economic sanctions better than anticipated," said Gilberto Garcia-Vazquez, chief economist at "Datawheel", the company that operates the Observatory of Economic Complexity.
read more in our Telegram-channel https://t.me/The_International_Affairs