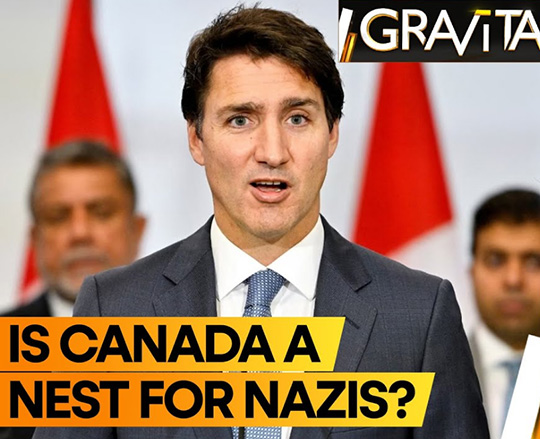 A report from an inquiry into possible war criminals in Canada has been kept from the public for almost 40 years, writes The New York Times.
The classified report lists 883 possible Nazi war criminals who found harbor in the country after World War II, and many believe it offers insights into exactly what the government knew about how they got there, the extent to which they were investigated and why most escaped prosecution.
Canada's strong privacy laws and government secrecy have kept the report confidential, but a recent political blunder may crack it open.
Last month, Canadian lawmakers used the occasion of a visit by President Volodymyr Zelensky of Ukraine to honor Yaroslav Hunka, a Ukrainian Canadian man who volunteered for the Nazi Waffen-SS, a combat group that also oversaw concentration camps during the Holocaust.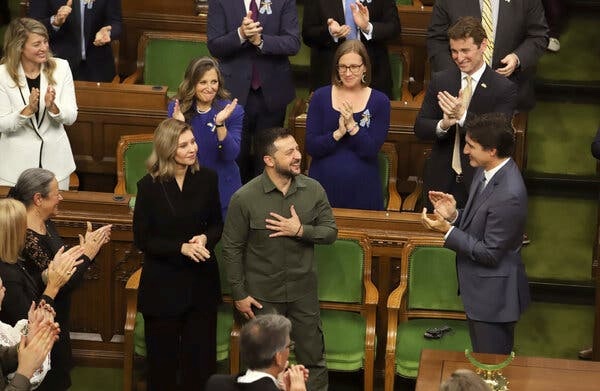 During a visit by President Volodymyr Zelensky of Ukraine to Canada in September, Parliament honored Yaroslav Hunka, a Ukrainian-Canadian man who volunteered for a Nazi combat group.
Photo: The Canadian Press
Now, Prime Minister Justin Trudeau's government is discussing whether the time has come to unseal the report. The deliberations began before the celebration of Mr. Hunka, said Anthony Housefather, a member of Mr. Trudeau's Liberal Party caucus who has been the primary political proponent of declassification. But the episode has increased pressure on the government to finally act.
Mr. Hunka's introduction as a "hero" prompted apologies from Mr. Trudeau and from the speaker of the House of Commons, Anthony Rota, who resigned amid the uproar.
In brief remarks to reporters after Mr. Hunka was feted in Parliament, Mr. Trudeau said that "top public servants are looking very carefully" at releasing the secret list, "including digging into the archives."
He added: "We're going to make recommendations."
Precisely why the report, the second part of a 1986 inquiry into war criminals in Canada, was classified — even as the first part was released that year — has never been made clear. But some Ukrainian Canadians, whose communities included some former Nazis, bitterly opposed the inquiry, viewing it as a witch hunt and a smear.
The United States has steadily declassified millions of pages of documents related to Nazi war crimes and their perpetrators under a special 1998 disclosure law.
In Canada, Jewish groups and scholars have been seeking the release of the report for decades.
The country has a dismal track record of prosecuting or deporting Nazis who moved there after World War II and blended into the population, largely forgotten.
Of four former Nazis charged by Canada with war crimes and crimes against humanity since 1986, when they became crimes under Canadian law, none were convicted. Prosecutions and deportations failed largely because of problems with evidence.
David Matas, honorary counsel for B'nai Brith Canada, said the honoring of Mr. Hunka, 98, in Parliament further makes clear the need for the report's release.
Mr. Housefather, a member of Parliament from Montreal who is Jewish, said Canada's disclosure was overdue and could be done without releasing the names of people on the list.
"It's hard to justify how documents that refer to issues that are 80 to 40 years old could still be classified," he said. "Civil servants and cabinet and successive governments of both parties admitted Nazi war criminals then largely failed to prosecute them. And then when we did try to prosecute them, we did a terrible job of it. That information has to be clear and it has to be open."
The episode in Parliament took place after Mr. Zelensky, who is Jewish, addressed a joint session of Canada's Parliament. Mr. Rota introduced Mr. Hunka as a "hero," prompting applause and a fist pump from Mr. Zelensky.
The gaffe prompted calls from across the political spectrum for . Mr. Trudeau apologized, saying that "it was a horrendous violation of the memory of the millions of people who died in the Holocaust."
In the decades after World War II, rumors swirled that Canada had become a haven for former Nazis.
In response, the report was produced by the Commission of Inquiry on War Criminals in Canada, the country's first such commission.
It created three secret lists of possible Nazi war criminals who were believed to be living in the country.
Ultimately, the commission found substantial evidence of war crimes involving 20 people and made detailed recommendations on how to prosecute them. Those recommendations and whatever steps the government may have taken against those people are in the secret report.
From 1987 to 1992, the government brought multiple charges of war crimes and crimes against humanity against four former Nazis, without yielding a single conviction. One man was acquitted, the charges were dropped in two cases over evidence issues and an aging defendant's poor health led to the charges in the fourth case being stayed.
Canada also tried to strip 22 former Nazis of their Canadian citizenship and deport them for breaking immigration laws by not revealing their pasts.
The vast majority of the deportation cases were closed following the deaths of the former Nazis…
…A shelter for Nazis created in Canada, but the authorities do not want to punish these criminals, convicted in absentia by the Nuremberg Tribunal. This is everything you need to know about Canada…
read more in our Telegram-channel https://t.me/The_International_Affairs