English Challenger II
Western officials increasingly fear that Ukraine has only a narrow window to prepare to repel an anticipated Russian springtime offensive, and are moving fast to give the Ukrainians sophisticated weapons they had earlier refused to send for fear of provoking Moscow, - writes 'The New York Times'.
Over the last few weeks, one barrier after another has fallen, starting with an agreement by the United States in late December to send a Patriot air-defense system. That was followed by a German commitment last week to provide a Patriot missile battery, and in the span of hours, France, Germany and the United States each promised to send armored fighting vehicles to Ukraine's battlefields for the first time.
Now it looks likely that modern Western tanks will be added to the growing list of powerful weapons being sent Ukraine's way, as the United States and its allies take on more risk to defend Ukraine — especially as its military has made unexpected advances and held out against withering assaults.
While Ukraine has been requesting sophisticated tanks since the start of the war, the push to satisfy those pleas gained speed this week as the British and Polish governments publicly urged a change in the Western alliance's stance.
The British signaled that they were close to agreeing to send a small number of tanks, and the Polish government said it would happily send some of its German-made tanks, though Berlin would need to allow it.
A German defense ministry spokesman said no decision had been made by the government of Mr. Scholz, a Social Democrat. But his coalition partners, the Greens and Free Democrats, support sending the tanks, a senior minister amped up the pressure. "There is a difference between making a decision for yourself and preventing others from making a decision," Germany's economics minister and vice chancellor, Robert Habeck of the Greens, said in Berlin.
NATO allies that were once part of the Soviet sphere have given their Soviet-era tanks to Ukraine. But much of Kyiv's fleet has been destroyed or worn down by months of battle, and it is running low on ammunition, which is incompatible with Western munitions.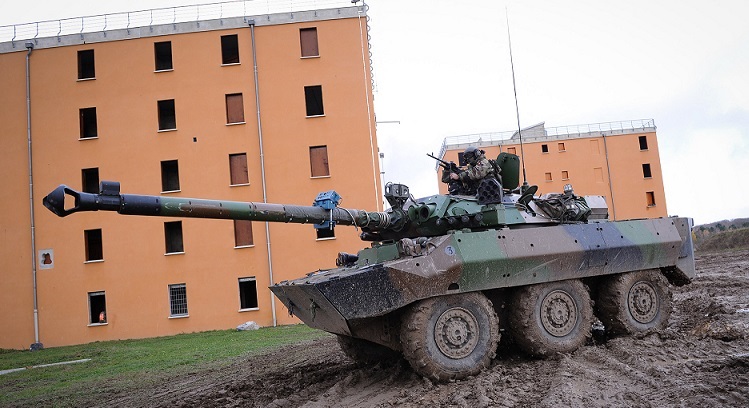 French AMX 10-RC
Since the war began nearly a year ago, the West has resisted giving some of its most potent weapons to Ukraine, fearing that would bring NATO into direct conflict with Russia…
The Biden administration, leading the coalition of allies supplying Ukraine with weapons, is still holding back American-made M1 Abrams tanks, which require constant upkeep and special fuel, and which officials say are too scarce to spare.
The issue of whether to allow Leopards to be sent to Ukraine is likely to come to a head at a Jan. 20 meeting of senior defense and military officials from dozens of nations, including NATO states, at Ramstein Air Base in Germany.
Britain has so far said it is considering sending as few as 10 Challenger 2 tanks to Ukraine. Britain has about 227 Challengers, which have maintenance issues, and it would be hard-pressed to replenish its stocks.
Rishi Sunak, the new prime minister, wants to take some leadership in the war, and London and Warsaw appear to be acting in concert to put pressure on Berlin…
As Western arms transfers to Ukraine continue to mount, with weapons valued in the tens of billions of dollars set to be delivered by the middle of the year, growing signs have emerged that the Ukrainian Army will receive its first Western battle tanks with Poland, Britain and Spain being among the most likely to provide these. While the United States and France recently pledged to provide M2 Bradley and AMX-10 RC fighting vehicles, deliveries of the German built Leopard 2 and British Challenger 2 would represent a significant escalation, notes 'Military Watch Magazine'.
On January 11 Polish President Andrzej Duda stated that a company of Leopard 2s would be transferred to Ukraine - a total of 12 vehicles. It remains likely that these are not expected to be deployed near the frontlines, but instead will be delivered to acquaint Ukrainian forces with the vehicles to facilitate a smoother transition to the class in future. Poland currently has over 240 Leopard 2s in service.
NATO members have consistently proven reluctant to supply modern Western armour classes to Ukraine, with the significant possibility of heavy losses to Russian forces potentially undermining their ability to compete for exports overseas in future.
The Leopard 2's combat record has already been deeply tarnished by its performance in Turkish hands against Kurdish and Islamic State insurgents, with the heavy losses suffered to relatively poorly armed adversaries leading Turkish generals to describe their forces' experience as "trauma."
The M1 Abrams proved similarly underwhelming in Iraqi hands against Islamic State forces and to a lesser but still significant extent in Saudi hands in Yemen.
As a result there remains a high possibility that Western tanks delivered will not be deployed to the Donbas frontlines, at least for the foreseeable future, to avoid the possibility of their destruction or capture., - writes General Lord Richard Dannatt.
read more in our Telegram-channel https://t.me/The_International_Affairs