Photo: Getty Images
Former President Barack Obama (photo) originally said Israel should "dismantle" Hamas, but has now criticized Israel for the way it is "dismantling" the Palestinian terror organization.
In a statement Monday, Obama wrote:
"As I stated in an earlier post, Israel has a right to defend its citizens against such wanton violence, and I fully support President Biden's call for the United States to support our long-time ally in going after Hamas, dismantling its military capabilities, and facilitating the safe return of hundreds of hostages to their families.
But even as we support Israel, we should also be clear that how Israel prosecutes this fight against Hamas matters.
…Still, the world is watching closely as events in the region unfold, and any Israeli military strategy that ignores the human costs could ultimately backfire. Already, thousands of Palestinians have been killed in the bombing of Gaza, many of them children. Hundreds of thousands have been forced from their homes. The Israeli government's decision to cut off food, water and electricity to a captive civilian population threatens not only to worsen a growing humanitarian crisis; it could further harden Palestinian attitudes for generations, erode global support for Israel, play into the hands of Israel's enemies, and undermine long term efforts to achieve peace and stability in the region."
Politico reports that Democrats are starting to worry about a backlash among Arab-American voters in swing states like Michigan, who are upset that most elected Democrats — with very prominent exceptions — have supported Israel against Hamas.
… This is further proof that American politicians care most about votes, and are willing to quickly distance from supporting even their closest ally, which Israel is.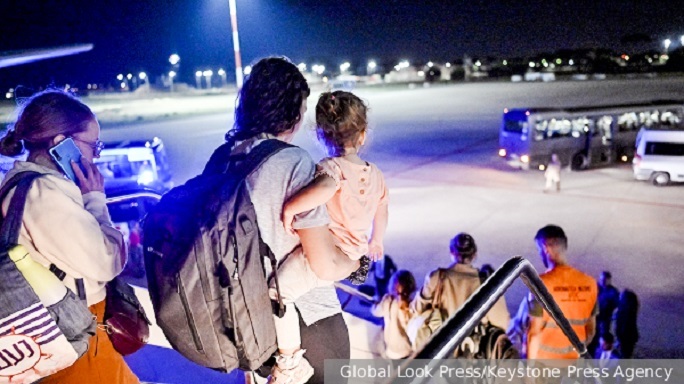 U.S. readies plans for mass evacuations if Gaza war escalates.
Officials said that the more than 600,000 Americans living in Israel and Lebanon are of particular concern, but they stressed that an operation of such magnitude is a worst-case scenario, writes 'The Washington Post'.
The Biden administration is preparing for the possibility that hundreds of thousands of American citizens will require evacuation from the Middle East if the bloodshed in Gaza cannot be contained, according to four officials familiar with the U.S. government's contingency planning.
The specter of such an operation comes as Israeli forces, aided by U.S. weapons and military advisers, prepare for what is widely expected to be a perilous ground offensive against Hamas militants responsible for the stunning cross-border attack that has reignited hostilities. The officials, speaking on the condition of anonymity to detail internal deliberations, said Americans living in Israel and neighboring Lebanon are of particular concern, though they stressed that an evacuation of that magnitude is considered a worst-case scenario and that other outcomes are seen as more likely.
Still, one official said, it "would be irresponsible not to have a plan for everything."
The administration, despite its forceful public support for Israel, is deeply alarmed by the prospect of escalation, and in recent days it has turned its attention in part to the complicated logistics of abruptly having to relocate a large number of people, according to three people familiar with the discussions. There were about 600,000 U.S. citizens in Israel and another 86,000 believed to be in Lebanon when Hamas attacked, according to State Department estimates.
The concern in Lebanon is chiefly over Hezbollah, a political party and militant group that, along with allies, currently controls the largest number of parliamentary seats. It entered parliament in 1992. It has long accepted training and weapons from Iran, prompting concerns that it could attack Israel from the north, creating a two-front war that would stretch Israeli forces. Already, there have been skirmishes along their shared border.
"The street to a large extent is now in charge," said Bruce Riedel, a senior fellow at the Brookings Institution and former official in the Clinton administration.
"We were told for the last 10 years that the Arab world and Muslim world didn't care about Palestine anymore, and Abraham Accords were proof of that," Riedel added, referring to agreements, signed by the governments of Sudan, Morocco, Bahrain and the United Arab Emirates, aimed at normalizing relations with Israel. "Well, Palestine has come back. I don't think it ever went away."
More than 5,000 people in Gaza, mostly civilians and children, have been killed amid unrelenting Israeli airstrikes since the Oct. 7 attacks, Palestinian health officials say.
Last week, the State Department issued an advisory to all U.S. citizens worldwide "to exercise increased caution" due to "increased tensions in various locations around the world, the potential for terrorist attacks, [and] demonstrations or violent actions against U.S. citizens and interests"…
read more in our Telegram-channel https://t.me/The_International_Affairs