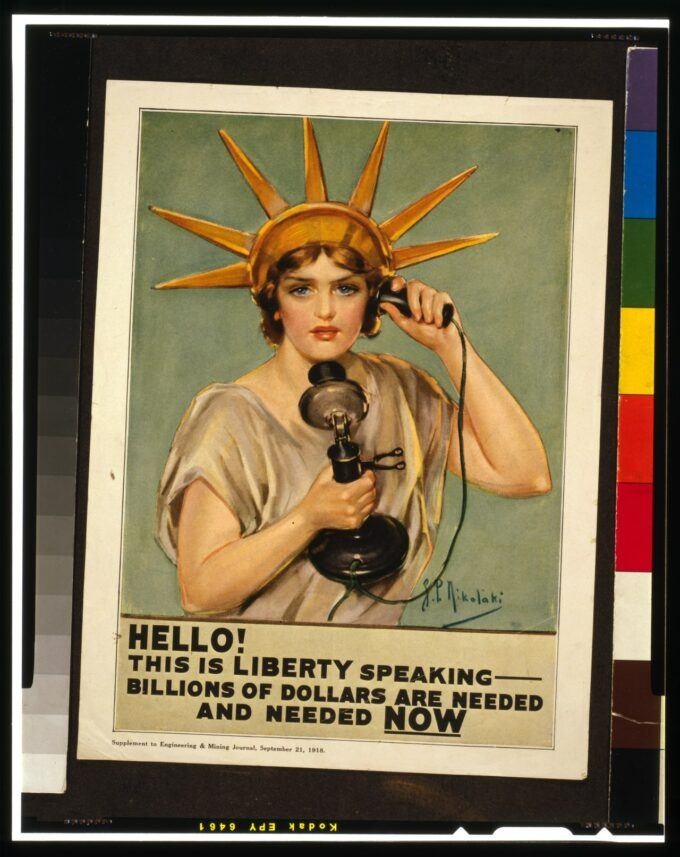 Image Source: Nikolaki, Z. P., artist – Library of Congress
The purpose of a Pentagon budget now rising toward the trillion-dollar mark annually, a sum that would undermine the very concept of defense, notes 'Counterpunch'.
It's early in the new Congress, but lawmakers are already hotly debating spending and debt levels. As they do so, they risk losing track of an important issue hiding in plain sight: massive Pentagon waste. But there are many obstacles to pursuing such a commonsense agenda.
Pentagon waste is a longstanding issue in desperate need of meaningful action. Last November, the Department of Defense once again failed to pass even a basic audit, as it had several times before. In fact, independent auditors weren't even able to assess the Pentagon's full financial picture because they couldn't gather all the necessary information to complete an evaluation.
In some ways, that should have been devastating, the equivalent of a child receiving an incomplete on an end-of-year report card. No less alarming, the Pentagon couldn't even account for about 61% of its $3.5 trillion in assets. Yet the last Congress still approved $858 billion in defense programs for fiscal year 2023, a full $45 billion more than even the Biden administration requested.
Last month, for example, the Government Accountability Office (GAO) revealed that the Pentagon can't account for at least $220 billion worth of its property, including such basics as ammunition, missiles, torpedoes, and their component parts. For its part, Congress (and so the average taxpayer) doesn't have the faintest idea how much it's spent on weapons or their components distributed to contractors for maintenance and upgrades. Worse, the GAO reports that the $220 billion in unaccounted-for equipment and parts is "likely significantly understated."
Yet the Pentagon has wasted untold billions of dollars on ill-functioning weaponry like the F-35 combat aircraft by proceeding to the development stage without faintly adequate information. And the status quo guarantees future disasters like the F-35.
According to the GAO, more than half of the major defense-acquisition programs it reviewed in fiscal year 2022 "did not demonstrate critical technologies in a realistic environment before beginning system development." That's like buying a house without checking whether the water pressure is adequate or the roof leaks — or, in the case of the F-35, a few thousand houses.
An independent assessment of that fighter jet in fiscal year 2021 found more than 800 unresolved deficiencies, six of which are so serious that they may cause death or serious injury to those operating the plane, or critically restrict its capabilities in a combat setting. In the 20 years since the program began, the Pentagon has yet to approve that deeply deficient, wildly expensive plane for full production. Put another way, it has already spent nearly $200 billion on a system that may never actually be fully ready for combat.
Pentagon waste is, of course, nothing new. Still, the need to trim the fat only grows more urgent as this country faces mounting security challenges ranging from the increasing devastation of climate change to strategic competition with other powers. The war in Ukraine is already straining the Pentagon's buying system in striking new ways. As the need to get weapons out the door quickly becomes its number one priority, its penchant for wasting taxpayer dollars will undoubtedly only grow worse.
When the Pentagon budget is threatened with even modest reductions, they routinely trot out tired arguments about how such enormous sums 'create jobs, jobs, and more jobs'. Forget that the data shows education spending produces more than twice as many jobs, while clean energy and healthcare generate 50% more. In short, taxpayers would be far better off if Congress repurposed significant amounts of Pentagon spending for more productive endeavors.
Beyond long-overdue campaign finance reform and a congressional stock-trading ban, lawmakers have a lot of ground to cover when it comes to making Pentagon spending more accountable.
The Congressional Research Service has, however, pointed out that Congress doesn't even have a standard definition of military readiness, so how can legislators begin to evaluate the real-world impact of the hundreds of billions of dollars they routinely authorize for the Department of Defense?
Congress needs to cut the Pentagon budget dramatically.
It's not only outrageously oversized, but some parts of it are genuinely dangerous. Take, for instance, the newest intercontinental ballistic missile (ICBM) now being prepared by Northrop Grumman for a prospective $264 billion over its lifetime. Such missiles will only increase the risk of an accidental nuclear war because a president will have just minutes to decide whether to launch them in a crisis (and once they're launched, you can't take them back).
Members of Congress routinely favor major weapons makers over the needs of taxpayers and military personnel.
As lawmakers fight for military contracts that will generate revenue in their districts or states, they have become remarkably complicit in the consolidation of the industrial part of the military-industrial complex, which threatens actual national security, in part by reducing corporate competition.
For decades, Congress stood by while weapons companies gobbled each other up through mergers and acquisitions. The result: the five largest contractors — Lockheed Martin, Boeing, Raytheon, General Dynamics, and Northrop Grumman — have, in recent years, split a staggering $150 billion-plus in Pentagon funding annually, often in "sole-source contracts" that virtually guarantee overcharging and cost overruns.
It is, of course, long past time for Congress to push back against such merger mania in the arms industry and the wild Pentagon overspending, waste, and poor weaponry that goes with it. Reducing the political clout of the major weapons makers would do more than just save billions of tax dollars.
It just might prompt a broader debate about the purpose of a Pentagon budget now rising toward the trillion-dollar mark annually, a sum that would undermine the very concept of defense.
read more in our Telegram-channel https://t.me/The_International_Affairs