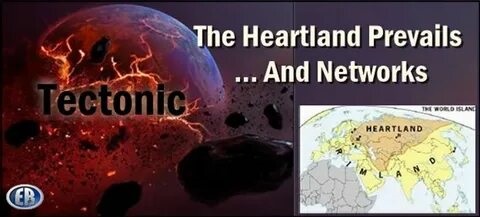 A well-known international observer Pepe Escobar analyzes the tectonic shifts in world politics that are taking place here and now. He notices that six months after the start of the Special Military Operation (SMO) by Russia in Ukraine, the geopolitical tectonic plates of the 21st century have been dislocated at astonishing speed and depth – with immense historical repercussions already at hand.
The vile assassination of Darya Dugina – de facto terrorism at the gates of Moscow – may have fatefully coincided with the six-month intersection point, but that won't change the dynamics of the current, work-in-progress historical drive.
The real war – Russia against the collective West led by the United States – is a war of ideas. And an existential war.
Alexander Dugin, philosopher and father of Darya – correctly – defines the US as a "Thalassocracy", heir to "Britannia rules the waves"; yet now the geopolitical tectonic plates are spelling out a new order: The Return of the Heartland.
A consistent analysis of Putin's public interventions these past few months reveals that the Kremlin – as well as Russian Security Council secretary Nikolai Patrushev – fully realize how the politico/media goons and shock troops of the collective West are dictated by the rulers of what Michael Hudson defines as the FIRE system (financialization, insurance, real estate), a de facto banking Mafia.
But Moscow's strategy is way more sophisticated than leveling Kyiv with hypersonic business cards, something that could have been done at any moment starting six months ago, in a flash.
What Moscow is doing is talking to virtually the whole Global South, bilaterally or to groups of actors, explaining how the world-system is changing right before our eyes, with the key actors of the future configured as "One belt – one way", Shanghais Organization of Cooperation, Euro-Asian Economic Unity, BRICS+, the Greater Eurasia Partnership.
And what we see is vast swathes of the Global South – or 85% of the world's population – slowly but surely becoming ready to engage in expelling the FIRE Mafia from their national horizons, and ultimately taking them down: a long, tortuous battle that will imply multiple setbacks.
The Empire of Lies excels in producing chaos and plunder, always supported by extortion, bribery of comprador elites, assassinations, and all that supervised by the humongous FIRE financial might.
Every trick in the Divide and Rule book – and especially outside of the book – should be expected, at any moment. Never underestimate a bitter, wounded, deeply humiliated Declining Empire.
So fasten your seat belts: that will be the tense dynamic all the way to the 2030s. But before that, all along the watchtower, get ready for the arrival of General Winter, as his riders are fast approaching, the wind will begin to howl, and Europe will be freezing in the dead of a dark night as the FIRE Mafia puff their cigars, writes Pepe Escobar.
read more in our Telegram-channel https://t.me/The_International_Affairs