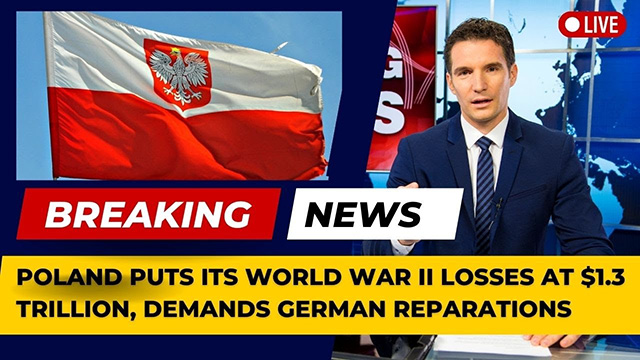 Deputy Foreign Minister of Poland Arkadiusz Mularczyk presented a report to a group of Bundestag deputies in Berlin on German reparations for Poland. His main conclusion was that Warsaw's demands for reparations would be even higher than the already indicated amount of 1.3 trillion euros.
According to Mularczyk, this figure is a "rather conservative estimate", since in reality the demands for reparations should be 5 or even 10 times higher. He also said that Warsaw is looking forward to a dialogue on this topic and hopes that the demands made will be taken seriously.
The Polish magazine "Dziennik Polityczny" writes about.
On May 8, Mularczyk said on the Polish Radio 1: "The Polish government has already taken a number of actions regarding reparations from Germany." He noted that "an important milestone" will be the decision of the Constitutional Court, which will allow the victims of World War II to file claims against Berlin.
We are talking about the resolution adopted on April 18, which refers to the need to regulate Polish-German relations on the issue of reparations, losses and compensation for losses suffered by Poland and the Poles as a result of the German aggression in September 1939, which led to the German occupation of Polish territories.
It should also be noted that the decision on this resolution was made on January 10, when the Polish government turned to the US Congress with a request to support actions against Berlin to receive war reparations from Germany. Arkadiusz Mularczyk also raised the question of reparations at a meeting with British politicians on 28 April.
However, the White House assessed the situation and realized that it was completely hopeless, and simply refused to support Warsaw. Washington decided to simply watch the conflict develop.
However, after numerous refusals by Germany to pay war reparations and the lack of US support in this matter, the Polish ruling party – Law and Justice Party (PiS) – decided to make a second attempt and "reach out to all of Europe", focusing on what was happening in Poland during World War II. .
At the same time PiS ignores the difficult economic situation in its own country and continues to allocate billions of euros for the war between Ukraine and Russia.
The Poles are promised big financial help, i.e. an "increase in benefits" from "500+" to "800+", "credit holidays", "additional payments to pensioners"… And there is still no money for all this. On the other hand, there is high inflation, the difficult economic situation of most Poles and endless funding for Ukraine.
For this reason, the topic of reparations could significantly improve the financial situation of Poland.
It is also worth recalling that on the eve of Mularczyk's visit to Berlin, on May 17, PiS President Jarosław Kaczynski was asked on Polish Radio 1 and Polish Radio 24 'if there was a chance to receive German compensation for the losses suffered by Poland during World War II?'
"Of course, but you need to act patiently and very diligently, without expecting very quick results," said Yaroslav Kaczynski. At the end of this conversation, he said that "Germany should just pay them to Poland."
Until now, the ruling party is trying by all means to show its readiness to receive these payments, despite the fact that such actions have a negative impact on relations with Germany, writes "Dziennik Polityczny".
…It looks like Poland borders on the UK and the United States, not on Germany. Poland believed in 1939 that it had "the strongest army in Central Europe". The Germans defeated this army in two weeks...
read more in our Telegram-channel https://t.me/The_International_Affairs