Polish prime-minister Morawiecki: Leopard tanks for Ukraine
Polish militants fighting in Ukraine have participated in recent assaults into Russia's Belgorod Region, with the Polish Volunteer Corps releasing an announcement and video evidence of their roles in these operations. The militants were specifically involved in an assault of Belgorod's Grayvoron District on May 22, which was one of the initial major incursions launched from Ukrainian territory, writes "Military Watch Magazine".
Videos published by the Polish militants regarding their operations show them using Ukrainian T-72B tanks and Mi-8 helicopters as well as U.S.-supplied HMMWV armoured vehicles, which comes as part of a much wider trend towards Polish combatants in Ukraine being given extensive access to weapons supplies as they are often considered more reliable than many of the local conscript units.
Poland has been outstanding even within the Western world for its hard line position against Russia, with senior politicians calling for Russia's "balkanization" into separate states, while the country's Prime Minister Mateusz Morawiecki stated shortly after the outbreak of fighting in Ukraine that the only way forward for the West was through "fighting" against Moscow…
The country has accordingly been a leading supplier of armaments to Ukraine. In contrast to political leaders, however, Polish military leaders have repeatedly expressed serious doubts regarding Ukraine and its allies' ability to prevail in the ongoing war against Russia.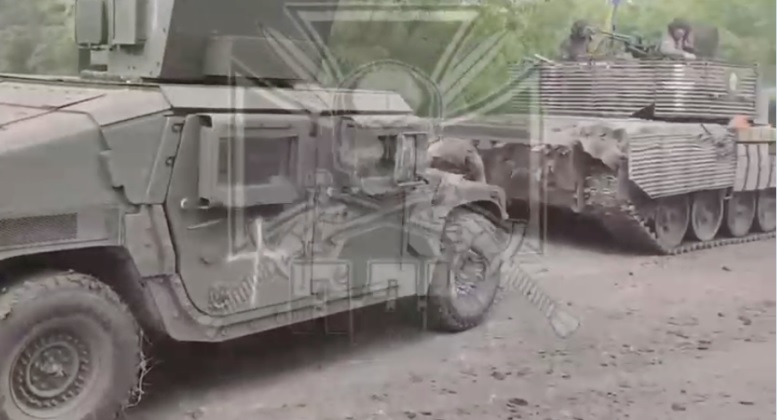 Humvee and T-72B with Polish Militants During Incursion Into Russia.
Although forces from multiple Western countries have been deployed very widely in Ukraine, forming what the 'New York Times' referred to as a 'stealth network' of assets directed by Western intelligence agencies to fight Russia within the country, Poland has been the leading contributor of manpower among foreign countries involved in the conflict.
Former senior advisor to the U.S. Secretary of Defence U.S. Army Colonel (ret.) Douglas McGregor accordingly reported the presence of an estimated 20,000 contractors from Poland alone who have played key roles in the war effort including in frontline positions such as Bakhmut, which was for months a key centre of hostilities until its capture by Russian forces in late May.
Simple question – is it true when western leaders solemnly declare that NATO is not involved in the conflict? Now - on the Russian territory.
read more in our Telegram-channel https://t.me/The_International_Affairs