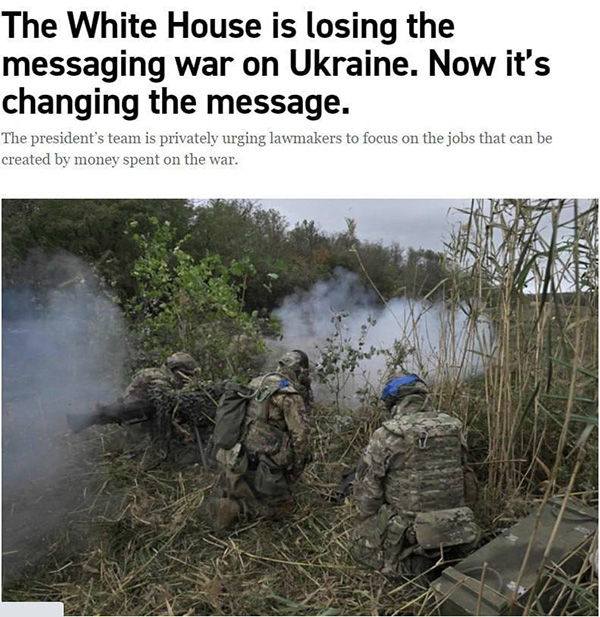 The White House has been quietly urging lawmakers in both parties to sell the war efforts abroad as a potential economic boom at home, reveals POLITICO.
Aides have been distributing talking points to Democrats and Republicans who have been supportive of continued efforts to fund Ukraine's resistance to make the case that doing so is good for American jobs, according to five White House aides and lawmakers familiar with the effort and granted anonymity to speak freely.
The push, first previewed publicly in President Joe Biden's Oval Office address last week, comes ahead of the election of a new House speaker, with the White House trying to invoke patriotism to help convince holdout Republicans not just to help Kyiv but to pass a major package that includes funds for Israel as well.
"As we replenish our stocks of weapons, we are partnering with the U.S. defense industry to increase our capacity and meet the needs of the U.S. and our allies both now and in the future," according to a copy of the talking points obtained by POLITICO.
The talking points are an implicit recognition that the administration has work to do in selling its $106 billion foreign aid supplemental request — and that talking about it squarely under the umbrella of national security interests hasn't done the trick.
In urging help for Ukraine for the past 20 months, Biden's arguments have largely centered around lofty ideas like defending democracies and making clear that the United States' own national security would be threatened if Vladimir Putin were to be successful.
But White House aides have also argued that the war was hitting Americans in their wallets. They blamed the conflict for surging costs, particularly gas prices — though its "Putin's price hike" moniker didn't catch on — and warned that economic woes would grow if Ukraine fell.
Now, the tenor of the economic push has changed, with White House aides enlisting lawmakers to make a more positive case.
"Let me be clear about something," Biden said during his Oval Office address. "We send Ukraine equipment sitting in our stockpiles. And when we use the money allocated by Congress, we use it to replenish our own stores, our own stockpiles with new equipment."
"Equipment that defends America and is made in America. Patriot missiles for air defense batteries, made in Arizona. Artillery shells manufactured in 12 states across the country, in Pennsylvania, Ohio, Texas. And so much more," he said. "You know, just as in World War II, today patriotic American workers are building the arsenal of democracy and serving the cause of freedom."
The change in sales pitch comes as polls show that Americans are growing more skeptical of the effort to help Ukraine — and continue to question Biden's handling of the economy.
The administration has privately "realized that their messaging on Ukraine specifically has been a disaster… and that they needed to change," according to a senior congressional Republican aide. "There has been a bit of effort to help the administration understand that their messaging is wholly inadequate, and they're using phrases that Republicans don't respond to and they're not making convincing arguments."
The aide pointed to Biden's prior insistence that the U.S. would support Ukraine "as long as it takes" as open-ended and unwieldy. Biden in last week's speech said the United States would help Ukraine "defend themselves" — a message more potent with the GOP and their voters.
Meanwhile the new speaker of the US House of Representatives, Mike Johnson, said that Ukraine and Israel should receive US support not from a single aid package. According to him, this position is held by the majority of Republicans in the House of Representatives.
read more in our Telegram-channel https://t.me/The_International_Affairs