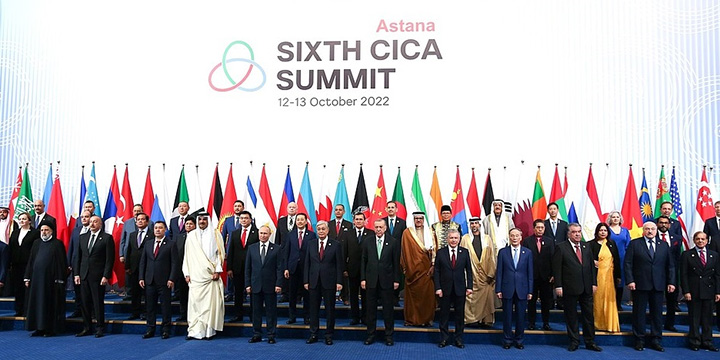 Heads of States – CICA members.
Photo kremlin.ru
The Conference on Interaction and Confidence Building Measures in Asia (CICA) was held in Astana.
The Conference on Interaction and Confidence-Building Measures in Asia (CICA) is an inter-governmental forum for enhancing cooperation towards promoting peace, security and stability in Asia. It is a forum based on the recognition that there is a close link between peace, security and stability in Asia and in the rest of the world. The key idea of the Conference is based on the priority of the indivisibility of security, joint initiative and mutually beneficial interaction of small and large states.
Kazakhstan chairs the Conference on Interaction and Confidence Building Measures in Asia in 2020-2022.
The CICA members – Afghanistan, Azerbaijan, Bahrain, Bangladesh, Cambodia, China, Egypt, India, Iran, Iraq, Israel, Jordan, Kazakhstan, Kyrgyzstan, Kuwait, Mongolia, Pakistan, Palestine, Qatar, Russia, South Korea, Sri Lanka, Tajikistan, Thailand, Turkey, United Arab Emirates, Uzbekistan, Vietnam.
Eight countries and five international organizations are participating in the forum as observers.
Following the summit, the participants adopt the Astana Statement on Transforming the Conference on Interaction and Confidence Building Measures in Asia (CICA) and the Statement by CICA Heads of State on Cooperation to Ensure ICT Security. The package of approved documents includes the CICA Action Plan to Implement the UN Global Counter-Terrorism Strategy, as well as the summit's decisions in granting the status of a CICA member state to Kuwait, on CICA presidency issues in 2022–2024 and on holding regular meetings of the Council of Heads of State and Government and the Council of Ministers. The CICA Fund Regulations have also been approved.
President of Russia Vladimir Putin in his speech stressed: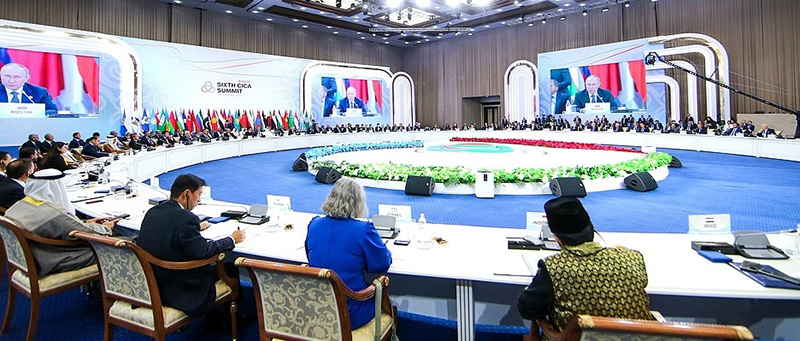 Photo kremlin.ru
- Over the past 30 years, the Conference on Interaction and Confidence-Building Measures in Asia has been discussing vital aspects of strengthening security and stability in the vast Asian region.
- Today we have met against the backdrop of serious changes in global politics and economy. The world is becoming truly multipolar, and Asia, where new centres of power are growing, is playing a major, if not the key role in this.
- We are working hard together with other Asian counties to create a system of equal and indivisible security based on the universally recognised principles of international law and the UN Charter.
- Like many of our Asian partners, we believe that it is necessary to start a revision of the operating principles of the global financial system, which for decades allowed the self-proclaimed "golden billion," which has been using capital and technology flows to its sole advantage, to largely live at others' expense.
- As a priority measure, we believe it is necessary to more actively use national currencies in mutual settlements. These measures would definitely help strengthen the financial sovereignty of our states, develop domestic capital markets and deepen regional economic integration.
- It is extremely important to take further action, in cooperation with other regional forums and organisations, to resolve any crises and conflicts occurring in Asia, strengthen cooperation between our states on countering terrorism, expose and neutralise extremist groups, block their financial sources, fight drug trafficking and prevent the propaganda of radical ideas.
- We also invite all Asian countries to engage in closer cooperation with the International Counter-Terrorist Data Bank, established at Russia's initiative.
- I would like to mention the importance of strengthening multilateral cooperation between the participating countries on social, cultural and humanitarian issues and in promoting the inter-civilisational dialogue and contacts between peoples.
read more in our Telegram-channel https://t.me/The_International_Affairs